According to Fairfield Market Research, the global public safety and security market was valued at US$361.2 Bn in 2019 and is expected to be worth US$713.4 Bn by 2026. Between the years of 2021 and 2026, the global public safety and security market is anticipated to register a CAGR of 10.6% during the forecast period.
Role of Governments Instrumental in Public Safety and Security Market Build-up
Governments at all levels face a multitude of social, political, economic, and environmental issues. National security, public safety, a well-functioning society, and a healthy economy are all top priorities for governments around the world to ensure the well-being of their population. It is imperative to look at the impact of the COVID-19 pandemic to understand that this seemingly simple objective comes with highly complex problems to solve for nations, and the citizens. Natural disasters, accidental and human-made catastrophes, and overall public safety and security, including public health and medical response, are all areas where preparation and response time is highly critical. There is little margin for error when it comes to saving lives. The public safety and security market thus remains on an uptrend. Disasters such as hurricanes, floods and earthquakes, the release of toxic chemicals and biological contaminations, oil and gas spills, and global pandemics such as COVID-19, can all have catastrophic consequences to the people, infrastructure, and environment of the affected region. These emergencies require well-coordinated actions to be taken within and between government agencies, defense forces, health agencies and emergency management organisations at the regional, national, and often at the international level. This will collectively keep the public safety and security market afloat.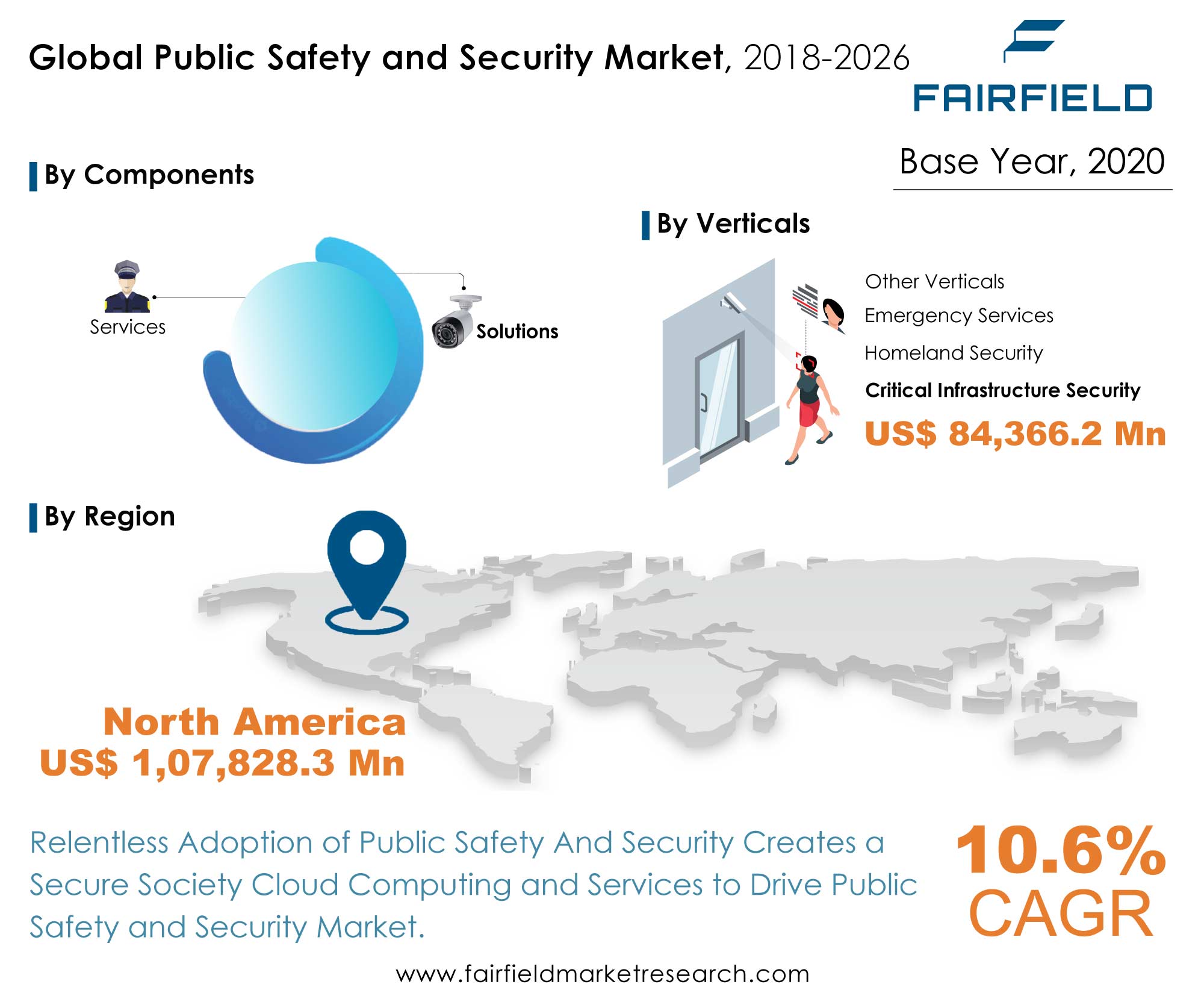 Growing Identity Fraud Instances, and Rising Threat of Security Breaches Offer an Impetus to Public Safety and Security Market
The data being uploaded on the web is becoming increasingly exposed as the globe continues its journey toward digitization. The personal information of each individual consumer is stored on hundreds of servers throughout the world, increasing the risk of identity theft. An increasing risk factor is expected to drive the growth of public safety and security market. According to industry experts, there was a minor decrease in ID theft instances in 2019, but this trend was reversed in 2020 and 2021, owing to the pandemic's effects. According to the Federal Trade Commission (FTC), identity fraud instances grew by 45 percent in 2020, resulting in significant financial losses, and this trend continued in 2021, resulting in a total loss of US$56 Bn for North America, according to Javelin Strategy. According to the FTC, over one million minors were victims of ID theft in 2020, with losses increasing from US$1.8 Bn in 2019 to US$3.3 Bn in 2020. According to Javelin Strategy's 2020 research on identity fraud, 40% of account takeovers occurred within 24 hours of a criminal gaining access to a victim's account. These figures show that cyberattacks, particularly identity-related frauds, have been on the rise in recent years, which accounts for the steadfast progression of public safety and security market.
Lack of Scalability and Poor Training to Influence the Rate of Uptake in Public Safety and Security Market
As businesses grow and technology needs change, public safety and security platforms must scale to meet new demands. In certain situations, public safety and security products or deployment methodologies can limit the level at which a platform can scale. Add to this the fact that automation streamlines repetitive processes and reduces the amount of administrator overhead required to perform common public safety and security tasks. This is likely to hamper the growth pace of public safety and security market. Because of the complexities and complications inherent in automation, admins must be trained to set up automation steps and ensure they are functioning properly. Any errors in automation processes can negatively impact large numbers of users. It is important to understand who has access to applications and data, where they are accessing it, and what they are doing with it. This is particularly true when it comes to cloud services. However, only the most advanced offerings like Salesforce.com offer any compliance-like reporting, and even then, it's siloed for just one application. To answer auditors who ask you which employees have access to your applications and data, you need central visibility and control across all your systems. The public safety and security services are supposed to enable users to set the access rights across services, and provide centralised compliance reports across access rights, provisioning and deprovisioning, and user and administrator activity.
North America Secures the Top Spot, Asia Pacific Provides the Strongest Breeding Ground for Public Safety and Security Market
North America is the most affected region in the world in terms of cybersecurity incidents and thus dominates the global cybersecurity market. The region is regarded the most advanced region in terms of cyber technology adoption and infrastructure. On the other hand, the public safety and security market in Asia Pacific is projected as the fastest growing. Many of the region's emerging economies such as India, China, Singapore, and Japan are concerned about cybersecurity. These countries have a considerable number of small and medium-sized businesses (SMEs), which employ more than 70% of the population. The requirement of high investments acts as a barrier for SMEs to adopt major public safety and security projects on their premises; however, factors such as increasing internet usage, compliance regulation, and adoption of smartphones are the major factors fueling the adoption of public safety and security solutions.
Global Public Safety and Security Market: Competitive Landscape
The key players profiled in the public safety and security market report include Cisco Systems, IBM, NEC Technologies India Private Limited, Thales Group, Honeywell International Inc., AGT Group GmbH, Nokia, General Dynamics Corporation, Huawei Technologies Co., and Motorola Solutions.
Recent Notable Developments
In February 2021, Cisco partnered with Openpath, one of the leaders in touchless, modern access control and workplace safety automation


In December 2021, Honeywell acquired US Digital Designs to integrate it with Honeywell's Fire and Connected Life Safety systems business to expand Honeywell's line of solutions for public safety communications


In January 2022, Honeywell Made Strategic Investment in RapidSOS. RapidSOS emergency response data platform will be linked to Honeywell's Connected Life Safety System (CLSS) to enhance its Public Safety Communications Capabilities
The Global Public Safety and Security Market is Segmented as Below:
By Components Coverage
By Verticals Coverage
Homeland Security
Emergency Services
Critical Infrastructure Security
Transportation Systems
Other Verticals
By Solution Coverage
Critical Communication Network
C2/C4ISR Networks
Biometric Security and Authentication System
Surveillance System
Scanning and Screening System
Emergency and Disaster Management
Cybersecurity
Public Address and General Alarm
Backup and Recovery System
By Geographical Coverage
North America
Europe

Germany
France
UK
Italy
Turkey
Spain
Russia
Rest of Europe

Asia Pacific

China
Japan
South Korea
India
Southeast Asia
Rest of Asia Pacific

Latin America

Brazil
Mexico
Rest of Latin America

Middle East & Africa

GCC
Egypt
Rest of Middle East & Africa
Leading Companies
Cisco Systems
IBM
NEC Technologies India Private Limited
Thales Group
Honeywell International Inc.
AGT Group GmbH
Nokia
General Dynamics Corporation
Huawei Technologies Co.
Motorola Solutions
Inside this Report you will find:
1. Executive Summary
2. Market Overview
3. Global Public Safety and Security Market Outlook, 2018 - 2026
4. North America Public Safety and Security Market Outlook, 2018 - 2026
5. Europe Public Safety and Security Market Outlook, 2018 - 2026
6. Asia Pacific Public Safety and Security Market Outlook, 2018 - 2026
7. Latin America Public Safety and Security Market Outlook, 2018 - 2026
8. Middle East & Africa Public Safety and Security Market Outlook, 2018 - 2026
9. Competitive Landscape
10. Appendix

Post Sale Support, Research Updates & Offerings:
We value the trust shown by our customers in Fairfield Market Research. We support our clients through our post sale support, research updates and offerings.
The report will be prepared in a PPT format and will be delivered in a PDF format.
Additionally, Market Estimation and Forecast numbers will be shared in Excel Workbook.
If a report being sold was published over a year ago, we will offer a complimentary copy of the updated research report along with Market Estimation and Forecast numbers within 2-3 weeks' time of the sale.
If we update this research study within the next 2 quarters, post purchase of the report, we will offer a Complimentary copy of the updated Market Estimation and Forecast numbers in Excel Workbook.
If there is a geopolitical conflict, pandemic, recession, and the like which can impact global economic scenario and business activity, which might entirely alter the market dynamics or future projections in the industry, we will create a Research Update upon your request at a nominal charge.
1. Executive Summary
1.1. Global Public Safety and Security Market Snapshot
1.2. Future Projections
1.3. Key Market Trends
1.4. Analyst Recommendations

2. Market Overview
2.1. Market Definitions
2.2. Market Taxonomy
2.3. Market Dynamics
2.3.1. Drivers
2.3.2. Restraints
2.4. Value Chain Analysis
2.5. Porter's Five Forces Analysis
2.6. COVID-19 Impact Analysis
2.7. Key Patents

3. Global Public Safety and Security Market Outlook, 2018 - 2026
3.1. Global Public Safety and Security Market Outlook, by Components (US$ '000), 2018 - 2026
3.1.1. Key Highlights
3.1.1.1. Solutions
3.1.1.2. Services
3.1.2. BPS Analysis/Market Attractiveness Analysis
3.2. Global Public Safety and Security Market Outlook, by Solution, Value (US$ '000), 2018 - 2026
3.2.1. Key Highlights
3.2.1.1. Critical Communication Network
3.2.1.2. C2/C4ISR Networks
3.2.1.3. Biometric Security and Authentication System
3.2.1.4. Surveillance System
3.2.1.5. Scanning and Screening System
3.2.1.6. Emergency and Disaster Management
3.2.1.7. Cybersecurity
3.2.1.8. Public Address and General Alarm
3.2.1.9. Backup and Recovery System
3.2.2. BPS Analysis/Market Attractiveness Analysis
3.3. Global Public Safety and Security Market Outlook, by Verticals, Value (US$ '000), 2018 - 2026
3.3.1. Key Highlights
3.3.1.1. Homeland Security
3.3.1.2. Emergency Services
3.3.1.3. Critical Infrastructure Security
3.3.1.4. Transportation Systems
3.3.1.5. Other Verticals
3.3.2. BPS Analysis/Market Attractiveness Analysis
3.4. Global Public Safety and Security Market Outlook, by Region, Value (US$ '000), 2018 - 2026
3.4.1. Key Highlights
3.4.1.1. North America
3.4.1.2. Europe
3.4.1.3. Asia Pacific
3.4.1.4. Latin America
3.4.1.5. Middle East & Africa
3.4.2. BPS Analysis/Market Attractiveness Analysis

4. North America Public Safety and Security Market Outlook, 2018 - 2026
4.1. Global Public Safety and Security Market Outlook, by Components (US$ '000), 2018 - 2026
4.1.1. Key Highlights
4.1.1.1. Solutions
4.1.1.2. Services
4.1.2. BPS Analysis/Market Attractiveness Analysis
4.2. Global Public Safety and Security Market Outlook, by Solution, Value (US$ '000), 2018 - 2026
4.2.1. Key Highlights
4.2.1.1. Critical Communication Network
4.2.1.2. C2/C4ISR Networks
4.2.1.3. Biometric Security and Authentication System
4.2.1.4. Surveillance System
4.2.1.5. Scanning and Screening System
4.2.1.6. Emergency and Disaster Management
4.2.1.7. Cybersecurity
4.2.1.8. Public Address and General Alarm
4.2.1.9. Backup and Recovery System
4.2.2. BPS Analysis/Market Attractiveness Analysis
4.3. Global Public Safety and Security Market Outlook, by Verticals, Value (US$ '000), 2018 - 2026
4.3.1. Key Highlights
4.3.1.1. Homeland Security
4.3.1.2. Emergency Services
4.3.1.3. Critical Infrastructure Security
4.3.1.4. Transportation Systems
4.3.1.5. Other Verticals
4.3.2. BPS Analysis/Market Attractiveness Analysis
4.4. North America Public Safety and Security Market Outlook, by Country, Value (US$ '000), 2018 - 2026
4.4.1. Key Highlights
4.4.1.1. U.S. Public Safety and Security Market by Value (US$ '000), 2018 - 2026
4.4.1.2. Canada Public Safety and Security Market by Value (US$ '000), 2018 - 2026
4.4.2. BPS Analysis/Market Attractiveness Analysis

5. Europe Public Safety and Security Market Outlook, 2018 - 2026
5.1. Global Public Safety and Security Market Outlook, by Components (US$ '000), 2018 - 2026
5.1.1. Key Highlights
5.1.1.1. Solutions
5.1.1.2. Services
5.1.2. BPS Analysis/Market Attractiveness Analysis
5.2. Global Public Safety and Security Market Outlook, by Solution, Value (US$ '000), 2018 - 2026
5.2.1. Key Highlights
5.2.1.1. Critical Communication Network
5.2.1.2. C2/C4ISR Networks
5.2.1.3. Biometric Security and Authentication System
5.2.1.4. Surveillance System
5.2.1.5. Scanning and Screening System
5.2.1.6. Emergency and Disaster Management
5.2.1.7. Cybersecurity
5.2.1.8. Public Address and General Alarm
5.2.1.9. Backup and Recovery System
5.2.2. BPS Analysis/Market Attractiveness Analysis
5.3. Global Public Safety and Security Market Outlook, by Verticals, Value (US$ '000), 2018 - 2026
5.3.1. Key Highlights
5.3.1.1. Homeland Security
5.3.1.2. Emergency Services
5.3.1.3. Critical Infrastructure Security
5.3.1.4. Transportation Systems
5.3.1.5. Other Verticals
5.3.2. BPS Analysis/Market Attractiveness Analysis
5.4. Europe Public Safety and Security Market Outlook, by Country, Value (US$ '000), 2018 - 2026
5.4.1. Key Highlights
5.4.1.1. Germany Public Safety and Security Market by Value (US$ '000), 2018 - 2026
5.4.1.2. France Public Safety and Security Market by Product, Value (US$ '000), 2018 - 2026
5.4.1.3. U.K. Public Safety and Security Market by Value (US$ '000), 2018 - 2026
5.4.1.4. Italy Public Safety and Security Market by Value (US$ '000), 2018 - 2026
5.4.1.5. Spain Public Safety and Security Market by Product, Value (US$ '000), 2018 - 2026
5.4.1.6. Rest of Europe Public Safety and Security Market Value (US$ '000), 2018 - 2026
5.4.2. BPS Analysis/Market Attractiveness Analysis

6. Asia Pacific Public Safety and Security Market Outlook, 2018 - 2026
6.1. Global Public Safety and Security Market Outlook, by Components (US$ '000), 2018 - 2026
6.1.1. Key Highlights
6.1.1.1. Solutions
6.1.1.2. Services
6.1.2. BPS Analysis/Market Attractiveness Analysis
6.2. Global Public Safety and Security Market Outlook, by Solution, Value (US$ '000), 2018 - 2026
6.2.1. Key Highlights
6.2.1.1. Critical Communication Network
6.2.1.2. C2/C4ISR Networks
6.2.1.3. Biometric Security and Authentication System
6.2.1.4. Surveillance System
6.2.1.5. Scanning and Screening System
6.2.1.6. Emergency and Disaster Management
6.2.1.7. Cybersecurity
6.2.1.8. Public Address and General Alarm
6.2.1.9. Backup and Recovery System
6.2.2. BPS Analysis/Market Attractiveness Analysis
6.3. Global Public Safety and Security Market Outlook, by Verticals, Value (US$ '000), 2018 - 2026
6.3.1. Key Highlights
6.3.1.1. Homeland Security
6.3.1.2. Emergency Services
6.3.1.3. Critical Infrastructure Security
6.3.1.4. Transportation Systems
6.3.1.5. Other Verticals
6.3.2. BPS Analysis/Market Attractiveness Analysis
6.4. Asia Pacific Public Safety and Security Market Outlook, by Country, Value (US$ '000), 2018 - 2026
6.4.1. Key Highlights
6.4.1.1. India Public Safety and Security Market by Value (US$ '000), 2018 - 2026
6.4.1.2. China Public Safety and Security Market by Value (US$ '000), 2018 - 2026
6.4.1.3. Japan Public Safety and Security Market by Value (US$ '000), 2018 - 2026
6.4.1.4. Australia & New Zealand Public Safety and Security Market Value (US$ '000), 2018 - 2026
6.4.1.5. Rest of Asia Pacific Market by Value (US$ '000), 2018 - 2026
6.4.2. BPS Analysis/Market Attractiveness Analysis

7. Latin America Public Safety and Security Market Outlook, 2018 - 2026
7.1. Global Public Safety and Security Market Outlook, by Components (US$ '000), 2018 - 2026
7.1.1. Key Highlights
7.1.1.1. Solutions
7.1.1.2. Services
7.1.2. BPS Analysis/Market Attractiveness Analysis
7.2. Global Public Safety and Security Market Outlook, by Solution, Value (US$ '000), 2018 - 2026
7.2.1. Key Highlights
7.2.1.1. Critical Communication Network
7.2.1.2. C2/C4ISR Networks
7.2.1.3. Biometric Security and Authentication System
7.2.1.4. Surveillance System
7.2.1.5. Scanning and Screening System
7.2.1.6. Emergency and Disaster Management
7.2.1.7. Cybersecurity
7.2.1.8. Public Address and General Alarm
7.2.1.9. Backup and Recovery System
7.2.2. BPS Analysis/Market Attractiveness Analysis
7.3. Global Public Safety and Security Market Outlook, by Verticals, Value (US$ '000), 2018 - 2026
7.3.1. Key Highlights
7.3.1.1. Homeland Security
7.3.1.2. Emergency Services
7.3.1.3. Critical Infrastructure Security
7.3.1.4. Transportation Systems
7.3.1.5. Other Verticals
7.3.2. BPS Analysis/Market Attractiveness Analysis
7.4. Latin America Public Safety and Security Market Outlook, by Country, Value (US$ '000), 2018 - 2026
7.4.1. Key Highlights
7.4.1.1. Brazil Public Safety and Security Market by Value (US$ '000), 2018 - 2026
7.4.1.2. Mexico Public Safety and Security Market by Value (US$ '000), 2018 - 2026
7.4.1.3. Rest of Latin America Public Safety and Security Market by Value (US$ '000), 2018 - 2026
7.4.2. BPS Analysis/Market Attractiveness Analysis

8. Middle East & Africa Public Safety and Security Market Outlook, 2018 - 2026
8.1. Global Public Safety and Security Market Outlook, by Components (US$ '000), 2018 - 2026
8.1.1. Key Highlights
8.1.1.1. Solutions
8.1.1.2. Services
8.1.2. BPS Analysis/Market Attractiveness Analysis
8.2. Global Public Safety and Security Market Outlook, by Solution, Value (US$ '000), 2018 - 2026
8.2.1. Key Highlights
8.2.1.1. Critical Communication Network
8.2.1.2. C2/C4ISR Networks
8.2.1.3. Biometric Security and Authentication System
8.2.1.4. Surveillance System
8.2.1.5. Scanning and Screening System
8.2.1.6. Emergency and Disaster Management
8.2.1.7. Cybersecurity
8.2.1.8. Public Address and General Alarm
8.2.1.9. Backup and Recovery System
8.2.2. BPS Analysis/Market Attractiveness Analysis
8.3. Global Public Safety and Security Market Outlook, by Verticals, Value (US$ '000), 2018 - 2026
8.3.1. Key Highlights
8.3.1.1. Homeland Security
8.3.1.2. Emergency Services
8.3.1.3. Critical Infrastructure Security
8.3.1.4. Transportation Systems
8.3.1.5. Other Verticals
8.3.2. BPS Analysis/Market Attractiveness Analysis
8.4. Middle East & Africa Public Safety and Security Market Outlook, by Country, Value (US$ '000), 2018 - 2026
8.4.1. Key Highlights
8.4.1.1. GCC Public Safety and Security Market by Value (US$ '000), 2018 - 2026
8.4.1.2. South Africa Public Safety and Security Market by Value (US$ '000), 2018 - 2026
8.4.1.3. Rest of Middle East & Africa Public Safety and Security Market by Value (US$ '000), 2018 - 2026
8.4.2. BPS Analysis/Market Attractiveness Analysis

9. Competitive Landscape
9.1. Company Market Share Analysis, 2019
9.2. Company Profiles
9.2.1. Cisco Systems
9.2.1.1. Company Overview
9.2.1.2. Key Retailing Partners
9.2.1.3. Business Segment Revenue
9.2.1.4. Ingredient Overview
9.2.1.5. Product Offering & its Presence
9.2.1.6. Certifications & Claims
9.2.2. IBM
9.2.3. NEC Technologies India Private Limited
9.2.4. Thales Group
9.2.5. Honeywell International Inc.
9.2.6. AGT Group GmbH
9.2.7. Nokia
9.2.8. General Dynamics Corporation
9.2.9. Huawei Technologies Co.
9.2.10. Motorola Solutions

10. Appendix
10.1. Research Methodology
10.2. Report Assumptions
10.3. Acronyms and Abbreviations
BASE YEAR

HISTORICAL DATA

FORECAST PERIOD

UNITS

2020

2018 - 2020

2021 - 2026

Value: US$ Million
REPORT FEATURES

DETAILS

Components Coverage

Verticals Coverage

Solution Coverage

Critical Communication Network

C2/C4ISR Networks

Biometric Security and Authentication System

Surveillance System

Scanning and Screening System

Emergency and Disaster Management

Cybersecurity

Public Address and General Alarm

Backup and Recovery System

Geographical Coverage

North America

Europe

Germany

France

U.K.

Italy

Turkey

Spain

Russia

Rest of Europe

Asia Pacific

China

Japan

South Korea

India

Southeast Asia

Rest of Asia Pacific

Latin America

Brazil

Mexico

Rest of Latin America

Middle East & Africa

Leading Companies

Cisco Systems

IBM

NEC Technologies India Private Limited

Thales Group

Honeywell International Inc.

AGT Group GmbH

Nokia

General Dynamics Corporation

Huawei Technologies Co.

Motorola Solutions

Report Highlights

Market Estimates and Forecast, Market Dynamics, Industry Trends, Competition Landscape, Product-, Application-, Region-, Country-wise Trends & Analysis, COVID-19 Impact Analysis, Key Trends