Synthetic Polymers Accelerate Growth of Global Synthetic Artificial Blood Vessels Market
The global synthetic artificial blood vessels market is all set to exhibit robust revenue growth during the forecast years from 2021 to 2026. The market is poised to benefit from the growing number of life-threatening cardio and peripheral vascular cases and a growing pool of patients with unmet treatment needs. Fairfield market research indicates that the global synthetic artificial blood vessels market revenue is anticipated to rise at a healthy pace of 5.7% CAGR as the market reaches US$319.4 Mn by 2026 from US$296.8 Mn in 2021.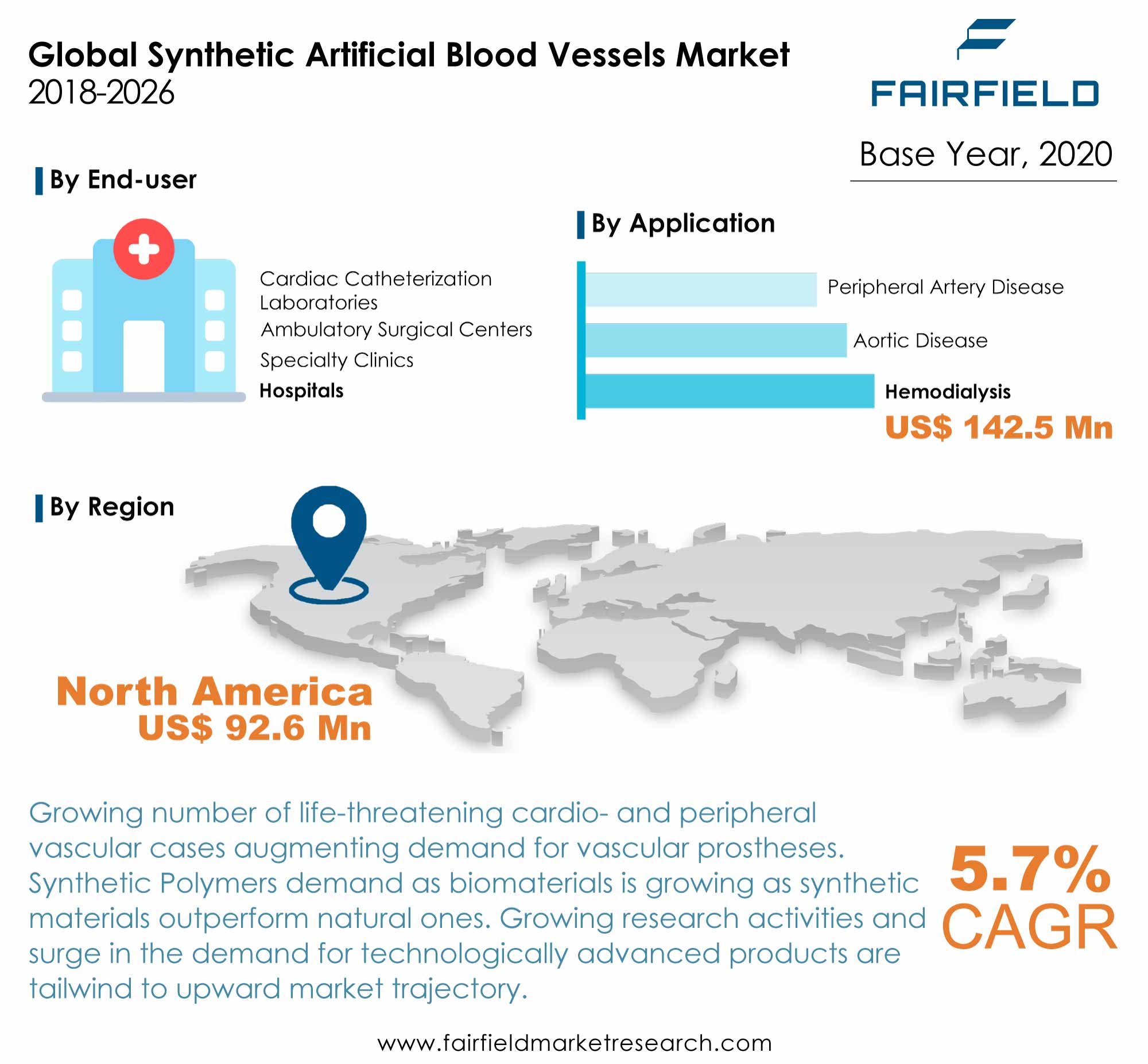 Synthetic polymers have tunable properties, endless forms, and established structures over natural polymers. The support offered by synthetic biomaterials can enable restoration of damaged or diseased tissue structure and function.
Autologous replacement is not often available due to prior harvesting or the patient's health. Furthermore, autologous harvesting causes secondary injury to the patient at the harvest site. Considering the limitations of natural polymers, such as cost, limited supplies, batch-to-batch variation, and cross contamination, synthetic polymers, including biodegradable polymers and non-degradable polymers, have been rapidly developed in the last decades as biomaterials.
Growing Research Activities Helps Market in a Greater Way
Growing research activities and surge in the demand for technologically advanced products have created an upward market trajectory. Seattle-based medical technology company Healionics raised a US$ 4.7 Mn round led by Keiretsu Capital to help commercialize its artificial blood vessel called STARgraft for patients who undergo dialysis treatment. The Korea Institute of Science and Technology (KIST) announced that the research team at the Biomaterials Research Center collaborated with the research team at the Organ Transplantation Center at Seoul National University to develop a bio-artificial blood vessel. Recently, researchers in Korea and Hong Kong have used a modified 3D cell printing technique to fabricate a biomimetic blood vessel that was successfully implanted in a living rat.
Growing Number of Life-Threatening Cardio and Peripheral Vascular Cases Augment Vascular Prostheses Demand
Approximately 850,000 vascular reconstruction operations in the world each year. Cardiovascular diseases, especially ones involving narrowed or blocked blood vessels with diameters smaller than 6 mm, are the leading cause of death globally. Annually, healthcare costs for patients with cardiovascular diseases exceed US$300 Bn. Approximately 6.5 million people aged 40 and older in the United States have Peripheral Arterial Disease (PAD).
Cardiovascular defects occur in 1% of live births worldwide\ and children born with them often undergo repeated surgical reconstruction as they grow. Cardiovascular disease (CVD) is the number one killer in the world, responsible for >17.3 million deaths every year, a number that represents 31% of all global deaths.
Future Belongs to Bio Artificial Blood Vessels
Humacyte is developing "bioengineered" blood vessels that can incorporate living cells after being implanted in the human body. The so-called human acellular vessels (HAVs) are experimental devices that will soon be ready for widespread use.
JOTEC GmbH, a medical device firm is developing absorbable biomaterials based on collagen: a bio artificial vascular graft in which the lumen of the vessels is coated with the patient's own cells so that the implants replicate their natural models as closely as possible. A team of scientists in China and Switzerland developed the electronic artificial blood vessels, which are made from a flexible and biodegradable metal-polymer conductor membrane.
Plastic Grafts Don't Check All the Boxes
The major disadvantage of synthetic biomaterials are that they lack cell adhesion sites and require chemical modifications to enhance cell adhesion. Some other disadvantages of synthetic polymers in tissue engineering applications are their poor biocompatibility, release of acidic degradation products, and loss of mechanical properties very early during degradation.
Plastic grafts still have their limitations despite intensive work put into their development. Degradation period of commonly used biodegradable synthetic polymers is significantly high (1-24 months) as against natural polymers like collagen (5 hours). The lack of transplantable vascular grafts is an unmet clinical need in the surgical treatment of CVD.
Developing Regions to Retain Market Dominance till the End of Forecast Period
The global synthetic artificial blood vessels market study by Fairfield Market Research finds that North America remains the largest contributor in value terms due to availability of advanced technological facilities, reimbursement policies, and robust diagnostic procedures through biometric tools in the region. North America captures major chunk of the global synthetic artificial blood vessels market revenue and will reach US$120.9 Mn in 2026. Additionally, growing R&D activities in the advanced biomaterial grafts space is anticipated to create tailwinds for the synthetic artificial blood vessels market growth in the region.
Europe region also holds major chunk of market share and commendable growth during the forecast period. Growing occurrence of cardiovascular problems and aging population and the, kidney failure, aortic disease, and other health issues will benefit the regional manufacturers significantly.
Global Synthetic Artificial Blood Vessels Market: Key Players
Some of the key companies partaking in the global synthetic artificial blood vessels market are B. Braun Melsungen AG, Terumo Aortic (Terumo Group), Humacyte, Inc., LeMaitre Vascular, Inc., W. L. Gore and Associates, JOTEC GmbH, Cook Medical Inc. and Bard Peripheral Vascular.
The Global Synthetic Artificial Blood Vessels Market is Segmented as Below:
By Polymer
Expanded polytetrafluoroethylene (ePTFE)
Polyethylene Terephthalate
Polyurethane
Others
By Application
Aortic Disease
Hemodialysis
Peripheral Artery Disease
By End user
Hospitals
Cardiac Catheterization Laboratories
Ambulatory Surgical Centers
Specialty Clinics
By Geographic Coverage
North America
Europe

Germany
France
United Kingdom
Italy
Spain
Rest of Europe

Asia Pacific

Japan
China
India
Australia & New Zealand
Rest of Asia Pacific

Rest of World

Latin America
Middle East & Africa
Leading Companies
Braun Melsungen AG
Terumo Aortic (Terumo Group)
Humacyte, Inc.
LeMaitre Vascular, Inc.
L. Gore and Associates
JOTEC GmbH
Cook Medical Inc.
Bard Peripheral Vascular
Inside This Report You Will Find:
1. Executive Summary
2. Market Overview
3. Global Synthetic Artificial Blood Vessels Market Outlook, 2018 - 2026
4. North America Synthetic Artificial Blood Vessels Market Outlook, 2018 - 2026
5. Europe Synthetic Artificial Blood Vessels Market Outlook, 2018 - 2026
6. Asia Pacific Synthetic Artificial Blood Vessels Market Outlook, 2018 - 2026
7. Rest of World Synthetic Artificial Blood Vessels Market Outlook, 2018 - 2026
8. Competitive Landscape
9. Appendix
Post Sale Support, Research Updates & Offerings:
We value the trust shown by our customers in Fairfield Market Research. We support our clients through our post sale support, research updates and offerings.
The report will be prepared in a PPT format and will be delivered in a PDF format.
Additionally, Market Estimation and Forecast numbers will be shared in Excel Workbook.
If a report being sold was published over a year ago, we will offer a complimentary copy of the updated research report along with Market Estimation and Forecast numbers within 2-3 weeks' time of the sale.
If we update this research study within the next 2 quarters, post purchase of the report, we will offer a Complimentary copy of the updated Market Estimation and Forecast numbers in Excel Workbook.
If there is a geopolitical conflict, pandemic, recession, and the like which can impact global economic scenario and business activity, which might entirely alter the market dynamics or future projections in the industry, we will create a Research Update upon your request at a nominal charge.
1. Executive Summary
1.1. Global Synthetic Artificial Blood Vessels Market Outlook, 2018 - 2026 (US$ Million)
1.2. Global Synthetic Artificial Blood Vessels Market Incremental Opportunity, 2018 - 2026 (US$ Million)
1.3. Key Industry Trends

2. Market Overview
2.1. Market Definitions and Segmentations
2.2. Market Dynamics
2.2.1. Market Drivers
2.2.2. Market Restraints
2.3. Synthetic Polymers
2.4. Polymer Surface Modifications

3. Global Synthetic Artificial Blood Vessels Market Outlook, 2018 - 2026
3.1. Global Synthetic Artificial Blood Vessels Market Outlook, By Polymer, 2018 - 2026
3.1.1. Key Highlights
3.1.2. Global Synthetic Artificial Blood Vessels Market Outlook, By Polymer, Value (US$ Million), 2018 - 2026
3.1.2.1. Expanded polytetrafluoroethylene (ePTFE)
3.1.2.2. Polyethylene Terephthalate
3.1.2.3. Polyurethane
3.1.2.4. Others
3.1.3. Global Synthetic Artificial Blood Vessels Market Share and BPS Analysis, By Polymer, 2021 and 2026
3.1.4. Global Synthetic Artificial Blood Vessels Market Attractiveness Analysis, By Polymer, 2021 - 2026
3.2. Global Synthetic Artificial Blood Vessels Market Outlook, By Application, 2018 - 2026
3.2.1. Key Highlights
3.2.2. Global Synthetic Artificial Blood Vessels Market Outlook, By Application, Value (US$ Million), 2018 - 2026
3.2.2.1. Aortic Disease
3.2.2.2. Hemodialysis
3.2.2.3. Peripheral Artery Disease
3.2.3. Global Synthetic Artificial Blood Vessels Market Share and BPS Analysis, By Application, 2021 and 2026
3.2.4. Global Synthetic Artificial Blood Vessels Market Attractiveness Analysis, By Application, 2021 - 2026
3.3. Global Synthetic Artificial Blood Vessels Market Outlook, End user, 2018 - 2026
3.3.1. Key Highlights
3.3.2. Global Synthetic Artificial Blood Vessels Market Outlook, End user, Value (US$ Million), 2018 - 2026
3.3.2.1. Hospitals
3.3.2.2. Cardiac Catheterization Laboratories
3.3.2.3. Ambulatory Surgical Centers
3.3.2.4. Specialty Clinics
3.3.3. Global Synthetic Artificial Blood Vessels Market Share and BPS Analysis, End user, 2021 and 2026
3.3.4. Global Synthetic Artificial Blood Vessels Market Attractiveness Analysis, End user, 2021 - 2026
3.4. Global Synthetic Artificial Blood Vessels Market Outlook, By Region, 2018 - 2026
3.4.1. Key Highlights
3.4.2. Global Synthetic Artificial Blood Vessels Market Outlook, by Region, Value (US$ Million), 2018 - 2026
3.4.2.1. North America
3.4.2.2. Europe
3.4.2.3. Asia Pacific
3.4.2.4. Rest of World
3.4.3. Global Synthetic Artificial Blood Vessels Market Share and BPS Analysis, by Region, 2021 and 2026
3.4.4. Global Synthetic Artificial Blood Vessels Market Attractiveness Analysis, by Region, 2021 - 2026

4. North America Synthetic Artificial Blood Vessels Market Outlook, 2018 - 2026
4.1. North America Synthetic Artificial Blood Vessels Market Outlook, By Polymer, 2018 - 2026
4.1.1. Key Highlights
4.1.2. North America Synthetic Artificial Blood Vessels Market Outlook, By Polymer, Value (US$ Million), 2018 - 2026
4.1.2.1. Expanded polytetrafluoroethylene (ePTFE)
4.1.2.2. Polyethylene Terephthalate
4.1.2.3. Polyurethane
4.1.2.4. Others
4.1.3. North America Synthetic Artificial Blood Vessels Market Share and BPS Analysis, By Polymer, 2021 and 2026
4.2. North America Synthetic Artificial Blood Vessels Market Outlook, By Application, 2018 - 2026
4.2.1. Key Highlights
4.2.2. North America Synthetic Artificial Blood Vessels Market Outlook, By Application, Value (US$ Million), 2018 - 2026
4.2.2.1. Aortic Disease
4.2.2.2. Hemodialysis
4.2.2.3. Peripheral Artery Disease
4.2.3. North America Synthetic Artificial Blood Vessels Market Share and BPS Analysis, By Application, 2021 and 2026
4.3. North America Synthetic Artificial Blood Vessels Market Outlook, End user, 2018 - 2026
4.3.1. Key Highlights
4.3.2. North America Synthetic Artificial Blood Vessels Market Outlook, End user, Value (US$ Million), 2018 - 2026
4.3.2.1. Hospitals
4.3.2.2. Cardiac Catheterization Laboratories
4.3.2.3. Ambulatory Surgical Centers
4.3.2.4. Specialty Clinics
4.3.3. North America Synthetic Artificial Blood Vessels Market Share and BPS Analysis, End user, 2021 and 2026
4.4. North America Synthetic Artificial Blood Vessels Market Outlook, By Country, 2018 - 2026
4.4.1. Key Highlights
4.4.2. North America Synthetic Artificial Blood Vessels Market Outlook, by Country, Value (US$ Million), 2018 - 2026
4.4.2.1. U.S.
4.4.2.2. Canada
4.4.3. North America Synthetic Artificial Blood Vessels Market Share and BPS Analysis, by Country, 2021 and 2026

5. Europe Synthetic Artificial Blood Vessels Market Outlook, 2018 - 2026
5.1. Europe Synthetic Artificial Blood Vessels Market Outlook, By Polymer, 2018 - 2026
5.1.1. Key Highlights
5.1.2. Europe Synthetic Artificial Blood Vessels Market Outlook, By Polymer, Value (US$ Million), 2018 - 2026
5.1.2.1. Expanded polytetrafluoroethylene (ePTFE)
5.1.2.2. Polyethylene Terephthalate
5.1.2.3. Polyurethane
5.1.2.4. Others
5.1.3. Europe Synthetic Artificial Blood Vessels Market Share and BPS Analysis, By Polymer, 2021 and 2026
5.2. Europe Synthetic Artificial Blood Vessels Market Outlook, By Application, 2018 - 2026
5.2.1. Key Highlights
5.2.2. Europe Synthetic Artificial Blood Vessels Market Outlook, By Application, Value (US$ Million), 2018 - 2026
5.2.2.1. Aortic Disease
5.2.2.2. Hemodialysis
5.2.2.3. Peripheral Artery Disease
5.2.3. Europe Synthetic Artificial Blood Vessels Market Share and BPS Analysis, By Application, 2021 and 2026
5.3. Europe Synthetic Artificial Blood Vessels Market Outlook, End user, 2018 - 2026
5.3.1. Key Highlights
5.3.2. Europe Synthetic Artificial Blood Vessels Market Outlook, End user, Value (US$ Million), 2018 - 2026
5.3.2.1. Hospitals
5.3.2.2. Cardiac Catheterization Laboratories
5.3.2.3. Ambulatory Surgical Centers
5.3.2.4. Specialty Clinics
5.3.3. Europe Synthetic Artificial Blood Vessels Market Share and BPS Analysis, End user, 2021 and 2026
5.4. Europe Synthetic Artificial Blood Vessels Market Outlook, By Country, 2018 - 2026
5.4.1. Key Highlights
5.4.2. Europe Synthetic Artificial Blood Vessels Market Outlook, by Country, Value (US$ Million), 2018 - 2026
5.4.2.1. Germany
5.4.2.2. France
5.4.2.3. United Kingdom
5.4.2.4. Italy
5.4.2.5. Spain
5.4.2.6. Rest of Europe
5.4.3. Europe Synthetic Artificial Blood Vessels Market Share and BPS Analysis, by Country, 2021 and 2026

6. Asia Pacific Synthetic Artificial Blood Vessels Market Outlook, 2018 - 2026
6.1. Asia Pacific Synthetic Artificial Blood Vessels Market Outlook, By Polymer, 2018 - 2026
6.1.1. Key Highlights
6.1.2. Asia Pacific Synthetic Artificial Blood Vessels Market Outlook, By Polymer, Value (US$ Million), 2018 - 2026
6.1.2.1. Expanded polytetrafluoroethylene (ePTFE)
6.1.2.2. Polyethylene Terephthalate
6.1.2.3. Polyurethane
6.1.2.4. Others
6.1.3. Asia Pacific Synthetic Artificial Blood Vessels Market Share and BPS Analysis, By Polymer, 2021 and 2026
6.2. Asia Pacific Synthetic Artificial Blood Vessels Market Outlook, By Application, 2018 - 2026
6.2.1. Key Highlights
6.2.2. Asia Pacific Synthetic Artificial Blood Vessels Market Outlook, By Application, Value (US$ Million), 2018 - 2026
6.2.2.1. Aortic Disease
6.2.2.2. Hemodialysis
6.2.2.3. Peripheral Artery Disease
6.2.3. Asia Pacific Synthetic Artificial Blood Vessels Market Share and BPS Analysis, By Application, 2021 and 2026
6.3. Asia Pacific Synthetic Artificial Blood Vessels Market Outlook, End user, 2018 - 2026
6.3.1. Key Highlights
6.3.2. Asia Pacific Synthetic Artificial Blood Vessels Market Outlook, End user, Value (US$ Million), 2018 - 2026
6.3.2.1. Hospitals
6.3.2.2. Cardiac Catheterization Laboratories
6.3.2.3. Ambulatory Surgical Centers
6.3.2.4. Specialty Clinics
6.3.3. Asia Pacific Synthetic Artificial Blood Vessels Market Share and BPS Analysis, End user, 2021 and 2026
6.4. Asia Pacific Synthetic Artificial Blood Vessels Market Outlook, By Country, 2018 - 2026
6.4.1. Key Highlights
6.4.2. Asia Pacific Synthetic Artificial Blood Vessels Market Outlook, by Country, Value (US$ Million), 2018 - 2026
6.4.2.1. China
6.4.2.2. Japan
6.4.2.3. India
6.4.2.4. Australia & New Zealand
6.4.2.5. Rest of Asia Pacific
6.4.3. Asia Pacific Synthetic Artificial Blood Vessels Market Share and BPS Analysis, by Country, 2021 and 2026

7. Rest of World Synthetic Artificial Blood Vessels Market Outlook, 2018 - 2026
7.1. Rest of World Synthetic Artificial Blood Vessels Market Outlook, By Polymer, 2018 - 2026
7.1.1. Key Highlights
7.1.2. Rest of World Synthetic Artificial Blood Vessels Market Outlook, By Polymer, Value (US$ Million), 2018 - 2026
7.1.2.1. Expanded polytetrafluoroethylene (ePTFE)
7.1.2.2. Polyethylene Terephthalate
7.1.2.3. Polyurethane
7.1.2.4. Others
7.1.3. Rest of World Synthetic Artificial Blood Vessels Market Share and BPS Analysis, By Polymer, 2021 and 2026
7.2. Rest of World Synthetic Artificial Blood Vessels Market Outlook, By Application, 2018 - 2026
7.2.1. Key Highlights
7.2.2. Rest of World Synthetic Artificial Blood Vessels Market Outlook, By Application, Value (US$ Million), 2018 - 2026
7.2.2.1. Aortic Disease
7.2.2.2. Hemodialysis
7.2.2.3. Peripheral Artery Disease
7.2.3. Rest of World Synthetic Artificial Blood Vessels Market Share and BPS Analysis, By Application, 2021 and 2026
7.3. Rest of World Synthetic Artificial Blood Vessels Market Outlook, End user, 2018 - 2026
7.3.1. Key Highlights
7.3.2. Rest of World Synthetic Artificial Blood Vessels Market Outlook, End user, Value (US$ Million), 2018 - 2026
7.3.2.1. Hospitals
7.3.2.2. Cardiac Catheterization Laboratories
7.3.2.3. Ambulatory Surgical Centers
7.3.2.4. Specialty Clinics
7.3.3. Rest of World Synthetic Artificial Blood Vessels Market Share and BPS Analysis, End user, 2021 and 2026
7.4. Rest of World Synthetic Artificial Blood Vessels Market Outlook, By Sub-Region, 2018 - 2026
7.4.1. Key Highlights
7.4.2. Rest of World Synthetic Artificial Blood Vessels Market Outlook, by Sub-Region, Value (US$ Million), 2018 - 2026
7.4.2.1. Latin America
7.4.2.2. Middle East & Africa
7.4.3. Rest of World Synthetic Artificial Blood Vessels Market Share and BPS Analysis, by Sub-Region, 2021 and 2026

8. Competitive Landscape
8.1. Market Share Analysis, 2021
8.2. Company Profiles
8.2.1. B. Braun Melsungen AG
8.2.1.1. Company overview
8.2.1.2. Financial performance
8.2.1.3. Product Pipeline
8.2.1.4. Recent Developments
Above details will include, but not be limited to below list of companies based on availability
8.2.2. Terumo Aortic (Terumo Group)
8.2.3. Humacyte, Inc.
8.2.4. LeMaitre Vascular, Inc.
8.2.5. W. L. Gore and Associates
8.2.6. JOTEC GmbH
8.2.7. Cook Medical Inc.
8.2.8. Bard Peripheral Vascular
Other Leading Players

9. Appendix
9.1. Research Methodology
9.2. Report Specific Research Approach