This study intends to unfurl the multiple facets of global vegan food market. The insights offered in the report aid in market growth examination during the forecast period.
Market Analysis in Brief
Veganism is a lifestyle movement that has been gaining momentum, leading to a growing number of prominent individuals making the transition to this type of way of life, particularly in recent years. As such, apart from the personal consumption of vegan food, several commercial establishments are also beginning to adopt and implement this type of cuisine among their existing repertoire of offerings. The increasing prevalence of various chronic diseases has also led to many switching from being non-vegetarians or pescatarians to a vegan diet, due to the many benefits associated with this type of living. Despite the inflated costs associated with this type of food and the lack of overall variation, more heightened globalization and urbanization are also leading to greater availability and higher consumption of vegan products. The vegan food market is slated to grow promisingly in the years to come.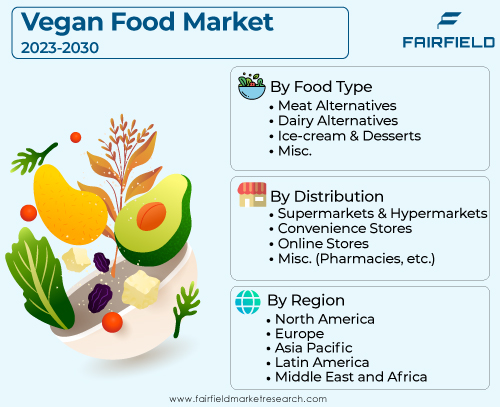 Key Report Findings:
Vegan food market receives strong tailwinds from rising accessibility of non-dairy alternatives
Adoption of healthier lifestyles to fuel opportunities in vegan food industry
Crucial market growth role – methane emissions increased by 50% (1961-2018)
Nearly 65% of the global population is lactose intolerant
North America to retain its dominant positioning in vegan food market
Growth Drivers
Increasing Adoption of a Vegan Lifestyle
The adoption of sedentary lifestyles has resulted in an increase in health complications such as obesity, diabetes, and cardiovascular disorders. This pushed the consumption of healthy, nutrition-rich food that promotes effective weight management. Apart from eating in intervals, more consumers are now switching to vegan food owing to the health benefits associated with that lifestyle. Vegan food helps in lowering fat content and reducing weight, enhancing blood flow, and in providing fibrous nutrition along with essential minerals and vitamins needed for cell development. It has been a popular consumer perception that vegans have a higher life expectancy as compared to individuals that consumed a meat-based diet. Consumption of vegan food also regulates body metabolism thus enhancing immunity. With this as a backdrop, the consumption of vegan food is expected to increase, bolstering growth for this global vegan food market in the process.
GHG Emissions by Animal-based Products under Scrutiny
Additionally, the curbing of greenhouse gas (GHG) emissions emitted through dairy and meat livestock has been a more significant concern recently. According to the Food and Agriculture Organization (UN FAO), methane emissions from livestock, increased by 50% between 1961-2018, and this is likely to grow further owing to the demand for animal-based products. By adopting veganism, animal exploitation is prevented along with significantly reducing GHG emissions, thus supporting environmental wellbeing. These aspects are expected to have a major influence on vegan food market in the coming years.
Vegan Milk Grows Popular Among Lactose Intolerant Population
There has been an increasing demand for dairy product alternatives globally. This can be attributed mainly due to a growing lactose intolerant population. For instance, according to the analysis by the National Centre for Biotechnology Information (NCBI), about 65% of the global population is lactose intolerant. This has led to an exponential increase in the number of individuals consuming or looking to consume alternatives to dairy products like milk. The availability of vegan milk products derived from oats, soy, almonds, among other sources, coupled with the growing inclination towards such alternatives are elements expected to boost the growth trajectory of the vegan food market in the coming years. In addition to this, health-conscious individuals are also opting for vegan milk due to its perceived benefits such as weight management, adequate nutritional value, and overall body maintenance. This increasing demand for vegan milk is expected to contribute significantly towards the market value of the vegan food industry.
Growth Challenges
Expensive Costs, and Potentially Associated Deficiencies
Owing to the relatively short commercial lifespan of the vegan food industry, more research and development is needed to create products that have greater mass appeal. Manufacturers presently aim to offer plant-based alternatives to the general populace; however, the pricing of these products tends to be much higher than conventional consumables. Taste and texture also differ immensely. This has led to the slower adoption of vegan food among many consumers worldwide. Additionally, vegan food products have been found to be nutritionally deficient in certain cases, having a low protein content level for example, and this can lead to various disorders such as hormonal imbalance, anaemia, and vitamin B12 deficiency. Factors such as this are expected to potentially hinder growth prospects for the global vegan food market in the future.
COVID-19 Impact
The onset of the COVID-19 pandemic resulted in the imposing of restrictions by respective governments on the movement of people and goods, as well as the hampered supply of necessary raw materials, among other operational hurdles. This led to a significant decline in generated revenues for many industries and this was no different for the global vegan food industry. However, as restrictions were gradually relaxed, post the 3rd and 4th waves, this global vegan food market regressed to its pre-COVID-19 state of operations, with projections of exponential growth expected to be achieved over a short length of time.
Growth Opportunities Across Regions
North America to Flex Dominance
North America is expected to account for the majority share of the global vegan food market over the forecast period. This can be attributed to a higher adoption rate of vegan products here, as well as a higher level of awareness concerning the benefits associated with a vegan lifestyle. According to the Vegetarian Resource Group (VRG), more than 2% of the overall population in the United States is vegan and this is likely to increase further in the coming years. Additionally, increasing GDP per capita across countries in this region is also expected to further fuel the consumption of vegan food, albeit it's higher pricing.
On the other hand, the Asia Pacific region is expected to index significant growth in the coming years. For instance, according to the UN FAO, the lowest meat consumption has been observed in India, from a global perspective. In 2020, out of approximately 500 million vegetarians, around 1% individuals were vegans, and this trend is rapidly proliferating in India. These factors are expected to generate significant opportunities for industry players, in turn fuelling growth for the global vegan food market.
Vegan Food Market: Competitive Landscape
Key players in this market include DANONE S.A., Archer Daniels Midland Company, Conagra Inc., Axiom Foods Inc., Beyond Meat, Alpro, Tofutti Brands Inc., and Kellogg Company. To gain a competitive edge, various established industry players are now more focused on new product launches, partnerships, collaborations, acquisitions, and alliances.
Recent Notable Developments:
In February 2021, Danone S.A. acquired Follow Your Heart, a plant-based pioneer, for US$6 million. This move is expected to aid Danone in improving its capabilities of developing and launching novel vegan products


In May 2021, Target launched Good & Gather, a new plant-based sub-brand, with a portfolio offering of 30 plant-based products


In May 2021, Nestle, a food conglomerate, launched Wunda, a new vegan milk brand, specifically focused for release in Portugal, the Netherlands, and France


In July 2021, Upfield launched Violife, a new vegan cheese brand in the Middle East. This brand's range is an allergen-free alternative to dairy products, and is available in slices, cubes, and grated form, in two flavours – Cheddar and Mozzarella
Regional Classification of the Global Vegan Food Market is Listed Below:
North America
Europe
Germany
France
Spain
U.K.
Italy
Russia
Rest of Europe
Asia Pacific
China
Japan
India
Southeast Asia
Rest of Asia Pacific
Latin America
Brazil
Mexico
Rest of Latin America
Middle East and Africa
GCC
South Africa
Rest of Middle East & Africa
*Regions and countries are subject to change based on data availability.
Key Elements Included In The Study: Global Vegan Food Market
Vegan Food Market by Product/Technology/Grade, Application/End-user, and Region
Executive Summary (Opportunity Analysis and Key Trends)
Historical Market Size and Estimates, Value and Volume, 2019 - 2022
Volume Consumption at Regional and Country Level, 2023 - 2030
Market Dynamics and Economic Overview
Market Size in Value and Volume, Growth Rates, and Forecast Figures, 2023 - 2030
Competitive Intelligence with Financials, Key Developments, and Portfolio of Leading Companies
Regional and Product/Grade/Application/End-user Price Trends Analysis
Production Output Analysis (Major Producing Regions)
Value Chain and Five Force's Analysis
Regional/Sub-region/Country Market Size and Trend Analysis
Company Market Share Analysis and Key Player Profiles
Post Sale Support, Research Updates & Offerings
We value the trust shown by our customers in Fairfield Market Research. We support our clients through our post sale support, research updates and offerings.
The report will be prepared in a PPT format and will be delivered in a PDF format.
Additionally, Market Estimation and Forecast numbers will be shared in Excel Workbook.
If a report being sold was published over a year ago, we will offer a complimentary copy of the updated research report along with Market Estimation and Forecast numbers within 2-3 weeks' time of the sale.
If we update this research study within the next 2 quarters, post purchase of the report, we will offer a Complimentary copy of the updated Market Estimation and Forecast numbers in Excel Workbook.
If there is a geopolitical conflict, pandemic, recession, and the like which can impact global economic scenario and business activity, which might entirely alter the market dynamics or future projections in the industry, we will create a Research Update upon your request at a nominal charge.
1. Executive Summary
1.1. Global Vegan Food Market: Snapshot
1.2. Future Projections, 2022 - 2030, (US$ Mn)
1.3. Key Segment Analysis and Competitive Insights
1.4. Analyst Recommendations

2. Market Overview
2.1. Market Definitions and Segmentations
2.2. Market Dynamics
2.2.1. Drivers
2.2.1.1. Driver A
2.2.1.2. Driver B
2.2.1.3. Driver C
2.2.2. Restraints
2.2.2.1. Restraint 1
2.2.2.2. Restraint 2
2.2.3. Market Opportunities Matrix
2.3. Value Chain Analysis
2.4. Porter's Five Forces Analysis
2.5. Covid-19 Impact Analysis
2.5.1. Supply
2.5.2. Demand
2.6. Government Regulations
2.7. Vegan Trends: Key Regions
2.8. Recent Industry Developments
2.9. Economic Analysis
2.10. PESTLE Analysis
3. Global Vegan Food Market Outlook, 2019 - 2030
3.1. Global Vegan Food Market Outlook, by Food Type, Value (US$ Mn), 2019 - 2030
3.1.1. Key Highlights
3.1.1.1. Meat Alternatives
3.1.1.2. Dairy Alternatives
3.1.1.3. Ice-cream & Desserts
3.1.1.4. Misc.
3.1.2. Market Attractiveness Analysis
3.2. Global Vegan Food Market Outlook, by Distribution Channels, Value (US$ Mn), 2019 - 2030
3.2.1. Key Highlights
3.2.1.1. Supermarkets & Hypermarkets
3.2.1.2. Convenience Stores
3.2.1.3. Online Stores
3.2.1.4. Misc. (Pharmacies, etc.)
3.2.2. Market Attractiveness Analysis
3.3. Global Vegan Food Market Outlook, by Region, Value (US$ Mn), 2019 - 2030
3.3.1. Key Highlights
3.3.1.1. North America
3.3.1.2. Europe
3.3.1.3. Asia Pacific
3.3.1.4. Latin America
3.3.1.5. Middle East & Africa
3.3.2. Market Attractiveness Analysis

4. North America Vegan Food Market Outlook, 2019 - 2030
4.1. North America Vegan Food Market Outlook, by Food Type, Value (US$ Mn), 2019 - 2030
4.1.1. Key Highlights
4.1.1.1. Meat Alternatives
4.1.1.2. Dairy Alternatives
4.1.1.3. Ice-cream & Desserts
4.1.1.4. Misc.
4.2. North America Vegan Food Market Outlook, by Distribution Channels, Value (US$ Mn), 2019 - 2030
4.2.1. Key Highlights
4.2.1.1. Supermarkets & Hypermarkets
4.2.1.2. Convenience Stores
4.2.1.3. Online Stores
4.2.1.4. Misc. (Pharmacies, etc.)
4.3. North America Vegan Food Market Outlook, by Country, Value (US$ Mn), 2019 - 2030
4.3.1. Key Highlights
4.3.1.1. U.S.
4.3.1.2. Canada

5. Europe Vegan Food Market Outlook, 2019 - 2030
5.1. Europe Vegan Food Market Outlook, by Food Type, Value (US$ Mn), 2019 - 2030
5.1.1. Key Highlights
5.1.1.1. Meat Alternatives
5.1.1.2. Dairy Alternatives
5.1.1.3. Ice-cream & Desserts
5.1.1.4. Misc.
5.2. Europe Vegan Food Market Outlook, by Distribution Channels, Value (US$ Mn), 2019 - 2030
5.2.1. Key Highlights
5.2.1.1. Supermarkets & Hypermarkets
5.2.1.2. Convenience Stores
5.2.1.3. Online Stores
5.2.1.4. Misc. (Pharmacies, etc.)
5.3. Europe Vegan Food Market Outlook, by Country, Value (US$ Mn), 2019 - 2030
5.3.1. Key Highlights
5.3.1.1. Germany
5.3.1.2. France
5.3.1.3. U.K.
5.3.1.4. Italy
5.3.1.5. Spain
5.3.1.6. Turkey
5.3.1.7. Russia
5.3.1.8. Rest of Europe
5.3.2. BPS Analysis/Market Attractiveness Analysis

6. Asia Pacific Vegan Food Market Outlook, 2019 - 2030
6.1. Asia Pacific Vegan Food Market Outlook, by Food Type, Value (US$ Mn), 2019 - 2030
6.1.1. Key Highlights
6.1.1.1. Meat Alternatives
6.1.1.2. Dairy Alternatives
6.1.1.3. Ice-cream & Desserts
6.1.1.4. Misc.
6.2. Asia Pacific Vegan Food Market Outlook, by Distribution Channels, Value (US$ Mn), 2019 - 2030
6.2.1. Key Highlights
6.2.1.1. Supermarkets & Hypermarkets
6.2.1.2. Convenience Stores
6.2.1.3. Online Stores
6.2.1.4. Misc. (Pharmacies, etc.)
6.3. Asia Pacific Vegan Food Market Outlook, by Country, Value (US$ Mn), 2019 - 2030
6.3.1. Key Highlights
6.3.1.1. China
6.3.1.2. Japan
6.3.1.3. South Korea
6.3.1.4. India
6.3.1.5. Southeast Asia
6.3.1.6. Rest of Asia Pacific
6.3.2. BPS Analysis/Market Attractiveness Analysis

7. Latin America Vegan Food Market Outlook, 2019 - 2030
7.1. Latin America Vegan Food Market Outlook, by Food Type, Value (US$ Mn), 2019 - 2030
7.1.1. Key Highlights
7.1.1.1. Meat Alternatives
7.1.1.2. Dairy Alternatives
7.1.1.3. Ice-cream & Desserts
7.1.1.4. Misc.
7.2. Latin America Vegan Food Market Outlook, by Distribution Channels, Value (US$ Mn), 2019 - 2030
7.2.1. Key Highlights
7.2.1.1. Supermarkets & Hypermarkets
7.2.1.2. Convenience Stores
7.2.1.3. Online Stores
7.2.1.4. Misc. (Pharmacies, etc.)
7.3. Latin America Vegan Food Market Outlook, by Country, Value (US$ Mn), 2019 - 2030
7.3.1. Key Highlights
7.3.1.1. Brazil
7.3.1.2. Mexico
7.3.1.3. Rest of Latin America
7.3.2. BPS Analysis/Market Attractiveness Analysis

8. Middle East & Africa Vegan Food Market Outlook, 2019 - 2030
8.1. Middle East & Africa Vegan Food Market Outlook, by Food Type, Value (US$ Mn), 2019 - 2030
8.1.1. Key Highlights
8.1.1.1. Meat Alternatives
8.1.1.2. Dairy Alternatives
8.1.1.3. Ice-cream & Desserts
8.1.1.4. Misc.
8.2. Middle East & Africa Vegan Food Market Outlook, by Distribution Channels, Value (US$ Mn), 2019 - 2030
8.2.1. Key Highlights
8.2.1.1. Supermarkets & Hypermarkets
8.2.1.2. Convenience Stores
8.2.1.3. Online Stores
8.2.1.4. Misc. (Pharmacies, etc.)
8.3. Middle East & Africa Vegan Food Market Outlook, by Country, Value (US$ Mn), 2019 - 2030
8.3.1. Key Highlights
8.3.1.1. GCC
8.3.1.2. South Africa
8.3.1.3. Egypt
8.3.1.4. Rest of Middle East & Africa
8.3.2. BPS Analysis/Market Attractiveness Analysis

9. Competitive Landscape
9.1. Company Market Share Analysis, 2021
9.2. Competition Matrix (By Tier and Size of companies)
9.3. Strategic Collaborations
9.4. Company Profiles
9.4.1. Danone S.A.
9.4.1.1. Company Overview
9.4.1.2. Product Portfolio
9.4.1.3. Financial Overview
9.4.1.4. Business Strategies and Development
(*Note: Above details would be available for below list of companies based on availability)
9.4.2. Conagra Inc.
9.4.3. Beyond Meat
9.4.4. Archer Daniel Midland Company
9.4.5. Daiya Foods Inc.
9.4.6. Hain Celestial Group
9.4.7. Impossible Foods Inc.
9.4.8. Tofutti Brands Inc.
9.4.9. Eden Foods Inc.
9.4.10. Amy's Kitchen
9.4.11. VITASOY International Holdings Ltd.
9.4.12. Plamil Foods Ltd.

10. Appendix
10.1. Acronyms and Abbreviations
10.2. Research Scope & Assumptions
10.3. Research Methodology and Information Sources
BASE YEAR

HISTORICAL DATA

FORECAST PERIOD

UNITS

2022

2018 - 2022

2023 - 2030

Value: US$ Million
REPORT FEATURES

DETAILS

Food Coverage

Meat Alternatives

Dairy Alternatives

Ice-cream & Desserts

Misc.

Distribution Channel Coverage

Geographical Coverage

North America

Europe

Germany

France

U.K.

Italy

Spain

Russia

Rest of Europe

Asia Pacific

China

Japan

South Korea

India

Southeast Asia

Rest of Asia Pacific

Latin America

Brazil

Mexico

Rest of Latin America

Middle East & Africa

Leading Companies

Danone S.A.

Conagra Inc.

Beyond Meat

Archer Daniel Midland Company

Daiya Foods Inc.

Hain Celestial Group

Impossible Foods Inc.

Tofutti Brands Inc.

Eden Foods Inc.

Amy's Kitchen

VITASOY International Holdings Ltd.

Plamil Foods Ltd.

Report Highlights

Market Estimates and Forecast, Market Dynamics, Industry Trends, Competition Landscape, Food -, Distribution Channel-, Region-, Country-wise Trends & Analysis, COVID-19 Impact Analysis (Demand and Supply), Key Market Trends