The global warehouse automation market was valued at US$12.7 Bn in 2019 and is expected to be worth over US$53.2 Bn by the end of forecast year, 2029. During the projection period, the global market is anticipated to register a strong CAGR of 15.4%.
Digital Logistics' Excellent Growth Highlights Critical Need for Warehouse Automation
In any business process, success in logistics eventually relates to increased efficiencies, smarter use of warehouse space, higher production rates, lower costs, better inventory control, increased customer and supplier satisfaction, and an improved customer experience. The very essence of a business process is to make sure proper delivery of its goods as well as service. This is only possible by effectively managing the logistics department. Managing logistics involves activities such as warehouse management, inventory control, raw material accumulation, and planning supply and demand. The global warehouse automation market is likely to receive strong tailwinds with this growing need. A majority of organizations are seeking ways to improve its logistics segment. Automating such process in one such way, these organizations are looking forward to. The global digital logistics market is expected to be valued at US$47 Mn by 2027 registering a CAGR of 22% during the forecast period. As a result, rise in awareness about the importance of logistics management paves the way for quality sales in the warehouse automation market.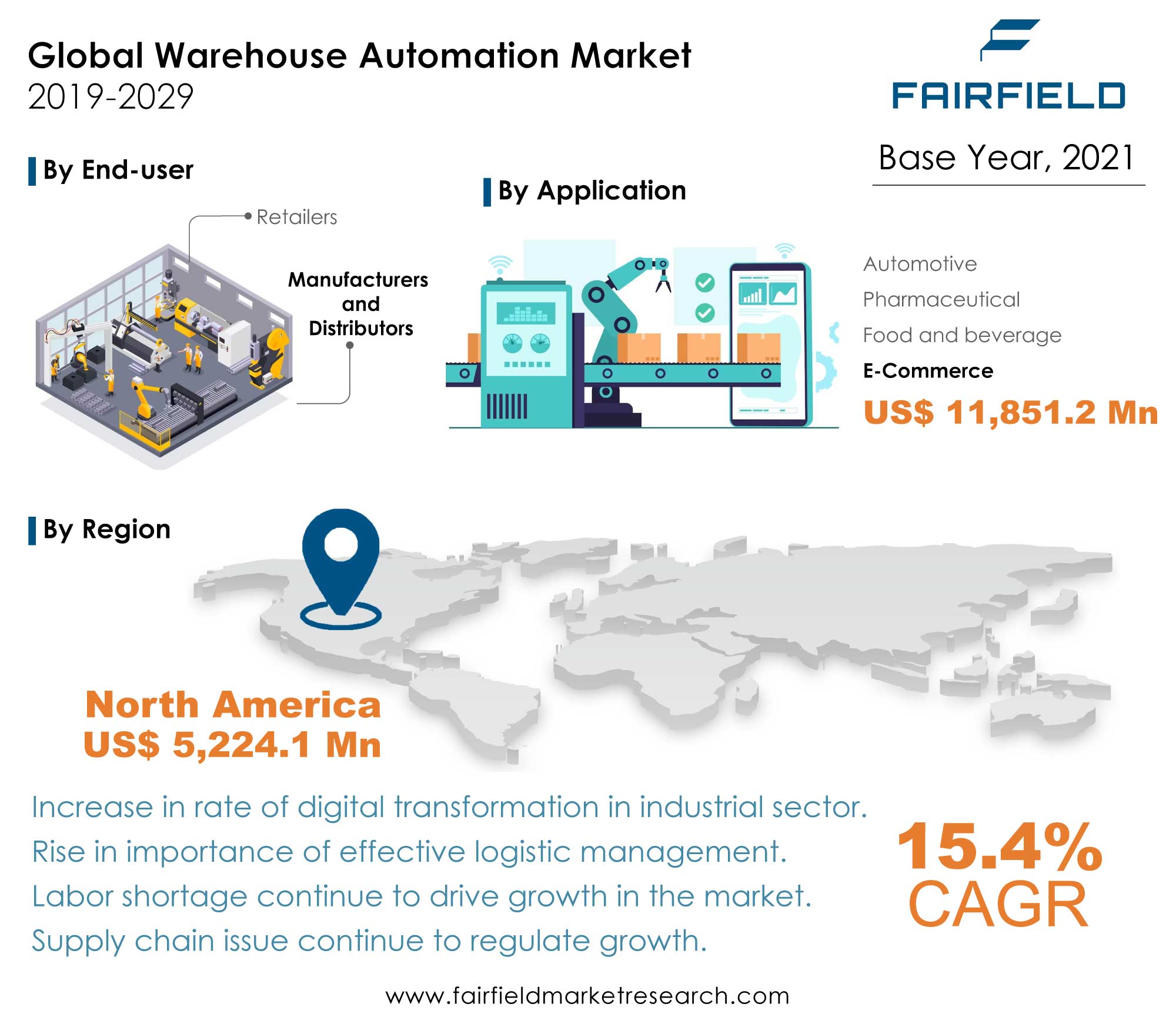 Warehouse Automation Market Thrives on the Back of Skilled Labor Shortage
Over the past couple of years, there has been scarcity of resources in logistics and warehouse sector. According to US Bureau of labor Statistics, 244,000 workers in that segment quit their jobs in August 2022. This is attributable to the fact that major chunk of resources seeking white-collar secure jobs. This job trend has led to logistics companies relying on automation systems in their business process. E-commerce giant Amazon has been adopting automation in its warehouse segment to expedite the processing of orders and enable faster last mile delivery of good to its clients. As a result, labor shortage has indirectly influenced the growth of warehouse automation market.
Warehouse Automation Market Held Back by High Initial Investments, and Exorbitant Maintenance Costs
In the long run, adoption of warehouse automation processes such as automated storage and retrieval system (AS/RS) is expected to reduce labor cost and help in increase productivity. However, the initial investments in purchasing AS/RS are more expensive than hiring in-house personnel to operate them. For instance, installation of robotic cube storage amounts to US$1.5 Mn, whereas installation of unit-load ASRS would cost around US$1 Mn. Similarly, installation of multi shuttle and mini-load ASRS would cost US$1 Mn and US$750,000 respectively. Moreover, maintenance cost of these equipment annually turns out to be expensive specifically for small-scale industries or organization. Thus, high initial investments on installation as well as a maintenance cost is challenging to be endured by these organizations.
Warehouse Automation Market of North America Upbeat with Adoption Across SME Sector
With the biggest market share in 2020, North America dominated the industry. Numerous significant market participants as well as a number of small and medium-sized businesses are based in North America, which is encouraging for the expanding uptake of the warehouse automation technology in the local market. The market in the Asia Pacific region is predicted to grow at the fastest CAGR between 2021 and 2029. The expansion of the warehouse automation market in the region may be linked to businesses in Asia Pacific nations like China, and India showing an increasing demand for cutting-edge technical solutions.
Warehouse Automation Market – Competition Landscape Analysis
Some of the major vendors in global warehouse automation market have implemented various types of organic and inorganic growth strategies, such as new product launches, product upgradations, partnerships and agreements, business expansions, and mergers and acquisitions to strengthen their offerings in the market. The major vendors in the global market include ABB Ltd., Bastian Solution LLC, Daifuku Co Ltd., FANUC Corporation, Fetch Robotics Inc., Jungheinrich AG, KUKA AG, Omron Corporation, SSI SCHAEFER Group, and Yaskawa Electric Corporation. The key players in the market space are also pursuing several other strategic initiatives, including joint ventures, and new product launches, and striking contracts and agreements to strengthen their position in the market.
Recent Notable Developments
In September 2022, ABB Ltd announced the acquisition of PowerTech Converter (PTC) business, a leading supplier of auxiliary power converter solutions for light rail vehicles and metros. The acquisition is an important part of ABB Motion's external growth strategy


In January 2023 , Jungheinrich AG acquired Indiana-based Storage Solutions Group ("Storage Solutions"), a leading provider of racking and warehouse automation solutions in the U.S., to gain enhanced access to the attractive U.S. warehousing and automation market. Jungheinrich has signed a share purchase agreement with Merit Capital Partners, MFG Partners and the management of Storage Solutions for the acquisition of 100% of the share capital in Storage Solutions
The Global Warehouse Automation Market is Segmented as Below:
By Components Coverage
By End User Coverage
Retailers
Manufacturers and distributors
By Application Coverage
Automotive
Food and beverage
E-Commerce
Pharmaceutical
Others
By Geographical Coverage
North America
Europe

Germany
France
UK
Italy
Turkey
Spain
Russia
Rest of Europe

Asia Pacific

China
Japan
South Korea
India
Southeast Asia
Rest of Asia Pacific

Latin America

Brazil
Mexico
Rest of Latin America

Middle East & Africa

GCC
Egypt
Rest of Middle East & Africa
Leading Companies
ABB Ltd.
Bastian Solution LLC
Daifuku Co Ltd.
FANUC Corporation
Fetch Robotics Inc.
Jungheinrich AG
KUKA AG
Omron Corporation
SSI SCHAEFER Group
Yaskawa Electric Corporation
Inside This Report You Will Find:

1. Executive Summary
2. Market Overview
3. Global Warehouse Automation System Market Outlook, 2019 - 2029
4. North America Warehouse Automation System Market Outlook, 2019 - 2029
5. Europe Warehouse Automation System Market Outlook, 2019 - 2029
6. Asia Pacific Warehouse Automation System Market Outlook, 2019 - 2029
7. Latin America Warehouse Automation System Market Outlook, 2019 - 2029
8. Middle East & Africa Warehouse Automation System Market Outlook, 2019 - 2029
9. Competitive Landscape
10. Appendix

Post Sale Support, Research Updates & Offerings:
We value the trust shown by our customers in Fairfield Market Research. We support our clients through our post sale support, research updates and offerings.
The report will be prepared in a PPT format and will be delivered in a PDF format.
Additionally, Market Estimation and Forecast numbers will be shared in Excel Workbook.
If a report being sold was published over a year ago, we will offer a complimentary copy of the updated research report along with Market Estimation and Forecast numbers within 2-3 weeks' time of the sale.
If we update this research study within the next 2 quarters, post purchase of the report, we will offer a Complimentary copy of the updated Market Estimation and Forecast numbers in Excel Workbook.
If there is a geopolitical conflict, pandemic, recession, and the like which can impact global economic scenario and business activity, which might entirely alter the market dynamics or future projections in the industry, we will create a Research Update upon your request at a nominal charge.
1. Executive Summary
1.1. Global Warehouse Automation System Market Snapshot
1.2. Future Projections
1.3. Key Market Trends
1.4. Analyst Recommendations

2. Market Overview
2.1. Market Definitions
2.2. Market Taxonomy
2.3. Market Dynamics
2.3.1. Drivers
2.3.2. Restraints
2.4. Value Chain Analysis
2.5. Porter's Five Forces Analysis
2.6. COVID-19 Impact Analysis
2.7. Key Patents

3. Global Warehouse Automation System Market Outlook, 2019 - 2029
3.1. Global Warehouse Automation System Market Outlook, by End user, Value (US$ '000), 2019 - 2029
3.1.1. Key Highlights
3.1.1.1. Retailers
3.1.1.2. Manufacturers and distributors
3.1.2. BPS Analysis/Market Attractiveness Analysis
3.2. Global Warehouse Automation System Market Outlook, by Components, Value (US$ '000), 2019 - 2029
3.2.1. Key Highlights
3.2.1.1. Hardware
3.2.1.2. Software
3.2.2. BPS Analysis/Market Attractiveness Analysis
3.3. Global Warehouse Automation System Market Outlook, by Application, Value (US$ '000), 2019 - 2029
3.3.1. Key Highlights
3.3.1.1. Automotive
3.3.1.2. Food and beverage
3.3.1.3. E-Commerce
3.3.1.4. Pharmaceutical
3.3.1.5. Others
3.3.1.6. Others (Personal Mobility Instruments, Robotic Boats & ROVs, etc.)
3.3.2. BPS Analysis/Market Attractiveness Analysis
3.4. Global Warehouse Automation System Market Outlook, by Region, Value (US$ '000), 2019 - 2029
3.4.1. Key Highlights
3.4.1.1. North America
3.4.1.2. Europe
3.4.1.3. Asia Pacific
3.4.1.4. Latin America
3.4.1.5. Middle East & Africa
3.4.2. BPS Analysis/Market Attractiveness Analysis

4. North America Warehouse Automation System Market Outlook, 2019 - 2029
4.1. North America Warehouse Automation System Market Outlook, by End user, Value (US$ '000), 2019 - 2029
4.1.1. Key Highlights
4.1.1.1. Retailers
4.1.1.2. Manufacturers and distributors
4.1.2. BPS Analysis/Market Attractiveness Analysis
4.2. North America Warehouse Automation System Market Outlook, by Components, Value (US$ '000), 2019 - 2029
4.2.1. Key Highlights
4.2.1.1. Hardware
4.2.1.2. Software
4.2.2. BPS Analysis/Market Attractiveness Analysis
4.3. North America Warehouse Automation System Market Outlook, by Application, Value (US$ '000), 2019 - 2029
4.3.1. Key Highlights
4.3.1.1. Automotive
4.3.1.2. Food and beverage
4.3.1.3. E-Commerce
4.3.1.4. Pharmaceutical
4.3.1.5. Others
4.3.1.6. Others (Personal Mobility Instruments, Robotic Boats & ROVs, etc.)
4.3.1.7. BPS Analysis/Market Attractiveness Analysis
4.4. North America Warehouse Automation System Market Outlook, by Country, Value (US$ '000), 2019 - 2029
4.4.1. Key Highlights
4.4.1.1. U.S. Warehouse Automation System Market by Value (US$ '000), 2019 - 2029
4.4.1.2. Canada Warehouse Automation System Market by Value (US$ '000), 2019 - 2029
4.4.2. BPS Analysis/Market Attractiveness Analysis

5. Europe Warehouse Automation System Market Outlook, 2019 - 2029
5.1. Europe Warehouse Automation System Market Outlook, by End user, Value (US$ '000), 2019 - 2029
5.1.1. Key Highlights
5.1.1.1. Retailers
5.1.1.2. Manufacturers and distributors
5.1.2. BPS Analysis/Market Attractiveness Analysis
5.2. Europe Warehouse Automation System Market Outlook, by Components, Value (US$ '000), 2019 - 2029
5.2.1. Key Highlights
5.2.1.1. Hardware
5.2.1.2. Software
5.2.2. BPS Analysis/Market Attractiveness Analysis
5.3. Europe Warehouse Automation System Market Outlook, by Application, Value (US$ '000), 2019 - 2029
5.3.1. Key Highlights
5.3.1.1. Automotive
5.3.1.2. Food and beverage
5.3.1.3. E-Commerce
5.3.1.4. Pharmaceutical
5.3.1.5. Others
5.3.1.6. Others (Personal Mobility Instruments, Robotic Boats & ROVs, etc.)
5.3.2. BPS Analysis/Market Attractiveness Analysis
5.4. Europe Warehouse Automation System Market Outlook, by Country, Value (US$ '000), 2019 - 2029
5.4.1. Key Highlights
5.4.1.1. Germany Warehouse Automation System Market by Value (US$ '000), 2019 - 2029
5.4.1.2. France Warehouse Automation System Market by Product, Value (US$ '000), 2019 - 2029
5.4.1.3. U.K. Warehouse Automation System Market by Value (US$ '000), 2019 - 2029
5.4.1.4. Italy Warehouse Automation System Market by Value (US$ '000), 2019 - 2029
5.4.1.5. Spain Warehouse Automation System Market by Product, Value (US$ '000), 2019 - 2029
5.4.1.6. Rest of Europe Warehouse Automation System Market Value (US$ '000), 2019 - 2029
5.4.2. BPS Analysis/Market Attractiveness Analysis

6. Asia Pacific Warehouse Automation System Market Outlook, 2019 - 2029
6.1. Asia Pacific Warehouse Automation System Market Outlook, by End user, Value (US$ '000), 2019 - 2029
6.1.1. Key Highlights
6.1.1.1. Retailers
6.1.1.2. Manufacturers and distributors
6.1.2. BPS Analysis/Market Attractiveness Analysis
6.2. Asia Pacific Warehouse Automation System Market Outlook, by Components, Value (US$ '000), 2019 - 2029
6.2.1. Key Highlights
6.2.1.1. Hardware
6.2.1.2. Software
6.2.2. BPS Analysis/Market Attractiveness Analysis
6.3. Asia Pacific Warehouse Automation System Market Outlook, by Application, Value (US$ '000), 2019 - 2029
6.3.1. Key Highlights
6.3.1.1. Automotive
6.3.1.2. Food and beverage
6.3.1.3. E-Commerce
6.3.1.4. Pharmaceutical
6.3.1.5. Others
6.3.1.6. Others (Personal Mobility Instruments, Robotic Boats & ROVs, etc.)
6.3.2. BPS Analysis/Market Attractiveness Analysis
6.4. Asia Pacific Warehouse Automation System Market Outlook, by Country, Value (US$ '000), 2019 - 2029
6.4.1. Key Highlights
6.4.1.1. India Warehouse Automation System Market by Value (US$ '000), 2019 - 2029
6.4.1.2. China Warehouse Automation System Market by Value (US$ '000), 2019 - 2029
6.4.1.3. Japan Warehouse Automation System Market by Value (US$ '000), 2019 - 2029
6.4.1.4. Australia & New Zealand Warehouse Automation System Market Value (US$ '000), 2019 - 2029
6.4.1.5. Rest of Asia Pacific Market by Value (US$ '000), 2019 - 2029
6.4.2. BPS Analysis/Market Attractiveness Analysis

7. Latin America Warehouse Automation System Market Outlook, 2019 - 2029
7.1. Latin America Warehouse Automation System Market Outlook, by End user, Value (US$ '000), 2019 - 2029
7.1.1. Key Highlights
7.1.1.1. Retailers
7.1.1.2. Manufacturers and distributors
7.1.2. BPS Analysis/Market Attractiveness Analysis
7.2. Latin America Warehouse Automation System Market Outlook, by Components, Value (US$ '000), 2019 - 2029
7.2.1. Key Highlights
7.2.1.1. Hardware
7.2.1.2. Software
7.2.2. BPS Analysis/Market Attractiveness Analysis
7.3. Latin America Warehouse Automation System Market Outlook, by Application, Value (US$ '000), 2019 - 2029
7.3.1. Key Highlights
7.3.1.1. Automotive
7.3.1.2. Food and beverage
7.3.1.3. E-Commerce
7.3.1.4. Pharmaceutical
7.3.1.5. Others
7.3.1.6. Others (Personal Mobility Instruments, Robotic Boats & ROVs, etc.)
7.3.2. BPS Analysis/Market Attractiveness Analysis
7.4. Latin America Warehouse Automation System Market Outlook, by Country, Value (US$ '000), 2019 - 2029
7.4.1. Key Highlights
7.4.1.1. Brazil Warehouse Automation System Market by Value (US$ '000), 2019 - 2029
7.4.1.2. Mexico Warehouse Automation System Market by Value (US$ '000), 2019 - 2029
7.4.1.3. Rest of Latin America Warehouse Automation System Market by Value (US$ '000), 2019 - 2029
7.4.2. BPS Analysis/Market Attractiveness Analysis

8. Middle East & Africa Warehouse Automation System Market Outlook, 2019 - 2029
8.1. Middle East & Africa Warehouse Automation System Market Outlook, by End user, Value (US$ '000), 2019 - 2029
8.1.1. Key Highlights
8.1.1.1. Retailers
8.1.1.2. Manufacturers and distributors
8.1.2. BPS Analysis/Market Attractiveness Analysis
8.2. Middle East & Africa Warehouse Automation System Market Outlook, by Components, Value (US$ '000), 2019 - 2029
8.2.1. Key Highlights
8.2.1.1. Hardware
8.2.1.2. Software
8.2.2. BPS Analysis/Market Attractiveness Analysis
8.3. Middle East & Africa Warehouse Automation System Market Outlook, by Application, Value (US$ '000), 2019 - 2029
8.3.1. Key Highlights
8.3.1.1. Automotive
8.3.1.2. Food and beverage
8.3.1.3. E-Commerce
8.3.1.4. Pharmaceutical
8.3.1.5. Others
8.3.1.6. Others (Personal Mobility Instruments, Robotic Boats & ROVs, etc.)
8.3.2. BPS Analysis/Market Attractiveness Analysis
8.4. Middle East & Africa Warehouse Automation System Market Outlook, by Country, Value (US$ '000), 2019 - 2029
8.4.1. Key Highlights
8.4.1.1. GCC Warehouse Automation System Market by Value (US$ '000), 2019 - 2029
8.4.1.2. South Africa Warehouse Automation System Market by Value (US$ '000), 2019 - 2029
8.4.1.3. Rest of Middle East & Africa Warehouse Automation System Market by Value (US$ '000), 2019 - 2029
8.4.2. BPS Analysis/Market Attractiveness Analysis

9. Competitive Landscape
9.1. Company Market Share Analysis, 2019
9.2. Company Profiles
9.2.1. ABB Ltd.
9.2.1.1. Company Overview
9.2.1.2. Key Retailing Partners
9.2.1.3. Business Segment Revenue
9.2.1.4. Ingredient Overview
9.2.1.5. Product Offering & its Presence
9.2.1.6. Certifications & Claims
9.2.2. Bastian Solution LLC
9.2.3. Daifuku Co Ltd.
9.2.4. FANUC Corporation
9.2.5. Fetch Robotics Inc.
9.2.6. Jungheinrich AG
9.2.7. KUKA AG
9.2.8. Omron Corporation
9.2.9. SSI SCHAEFER Group
9.2.10. Yaskawa Electric Corporation

10. Appendix
10.1. Research Methodology
10.2. Report Assumptions
10.3. Acronyms and Abbreviations
BASE YEAR

HISTORICAL DATA

FORECAST PERIOD

UNITS

2021

2019 - 2021

2022 - 2029

Value: US$ Million
REPORT FEATURES

DETAILS

Components Coverage

End User Coverage

Application Coverage

Automotive

Food and beverage

E-Commerce

Pharmaceutical

Others

Geographical Coverage

North America

Europe

Germany

France

U.K.

Italy

Turkey

Spain

Russia

Rest of Europe

Asia Pacific

China

Japan

South Korea

India

Southeast Asia

Rest of Asia Pacific

Latin America

Brazil

Mexico

Rest of Latin America

Middle East & Africa

Leading Companies

Report Highlights

Market Estimates and Forecast, Market Dynamics, Industry Trends, Competition Landscape, Product-, Application-, Region-, Country-wise Trends & Analysis, COVID-19 Impact Analysis, Key Trends