Whey Protein Market Outlook
Global whey protein market revenue roughly equalled US$5.3 Bn in 2021 and will reach the valuation of US$11.2 Bn by 2030 end, registering a CAGR of 8.6% between the forecast years.
Market Analysis in Brief
Popularity of specialty sports nutrition, and greater emphasis on purchasing convenience products primarily drive sales of whey protein products. All set for an impressive outlook of growth, whey protein market largely benefits from a sprawling number of fitness clubs and health centers worldwide. Sports and nutrition joining hands will also work to the advantage of whey protein demand. Whey protein powder is an extensively consumed supplement targeting muscle protein synthesis, lean muscle mass growth, weight loss, and reduced cholesterol levels. Whey snacks have also been experiencing popularity among the health-conscious, in turn boosting the whey protein market size. The growth prospects look promising as more commercial food establishments register stable intake.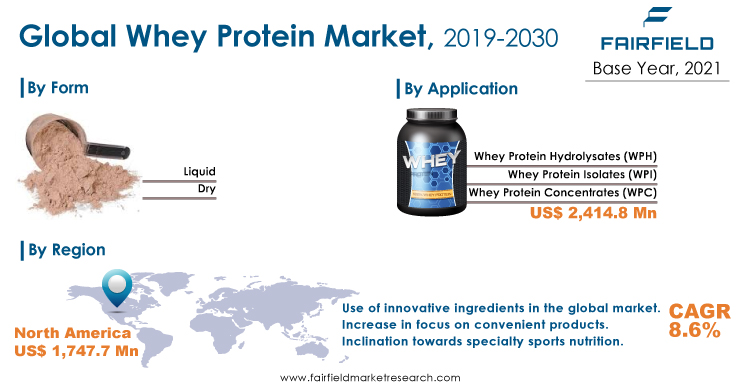 Key Report Findings
Whey protein concentrates record dominant sales with over 40% share in whey protein market
Dry whey protein remains sought-after and accounts for more than 90% of total demand
Maximum demand likely to come in from nutritional supplement manufacturers
North America reigns supreme, followed by Europe
Axiom Foods Inc, Ingredion Incorporated, DuPont, A&B Ingredients, Glanbia plc, and Fenchem – prominent brands in whey protein industry
Growth Drivers
Increasing Entry of Innovative Lineups in Sports Nutrition
With rise in demand for various sports nutrition products, manufacturers in the sports nutrition market now focuses on innovation factor that caters to varying whey protein benefits. When it comes to athletic sector, protein content attracts many shoppers to a product because it is associated with increasing strength, building muscle, enhancing recovery, slowing age-related muscle loss, and reducing appetite.
In 2016, higher number of sports-related product launches were registered with protein claims as compared to other products. Dairy proteins, which contain all the essential and nonessential amino acids, have long been the leader in helping brands introduce products that resonate with the fitness audience.
Mounting Uptake of Whey Protein Hydrolysate in Sports Nutrition
A majority of sports nutrition products comprise both the types of dairy proteins, viz., casein, and whey. Whey protein products among these have been gaining traction at a faster rate. Over the forecast period, the global whey protein market is expected to grow at a faster rate in terms of value sales. The global sports nutrition market has been enduring new trend with the higher demand for whey protein hydrolysate. Hydrolysates are considered to be high quality proteins which is being designed in such a way that it can be absorbed quickly by the body as compared to other conventional proteins.
Rise in Number of Health-conscious Consumers
Over the past couple of years, there has been rise in number of health conscious consumers. Post pandemic, there has been paradigm shift in lives of people specifically in terms of food consumption. In 2020, nutrition to support immunity became a major concern for people worldwide, and, two years on, consumer attitudes and behaviors around food have shifted for wellbeing.
From immunity to digestive health and meal behaviours, consumers adopt a more proactive approach to their diets – where taste, texture, and health are all top of mind. Hence, to attain their goal, these consumers now rely on ingredients such as whey powder into their diet. According to data from OurWorldinData.org, Iceland, Hong Kong, and Lithuania consume the most protein per capita. However, China, and India are leading the whey protein markets because of increasing demand from sports, medical, and personal care industry.
Overview of Key Segments
Concentrates Most Preferred, Hydrolysates High in Demand
Whey protein concentrates represent the leading market segment with more than 41% share in market valuation. The low-carb low-fat profile will continue to uphold the primacy of this segment in addition to high protein content. On the other hand, whey protein hydrolysates are touted to be the pre-digested whey protein that makes it easily digestible. This segment accounts for over a fourth share in the market and will most likely maintain the share through the end of forecast year. Whey protein isolates represent another key segment of whey protein market that are characterized by high protein content.
Growth Challenges
Nutrition Safety Standards
In global sports nutrition industry, every country has its own issues that they have been dealing with in terms of nutrition safety standards. For instance, according to US-China Health Products Association (USCHPA), sports nutrition is in its initial phase in China with lesser number of domestic players, and international brands accounting for greater whey protein market shares. However, there are several private label players which are fake abound. Unauthorized selling has been a primary challenge to fully developing the sports nutrition market in China which eventually hampers the safety standards of nutrition sector in the country.
Growth Opportunities Across Regions
Globally, Asia Pacific's whey protein market is expected to remain significant through the end of 2030. Nonstop product launches and demands for nutraceuticals are expected to drive the whey protein market growth here. Changing lifestyles, and busy schedules, have increased unhealthy habits among consumers in recent years leading to various health-related problems like IBD, and obesity. As a result, rising preference for healthy food and heightened health concerns among consumers are anticipated to be the primary drivers for whey protein markets over the forecast period. Asia Pacific's market is developing strong and will be the fastest growing market anticipating a high CAGR.
Europe's scenario is highly impacted by certain recent events such as that of BREXIT. Post-BREXIT, sports nutrition manufactures have been enduring with two different nutrition safety standards, i.e., the UK Law and other European country law. As per the sources, the UK intends to maintain stringent food safety standards as compared to the other European countries. With more than 30% share in the overall market revenue, North America spearheads the global whey protein market space.
Global Whey Protein Market: Competitive Landscape
The global whey protein market is highly diversified and competitive in nature owing to the presence of large number of local and international manufacturers, globally. Moreover, numerous producers of whey protein have made huge production facilities available in several countries.
Some of the leading market players identified are Axiom Foods, Inc, Scoular Company, Ingredion Incorporated, Roquette Frères, Puris, Emsland Group, DuPont, A&B Ingredients, Glanbia plc, and Fenchem. The whey protein market is witnessing strong competition, globally. Many market players are acquiring or merging with small and large manufacturers to sustain in this competitive market.
Recent Notable Developments
Carbery will launch Optipep 4Power, a new hydrolyzed whey protein (WPH) designed specifically for high-intensity interval training (HIIT) in 2021


First Milk has agreed to buy Fonterra's 51 percent stake in its Fast Forward JV in 2019. As a result, First Milk will become the sole owner of the Lake District Creamery's whey protein concentrate manufacturing facilities


Glanbia Nutritionals expanded its protein powder capabilities in 2018 by introducing BevEdge Whey Protein A-220W, a pre-acidified whey protein isolate that enables the creation of berry citrus-flavored protein drink mixes
The Global Whey Protein Market is Segmented as Below:
By Type Coverage
Whey Protein Isolates (WPI)
Whey Protein Concentrates (WPC)
Whey Protein Hydrolysates (WPH)
By Application Coverage
Meat extenders & analogues
Snacks & bakery products
Nutritional supplements
Beverages
Others
By Form Coverage
By Geographical Coverage
North America
Europe

Germany
France
U.K.
Italy
Turkey
Spain
Russia
Rest of Europe

Asia Pacific

China
Japan
South Korea
India
Southeast Asia
Rest of Asia Pacific

Latin America

Brazil
Mexico
Rest of Latin America

Middle East & Africa

GCC
Egypt
Rest of Middle East & Africa
Leading Companies
Axiom Foods, Inc
Scoular Company
Ingredion Incorporated,
Roquette Frères
Puris
Emsland Group
DuPont
A&B Ingredients.
Glanbia plc
FENCHEM
Inside This Report You Will Find:
1. Executive Summary
2. Market Overview
3. Global Whey Protein Market Outlook, 2019 - 2030
4. North America Whey Protein Market Outlook, 2019 - 2030
5. Europe Whey Protein Market Outlook, 2019 - 2030
6. Asia Pacific Whey Protein Market Outlook, 2019 - 2030
7. Latin America Whey Protein Market Outlook, 2019 - 2030
8. Middle East & Africa Whey Protein Market Outlook, 2019 - 2030
9. Competitive Landscape
10. Appendix

Post Sale Support, Research Updates & Offerings:
We value the trust shown by our customers in Fairfield Market Research. We support our clients through our post sale support, research updates and offerings.
The report will be prepared in a PPT format and will be delivered in a PDF format.
Additionally, Market Estimation and Forecast numbers will be shared in Excel Workbook.
If a report being sold was published over a year ago, we will offer a complimentary copy of the updated research report along with Market Estimation and Forecast numbers within 2-3 weeks' time of the sale.
If we update this research study within the next 2 quarters, post purchase of the report, we will offer a Complimentary copy of the updated Market Estimation and Forecast numbers in Excel Workbook.
If there is a geopolitical conflict, pandemic, recession, and the like which can impact global economic scenario and business activity, which might entirely alter the market dynamics or future projections in the industry, we will create a Research Update upon your request at a nominal charge.
1. Executive Summary
1.1. Global Whey Protein Market Snapshot
1.2. Future Projections
1.3. Key Market Trends
1.4. Analyst Recommendations

2. Market Overview
2.1. Market Definitions
2.2. Market Taxonomy
2.3. Market Dynamics
2.3.1. Drivers
2.3.2. Restraints
2.4. Value Chain Analysis
2.5. Porter's Five Forces Analysis
2.6. Covid-19 Impact Analysis
2.7. Key Patents

3. Global Whey Protein Market Outlook, 2019 - 2030
3.1. Global Whey Protein Market Outlook, by Form, Value (US$ '000), 2019 - 2030
3.1.1. Key Highlights
3.1.1.1. Dry
3.1.1.2. Liquid
3.1.2. BPS Analysis/Market Attractiveness Analysis
3.2. Global Whey Protein Market Outlook, by Type, Value (US$ '000), 2019 - 2030
3.2.1. Key Highlights
3.2.1.1. Isolates
3.2.1.2. Concentrates
3.2.1.3. Textured
3.2.2. BPS Analysis/Market Attractiveness Analysis
3.3. Global Whey Protein Market Outlook, by Application, Value (US$ '000), 2019 - 2030
3.3.1. Key Highlights
3.3.1.1. Meat extenders & analogs
3.3.1.2. Snacks & bakery products
3.3.1.3. Nutritional supplements
3.3.1.4. Beverages
3.3.1.5. Others
3.3.2. BPS Analysis/Market Attractiveness Analysis
3.4. Global Whey Protein Market Outlook, by End User, Value (US$ '000), 2019 - 2030
3.4.1. Key Highlights
3.4.1.1. Food & Beverages
3.4.1.2. Animal Feed
3.4.1.3. Cosmetics & Personal Care
3.4.1.4. Pharmaceuticals
3.5. BPS Analysis/Market Attractiveness AnalysisGlobal Whey Protein Market Outlook, by Region, Value (US$ '000), 2019 - 2030
3.5.1. Key Highlights
3.5.1.1. North America
3.5.1.2. Europe
3.5.1.3. Asia Pacific
3.5.1.4. Latin America
3.5.1.5. Middle East & Africa
3.5.2. BPS Analysis/Market Attractiveness Analysis

4. North America Whey Protein Market Outlook, 2019 - 2030
4.1. North America Whey Protein Market Outlook, by Form, Value (US$ '000), 2019 - 2030
4.1.1. Key Highlights
4.1.1.1. Dry
4.1.1.2. Liquid
4.1.2. BPS Analysis/Market Attractiveness Analysis
4.2. North America Whey Protein Market Outlook, by Type, Value (US$ '000), 2019 - 2030
4.2.1. Key Highlights
4.2.1.1. Isolates
4.2.1.2. Concentrates
4.2.1.3. Textured
4.2.2. BPS Analysis/Market Attractiveness Analysis
4.3. North America Whey Protein Market Outlook, by Application, Value (US$ '000), 2019 - 2030
4.3.1. Key Highlights
4.3.1.1. Meat extenders & analogs
4.3.1.2. Snacks & bakery products
4.3.1.3. Nutritional supplements
4.3.1.4. Beverages
4.3.1.5. Others
4.3.2. BPS Analysis/Market Attractiveness Analysis
4.4. North America Whey Protein Market Outlook, by End User, Value (US$ '000), 2019 - 2030
4.4.1. Key Highlights
4.4.1.1. Food & Beverages
4.4.1.2. Animal Feed
v4.4.1.3. Cosmetics & Personal Care
4.4.2. Pharmaceuticals
4.5. North America Whey Protein Market Outlook, by Country, Value (US$ '000), 2019 - 2030
4.5.1. Key Highlights
4.5.1.1. U.S. Whey Protein Market by Value (US$ '000), 2019 - 2030
4.5.1.2. Canada Whey Protein Market by Value (US$ '000), 2019 - 2030
4.5.2. BPS Analysis/Market Attractiveness Analysis

5. Europe Whey Protein Market Outlook, 2019 - 2030
5.1. Europe Whey Protein Market Outlook, by Form, Value (US$ '000), 2019 - 2030
5.1.1. Key Highlights
5.1.1.1. Dry
5.1.1.2. Liquid
5.1.2. BPS Analysis/Market Attractiveness Analysis
5.2. Europe Whey Protein Market Outlook, by Type, Value (US$ '000), 2019 - 2030
5.2.1. Key Highlights
5.2.1.1. Isolates
5.2.1.2. Concentrates
5.2.1.3. Textured
5.2.2. BPS Analysis/Market Attractiveness Analysis
5.3. Europe Whey Protein Market Outlook, by Application, Value (US$ '000), 2019 - 2030
5.3.1. Key Highlights
5.3.1.1. Meat extenders & analogs
5.3.1.2. Snacks & bakery products
5.3.1.3. Nutritional supplements
5.3.1.4. Beverages
5.3.1.5. Others
5.3.2. BPS Analysis/Market Attractiveness Analysis
5.4. Europe Whey Protein Market Outlook, by End User, Value (US$ '000), 2019 - 2030
5.4.1. Key Highlights
5.4.1.1. Food & Beverages
5.4.1.2. Animal Feed
5.4.1.3. Cosmetics & Personal Care
5.4.2. Pharmaceuticals
5.5. Europe Whey Protein Market Outlook, by Country, Value (US$ '000), 2019 - 2030
5.5.1. Key Highlights
5.5.1.1. Germany Whey Protein Market by Value (US$ '000), 2019 - 2030
5.5.1.2. France Whey Protein Market by Product, Value (US$ '000), 2019 - 2030
5.5.1.3. U.K. Whey Protein Market by Value (US$ '000), 2019 - 2030
5.5.1.4. Italy Whey Protein Market by Value (US$ '000), 2019 - 2030
5.5.1.5. Spain Whey Protein Market by Product, Value (US$ '000), 2019 - 2030
5.5.1.6. Rest of Europe Whey Protein Market Value (US$ '000), 2019 - 2030
5.5.2. BPS Analysis/Market Attractiveness Analysis

6. Asia Pacific Whey Protein Market Outlook, 2019 - 2030
6.1. Asia Pacific Whey Protein Market Outlook, by Form, Value (US$ '000), 2019 - 2030
6.1.1. Key Highlights
6.1.1.1. Dry
6.1.1.2. Liquid
6.1.2. BPS Analysis/Market Attractiveness Analysis
6.2. Asia Pacific Whey Protein Market Outlook, by Type, Value (US$ '000), 2019 - 2030
6.2.1. Key Highlights
6.2.1.1. Isolates
6.2.1.2. Concentrates
6.2.1.3. Textured
6.2.2. BPS Analysis/Market Attractiveness Analysis
6.3. Asia Pacific Whey Protein Market Outlook, by Application, Value (US$ '000), 2019 - 2030
6.3.1. Key Highlights
6.3.1.1. Meat extenders & analogs
6.3.1.2. Snacks & bakery products
6.3.1.3. Nutritional supplements
6.3.1.4. Beverages
6.3.1.5. Others
6.3.2. BPS Analysis/Market Attractiveness Analysis
6.4. Asia Pacific Whey Protein Market Outlook, by End User, Value (US$ '000), 2019 - 2030
6.4.1. Key Highlights
6.4.1.1. Food & Beverages
6.4.1.2. Animal Feed
6.4.1.3. Cosmetics & Personal Care
6.4.2. Pharmaceuticals
6.5. Asia Pacific Whey Protein Market Outlook, by Country, Value (US$ '000), 2019 - 2030
6.5.1. Key Highlights
6.5.1.1. India Whey Protein Market by Value (US$ '000), 2019 - 2030
6.5.1.2. China Whey Protein Market by Value (US$ '000), 2019 - 2030
6.5.1.3. Japan Whey Protein Market by Value (US$ '000), 2019 - 2030
6.5.1.4. Australia & New Zealand Whey Protein Market Value (US$ '000), 2019 - 2030
6.5.1.5. Rest of Asia Pacific Market by Value (US$ '000), 2019 - 2030
6.5.2. BPS Analysis/Market Attractiveness Analysis

7. Latin America Whey Protein Market Outlook, 2019 - 2030
7.1. Latin America Whey Protein Market Outlook, by Form, Value (US$ '000), 2019 - 2030
7.1.1. Key Highlights
7.1.1.1. Dry
7.1.1.2. Liquid
7.1.2. BPS Analysis/Market Attractiveness Analysis
7.2. Latin America Whey Protein Market Outlook, by Type, Value (US$ '000), 2019 - 2030
7.2.1. Key Highlights
7.2.1.1. Isolates
7.2.1.2. Concentrates
7.2.1.3. Textured
7.2.2. BPS Analysis/Market Attractiveness Analysis
7.3. Latin America Whey Protein Market Outlook, by Application, Value (US$ '000), 2019 - 2030
7.3.1. Key Highlights
7.3.1.1. Meat extenders & analogs
7.3.1.2. Snacks & bakery products
7.3.1.3. Nutritional supplements
7.3.1.4. Beverages
7.3.1.5. Others
7.3.2. BPS Analysis/Market Attractiveness Analysis
7.4. Latin America Whey Protein Market Outlook, by End User, Value (US$ '000), 2019 - 2030
7.4.1. Key Highlights
7.4.1.1. Food & Beverages
7.4.1.2. Animal Feed
7.4.1.3. Cosmetics & Personal Care
7.4.2. Pharmaceuticals
7.5. Latin America Whey Protein Market Outlook, by Country, Value (US$ '000), 2019 - 2030
7.5.1. Key Highlights
7.5.1.1. Brazil Whey Protein Market by Value (US$ '000), 2019 - 2030
7.5.1.2. Mexico Whey Protein Market by Value (US$ '000), 2019 - 2030
7.5.1.3. Rest of Latin America Whey Protein Market by Value (US$ '000), 2019 - 2030
7.5.2. BPS Analysis/Market Attractiveness Analysis

8. Middle East & Africa Whey Protein Market Outlook, 2019 - 2030
8.1. Middle East & Africa Whey Protein Market Outlook, by Form, Value (US$ '000), 2019 - 2030
8.1.1. Key Highlights
8.1.1.1. Dry
8.1.1.2. Liquid
8.1.2. BPS Analysis/Market Attractiveness Analysis
8.2. Middle East & Africa Whey Protein Market Outlook, by Type, Value (US$ '000), 2019 - 2030
8.2.1. Key Highlights
8.2.1.1. Isolates
8.2.1.2. Concentrates
8.2.1.3. Textured
8.2.2. BPS Analysis/Market Attractiveness Analysis
8.3. Middle East & Africa Whey Protein Market Outlook, by Application, Value (US$ '000), 2019 - 2030
8.3.1. Key Highlights
8.3.1.1. Meat extenders & analogs
8.3.1.2. Snacks & bakery products
8.3.1.3. Nutritional supplements
8.3.1.4. Beverages
8.3.1.5. Others
8.3.2. BPS Analysis/Market Attractiveness Analysis
8.4. Middle East & Africa Whey Protein Market Outlook, by End User, Value (US$ '000), 2019 - 2030
8.4.1. Key Highlights
8.4.1.1. Food & Beverages
8.4.1.2. Animal Feed
8.4.1.3. Cosmetics & Personal Care
8.4.2. Pharmaceuticals
8.5. Middle East & Africa Whey Protein Market Outlook, by Country, Value (US$ '000), 2019 - 2030
8.5.1. Key Highlights
8.5.1.1. GCC Whey Protein Market by Value (US$ '000), 2019 - 2030
8.5.1.2. South Africa Whey Protein Market by Value (US$ '000), 2019 - 2030
8.5.1.3. Rest of Middle East & Africa Whey Protein Market by Value (US$ '000), 2019 - 2030
8.5.2. BPS Analysis/Market Attractiveness Analysis

9. Competitive Landscape
9.1. Company Market Share Analysis, 2021
9.2. Company Profiles
9.2.1. Axiom Foods, Inc
9.2.1.1. Company Overview
9.2.1.2. Key Retailing Partners
9.2.1.3. Business Segment Revenue
9.2.1.4. Ingredient Overview
9.2.1.5. Product Offering & its Presence
9.2.1.6. Certifications & Claims
9.2.2. Scoular Company
9.2.3. Ingredion Incorporated,
9.2.4. Roquette Frères
9.2.5. Puris
9.2.6. Emsland Group
9.2.7. DuPont
9.2.8. A&B Ingredients.
9.2.9. Glanbia plc
9.2.10. FENCHEM

10. Appendix
10.1. Research Methodology
10.2. Report Assumptions
10.3. Acronyms and Abbreviations
BASE YEAR

HISTORICAL DATA

FORECAST PERIOD

UNITS

2021

2019 - 2021

2022 - 2030

Value: US$ Million
REPORT FEATURES

DETAILS

Type Coverage

Whey Protein Isolates (WPI)

Whey Protein Concentrates (WPC)

Whey Protein Hydrolysates (WPH)

Application Coverage

Form Coverage

Geographical Coverage

North America

Europe

Germany

France

U.K.

Italy

Turkey

Spain

Russia

Rest of Europe

Asia Pacific

China

Japan

South Korea

India

Southeast Asia

Rest of Asia Pacific

Latin America

Brazil

Mexico

Rest of Latin America

Middle East & Africa

Leading Companies

Axiom Foods, Inc

Scoular Company

Ingredion Incorporated,

Roquette Frères

Puris

Emsland Group

DuPont

A&B Ingredients.

Glanbia plc

FENCHEM

Report Highlights

Market Estimates and Forecast, Market Dynamics, Industry Trends, Competition Landscape, Product-, Application-, Region-, Country-wise Trends & Analysis, COVID-19 Impact Analysis, Key Trends