Bicycle Market Outlook
Global bicycle market was valued at US$42.4 Bn in 2018 and it is expected to reach US$100.8 Bn by 2026, registering a whopping CAGR of 12.7% between 2021 and 2026.
Key Report Findings
Worldwide bicycle sales to account for revenue beyond UD$100 Bn mark in 2026
Aggravating concerns around environmental footprint drive demand
Upsurge in e-bikes will largely favor bicycle industry's growth
Superior cycling infrastructure underpins Europe's prime position
Electric bicycles accelerate in Asia Pacific
Market Analysis in Brief
The worldwide green and clean transport initiative primarily drives sales of bicycles as a preferred mode. Global bicycle market is expected to heavily benefit from the expanding offerings on the market like e-bikes, electric bicycle variants, sports bicycles, road and mountain bikes, and hybrid bikes. The role of governments, as well as consumers remains crucial as both the elements embrace bicycling as a green mobility alternative, and a healthier way of lifestyle, respectively.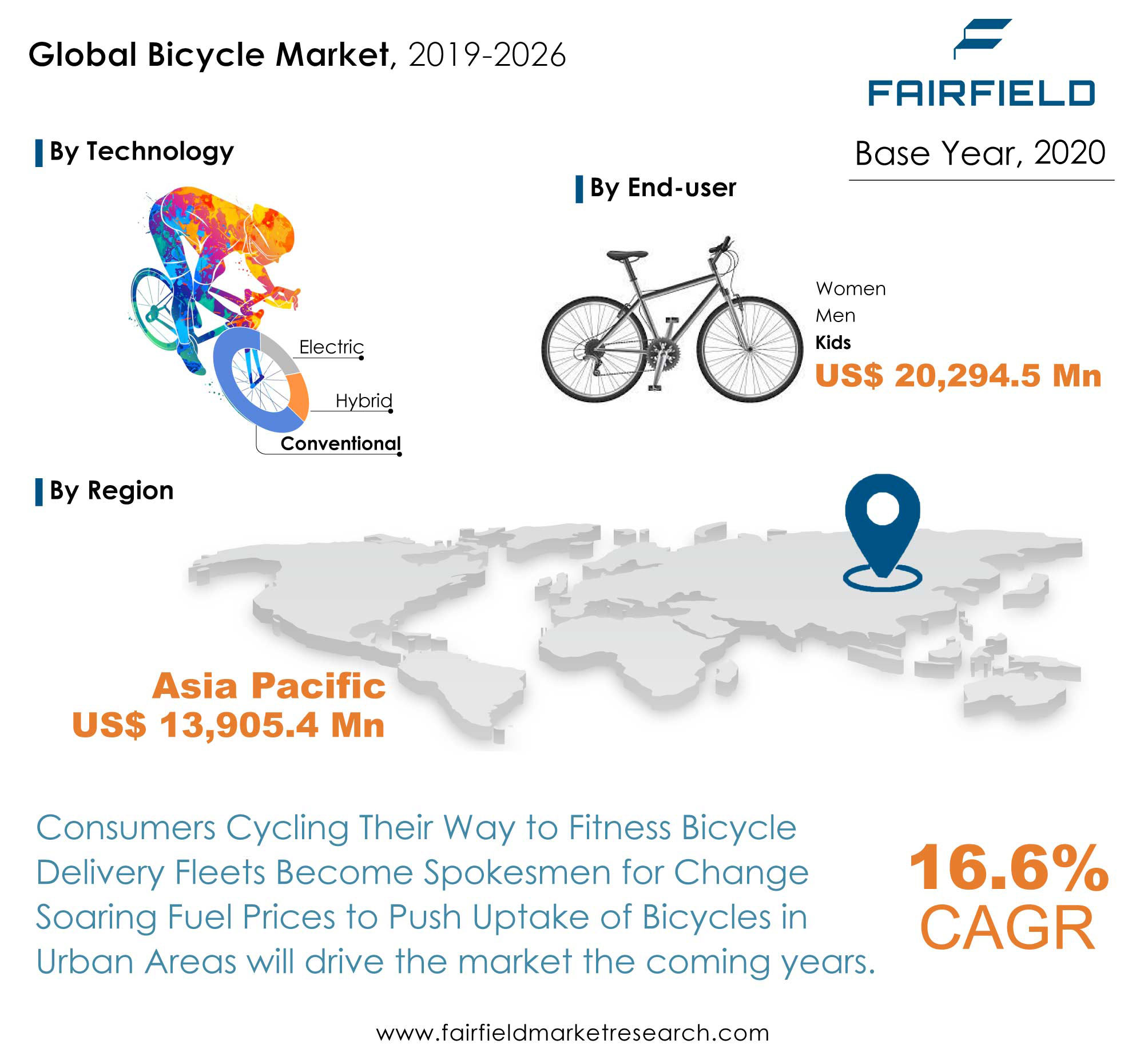 Growth Drivers
Choice of Better Lifestyle
A significant increase in the prevalence of chronic diseases has resulted in the growing adoption of bicycles around the world to ensure a healthy life. The demand for bicycles is also due to the growing traffic congestion and reducing the availability of parking spaces, especially in metropolitans. Additionally, with the rising environmental concerns governing agencies of various countries are undertaking numerous initiatives to minimize carbon emissions due to vehicular pollution. All of this has led to a focus on improving the existing infrastructure to support bicycle commute, which is contributing to the market growth. On June 3, 2021, the World Health Organization took the opportunity to state that bicycle could be an equal mode of transport and urged to double its usage by 2030.
Improved Material Science Technology that Enables Production of Ultra-lightweight Bicycles
The bicycle business has changed with rapid industrialization and the advent of new materials that are incredibly light yet extremely sturdy. New technology and advanced manufacturing methodologies employed in the production of such bicycles are increasingly being utilized in the production of sports and mountain bicycles.
For instance, Canyon Ultimate CF SLX, for example, was ranked second in the Tour de France by Movistar's Nairo Quintana and weighed only 6.7 kg. This bicycle was introduced in 2016, and it is the most recent version of racing bicycles, with the lightest yet strongest frame.
Growth Challenges
Unsupportive Regulations to Hamper e-Bike Sales
Government laws and terminologies are diverse with regards to bicycles. Some countries have regulations but the authority and legal regulations of road use are decided by states and provinces. Therefore, any change/update in the regulation of bicycle impacts the market demand.
For example, China, which is the largest electric bike market in the world, announced a regulation on bicycles, wherein bicycles will be classified as bicycle only if they can pedal-assist, have a maximum speed of up to 25 km/h and have a motor power of up to 400 watts. Any e-bike offering speed above 25 km/h will be considered a moped. The e-bike under new standards will be more expensive, which will be almost no different than plain bikes/scooters. Therefore, people might go for bikes rather than bicycle, thus affecting the sale of bicycle. Class-II and Class-III bicycle are restricted in the Asia Pacific region due to their high speed and throttle assist in avoiding traffic complications (except India, which allows class-II).
Most European countries, except Italy and the UK, have banned Class-II bicycle. Class-III bicycle have a limited presence in Europe. Therefore, the Class-II and Class-III markets have very limited penetration in the Asia Pacific, and European regions. Presently, there is a lack of infrastructure, such as bike paths and bike lanes, in emerging countries, such as India and Taiwan, which can be considered as a restraint for the e-bike market.
Growth Opportunities Across Regions
Europe Embraces e-Bike Triggering Growth in Global Bicycles Market
European countries such as Germany, Denmark, and the Netherlands have sufficient cycling infrastructure in addition to government legislation and regulations that enforce subsidies for the adoption of e-bikes. According to the Dutch industry organization, 54,000 e-bikes were sold in 2015, a 24 percent increase over the previous year, bringing total sales to about 276,000 e-bikes, excluding speed bikes.
The Netherlands was responsible for one-fifth of all electric bicycle sales in Europe. Due to the fact that the older population of the country represents roughly 20% of the overall population, e-bikes are a viable option for this group of people. Meanwhile, the increase of production facilities is driving the electric bicycle industry in Asia Pacific. Low manufacturing costs in several countries of Asia Pacific will attract a slew of new investors, boosting the region's electric bicycle market.
Expansion in General Fabrication, and Low Manufacturing Costs in Asia Pacific
The expansion of manufacturing facilities and the general growth of the Asian subcontinent's automotive, construction, and oil and gas industries are driving the electric bicycle market in Asia Pacific. Low manufacturing costs in several Asia Pacific countries will attract a slew of new investors, boosting the region's bicycle market.
The COVID-19 pandemic is currently wreaking havoc on the global economy, and the manufacturing sector is not immune. The forecast for the second half of the year is dubious, as the virus and its effects on production, demand, and supply chains are expected to stifle total bicycle market growth.
Competition Landscape: Bicycle Market
The global bicycle market is diversified with multinational companies such as Accell Group, Dorel Industries Inc., Giant Bicycles, Merida Industry Co., Ltd, and Trek Bicycle Corporation. Currently, these companies face tough competition from regional players who have a strong influence. Market leaders are focused on interoperability integration, which is expected to be the upcoming competition trend.
Recent Notable Developments
In June 2019, Trek Bicycle Corporation introduced the all-new Madone SLR 6 Disc Speed. The bicycle is integrated with removable aero bars and specially designed for riding in hilly areas with winding roads.


In May 2019, SCOTT Sports SA announced an acquisition of Bold Cycles Ltd, a provider of sophisticated technological frame solutions as well as custom-made bicycle products. This acquisition was intended to serve a customer segment demanding customizing their bicycle according to their individual needs.
The Global Bicycle Market is Segmented as Below:
By Product Coverage
Mountain Bicycle
Multi-Purpose Bicycle
Road Bicycle
Others
By Technology Coverage
Conventional
Hybrid
Electric
By End-Use Coverage
By Distribution Coverage
By Geographical Coverage
North America
Europe

Germany
France
UK
Italy
Turkey
Spain
Russia
Rest of Europe

Asia Pacific

China
Japan
South Korea
India
Southeast Asia
Rest of Asia Pacific

Latin America

Brazil
Mexico
Rest of Latin America

Middle East & Africa

GCC
Egypt
Rest of Middle East & Africa
Leading Companies
Hero Cycles Ltd
Accell Group
Cervelo
Dorel Industries Inc.
Giant Bicycles
Merida Industry Co., Ltd.
Olympus Bikes
Scott Sports SA
Specialized Bicycle Components, Inc.
Trek Bicycle Corporation
Kona Bicycle Company
Inside This Report You Will Find:
1. Executive Summary
2. Market Overview
3. Global Bicycle Market Outlook, 2018 - 2026
4. North America Bicycle Market Outlook, 2018 - 2026
5. Europe Bicycle Market Outlook, 2018 - 2026
6. Asia Pacific Bicycle Market Outlook, 2018 - 2026
7. Latin America Bicycle Market Outlook, 2018 - 2026
8. MEA Bicycle Market Outlook, 2018 - 2026
9. Competitive Landscape
10. Appendix
Post Sale Support, Research Updates & Offerings:
We value the trust shown by our customers in Fairfield Market Research. We support our clients through our post sale support, research updates and offerings.
The report will be prepared in a PPT format and will be delivered in a PDF format.
Additionally, Market Estimation and Forecast numbers will be shared in Excel Workbook.
If a report being sold was published over a year ago, we will offer a complimentary copy of the updated research report along with Market Estimation and Forecast numbers within 2-3 weeks' time of the sale.
If we update this research study within the next 2 quarters, post purchase of the report, we will offer a Complimentary copy of the updated Market Estimation and Forecast numbers in Excel Workbook.
If there is a geopolitical conflict, pandemic, recession, and the like which can impact global economic scenario and business activity, which might entirely alter the market dynamics or future projections in the industry, we will create a Research Update upon your request at a nominal charge.
1. Executive Summary
1.1. Global Bicycle Market Snapshot
1.2. Future Projections
1.3. Key Market Trends
1.4. Analyst Recommendations

2. Market Overview
2.1. Market Definitions
2.2. Market Taxonomy
2.3. Market Dynamics
2.3.1. Drivers
2.3.2. Restraints
2.4. Value Chain Analysis
2.5. Porter's Five Forces Analysis
2.6. Covid-19 Impact Analysis
2.7. Key Patents

3. Global Bicycle Market Outlook, 2018 - 2026
3.1. Global Bicycle Market Outlook, by Product Type, Value (US$ '000), 2018 - 2026
3.1.1. Key Highlights
3.1.1.1. Mountain Bicycle
3.1.1.2. Multi-Purpose Bicycle
3.1.1.3. Road Bicycle
3.1.1.4. Others
3.1.2. BPS Analysis/Market Attractiveness Analysis
3.2. Global Bicycle Market Outlook, by Technology, Value (US$ '000), 2018 - 2026
3.2.1. Key Highlights
3.2.2. Conventional
3.2.3. Hybrid
3.2.4. Electric
3.3. BPS Analysis/Market Attractiveness Analysis
3.4. Global Bicycle Market Outlook, by End-User, Value (US$ '000), 2018 - 2026
3.4.1. Key Highlights
3.4.1.1. Men
3.4.1.2. Woman
3.4.1.3. Kids
3.4.2. BPS Analysis/Market Attractiveness Analysis
3.5. Global Bicycle Market Outlook, by Distribution Channel, Value (US$ '000), 2018 - 2026
3.5.1. Key Highlights
3.5.1.1. Online
3.5.1.2. Offline
3.5.2. BPS Analysis/Market Attractiveness Analysis
3.6. Global Bicycle Market Outlook, by Region, Value (US$ '000), 2018 - 2026
3.6.1. Key Highlights
3.6.1.1. North America
3.6.1.2. Europe
3.6.1.3. Asia Pacific
3.6.1.4. Latin America
3.6.1.5. Middle East & Africa
3.6.2. BPS Analysis/Market Attractiveness Analysis

4. North America Bicycle Market Outlook, 2018 - 2026
4.1. North America Bicycle Market Outlook, by Product Type, Value (US$ '000), 2018 - 2026
4.1.1. Key Highlights
4.1.1.1. Mountain Bicycle
4.1.1.2. Multi-Purpose Bicycle
4.1.1.3. Road Bicycle
4.1.1.4. Others
4.1.2. BPS Analysis/Market Attractiveness Analysis
4.2. North America Bicycle Market Outlook, by Technology, Value (US$ '000), 2018 - 2026
4.2.1. Key Highlights
4.2.2. Conventional
4.2.3. Hybrid
4.2.4. Electric
4.3. BPS Analysis/Market Attractiveness Analysis
4.4. North America Bicycle Market Outlook, by End-User, Value (US$ '000), 2018 - 2026
4.4.1. Key Highlights
4.4.1.1. Men
4.4.1.2. Woman
4.4.1.3. Kids
4.4.2. BPS Analysis/Market Attractiveness Analysis
4.5. North America Bicycle Market Outlook, by Distribution Channel, Value (US$ '000), 2018 - 2026
4.5.1. Key Highlights
4.5.1.1. Online
4.5.1.2. Offline
4.5.2. BPS Analysis/Market Attractiveness Analysis
4.6. North America Bicycle Market Outlook, by Country, Value (US$ '000), 2018 - 2026
4.6.1. Key Highlights
4.6.1.1. U.S. Bicycle Market by Value (US$ '000), 2018 - 2026
4.6.1.2. Canada Bicycle Market by Value (US$ '000), 2018 - 2026
4.6.2. BPS Analysis/Market Attractiveness Analysis

5. Europe Bicycle Market Outlook, 2018 - 2026
5.1. Europe Bicycle Market Outlook, by Product Type, Value (US$ '000), 2018 - 2026
5.1.1. Key Highlights
5.1.1.1. Mountain Bicycle
5.1.1.2. Multi-Purpose Bicycle
5.1.1.3. Road Bicycle
5.1.1.4. Others
5.1.2. BPS Analysis/Market Attractiveness Analysis
5.2. Europe Bicycle Market Outlook, by Technology, Value (US$ '000), 2018 - 2026
5.2.1. Key Highlights
5.2.2. Conventional
5.2.3. Hybrid
5.2.4. Electric
5.3. BPS Analysis/Market Attractiveness Analysis
5.4. Europe Bicycle Market Outlook, by End-User, Value (US$ '000), 2018 - 2026
5.4.1. Key Highlights
5.4.1.1. Men
5.4.1.2. Woman
5.4.1.3. Kids
5.4.2. BPS Analysis/Market Attractiveness Analysis
5.5. Europe Bicycle Market Outlook, by Distribution Channel, Value (US$ '000), 2018 - 2026
5.5.1. Key Highlights
5.5.1.1. Online
5.5.1.2. Offline
5.5.2. BPS Analysis/Market Attractiveness Analysis
5.6. Europe Bicycle Market Outlook, by Country, Value (US$ '000), 2018 - 2026
5.6.1. Key Highlights
5.6.1.1. Germany Bicycle Market by Value (US$ '000), 2018 - 2026
5.6.1.2. France Bicycle Market by Product, Value (US$ '000), 2018 - 2026
5.6.1.3. U.K. Bicycle Market by Value (US$ '000), 2018 - 2026
5.6.1.4. Italy Bicycle Market by Value (US$ '000), 2018 - 2026
5.6.1.5. Spain Bicycle Market by Product, Value (US$ '000), 2018 - 2026
5.6.1.6. Rest of Europe Bicycle Market Value (US$ '000), 2018 - 2026
5.6.2. BPS Analysis/Market Attractiveness Analysis

6. Asia Pacific Bicycle Market Outlook, 2018 - 2026
6.1. APAC Bicycle Market Outlook, by Product Type, Value (US$ '000), 2018 - 2026
6.1.1. Key Highlights
6.1.1.1. Mountain Bicycle
6.1.1.2. Multi-Purpose Bicycle
6.1.1.3. Road Bicycle
6.1.1.4. Others
6.1.2. BPS Analysis/Market Attractiveness Analysis
6.2. APAC Bicycle Market Outlook, by Technology, Value (US$ '000), 2018 - 2026
6.2.1. Key Highlights
6.2.2. Conventional
6.2.3. Hybrid
6.2.4. Electric
6.3. BPS Analysis/Market Attractiveness Analysis
6.4. APAC Bicycle Market Outlook, by End-User, Value (US$ '000), 2018 - 2026
6.4.1. Key Highlights
6.4.1.1. Men
6.4.1.2. Woman
6.4.1.3. Kids
6.4.2. BPS Analysis/Market Attractiveness Analysis
6.5. APAC Bicycle Market Outlook, by Distribution Channel, Value (US$ '000), 2018 - 2026
6.5.1. Key Highlights
6.5.1.1. Online
6.5.1.2. Offline
6.5.2. BPS Analysis/Market Attractiveness Analysis
6.6. Asia Pacific Bicycle Market Outlook, by Country, Value (US$ '000), 2018 - 2026
6.6.1. Key Highlights
6.6.1.1. India Bicycle Market by Value (US$ '000), 2018 - 2026
6.6.1.2. China Bicycle Market by Value (US$ '000), 2018 - 2026
6.6.1.3. Japan Bicycle Market by Value (US$ '000), 2018 - 2026
6.6.1.4. Australia & New Zealand Bicycle Market Value (US$ '000), 2018 - 2026
6.6.1.5. Rest of Asia Pacific Market by Value (US$ '000), 2018 - 2026
6.6.2. BPS Analysis/Market Attractiveness Analysis

7. Latin America Bicycle Market Outlook, 2018 - 2026
7.1. Latin America Bicycle Market Outlook, by Product Type, Value (US$ '000), 2018 - 2026
7.1.1. Key Highlights
7.1.1.1. Mountain Bicycle
7.1.1.2. Multi-Purpose Bicycle
7.1.1.3. Road Bicycle
7.1.1.4. Others
7.1.2. BPS Analysis/Market Attractiveness Analysis
7.2. Latin America Bicycle Market Outlook, by Technology, Value (US$ '000), 2018 - 2026
7.2.1. Key Highlights
7.2.2. Conventional
7.2.3. Hybrid
7.2.4. Electric
7.3. BPS Analysis/Market Attractiveness Analysis
7.4. Latin America Bicycle Market Outlook, by End-User, Value (US$ '000), 2018 - 2026
7.4.1. Key Highlights
7.4.1.1. Men
7.4.1.2. Woman
7.4.1.3. Kids
7.4.2. BPS Analysis/Market Attractiveness Analysis
7.5. Latin America Bicycle Market Outlook, by Distribution Channel, Value (US$ '000), 2018 - 2026
7.5.1. Key Highlights
7.5.1.1. Online
7.5.1.2. Offline
7.5.2. BPS Analysis/Market Attractiveness Analysis

8. MEA Bicycle Market Outlook, 2018 - 2026
8.1. MEA Bicycle Market Outlook, by Product Type, Value (US$ '000), 2018 - 2026
8.1.1. Key Highlights
8.1.1.1. Mountain Bicycle
8.1.1.2. Multi-Purpose Bicycle
8.1.1.3. Road Bicycle
8.1.1.4. Others
8.1.2. BPS Analysis/Market Attractiveness Analysis
8.2. MEA Bicycle Market Outlook, by Technology, Value (US$ '000), 2018 - 2026
8.2.1. Key Highlights
8.2.2. Conventional
8.2.3. Hybrid
8.2.4. Electric
8.3. BPS Analysis/Market Attractiveness Analysis
8.4. MEA Bicycle Market Outlook, by End-User, Value (US$ '000), 2018 - 2026
8.4.1. Key Highlights
8.4.1.1. Men
8.4.1.2. Woman
8.4.1.3. Kids
8.4.2. BPS Analysis/Market Attractiveness Analysis
8.5. MEA Bicycle Market Outlook, by Distribution Channel, Value (US$ '000), 2018 - 2026
8.5.1. Key Highlights
8.5.1.1. Online
8.5.1.2. Offline
8.5.2. BPS Analysis/Market Attractiveness Analysis
8.6. Middle East & Africa Bicycle Market Outlook, by Country, Value (US$ '000), 2018 - 2026
8.6.1. Key Highlights
8.6.1.1. GCC Bicycle Market by Value (US$ '000), 2018 - 2026
8.6.1.2. South Africa Bicycle Market by Value (US$ '000), 2018 - 2026
8.6.1.3. Rest of Middle East & Africa Bicycle Market by Value (US$ '000), 2018 - 2026
8.6.2. BPS Analysis/Market Attractiveness Analysis

9. Competitive Landscape
9.1. Company Market Share Analysis, 2019
9.2. Company Profiles
9.2.1. Hero Cycles Ltd
9.2.1.1. Company Overview
9.2.1.2. Key Retailing Partners
9.2.1.3. Business Segment Revenue
9.2.1.4. Ingredient Overview
9.2.1.5. Product Offering & its Presence
9.2.1.6. Certifications & Claims
9.2.2. Accell Group
9.2.2.1. Company Overview
9.2.2.2. Key Retailing Partners
9.2.2.3. Business Segment Revenue
9.2.2.4. Ingredient Overview
9.2.2.5. Product Offering & its Presence
9.2.2.6. Certifications & Claims
9.2.3. Cervelo Cycles
9.2.3.1. Company Overview
9.2.3.2. Key Retailing Partners
9.2.3.3. Business Segment Revenue
9.2.3.4. Ingredient Overview
9.2.3.5. Product Offering & its Presence
9.2.3.6. Certifications & Claims
9.2.4. Dorel Industries Inc.
9.2.4.1. Company Overview
9.2.4.2. Key Retailing Partners
9.2.4.3. Business Segment Revenue
9.2.4.4. Ingredient Overview
9.2.4.5. Product Offering & its Presence
9.2.4.6. Certifications & Claims
9.2.5. Giant Bicycles
9.2.5.1. Company Overview
9.2.5.2. Key Retailing Partners
9.2.5.3. Business Segment Revenue
9.2.5.4. Ingredient Overview
9.2.5.5. Product Offering & its Presence
9.2.5.6. Certifications & Claims
9.2.6. Merida Industry Co., Ltd.
9.2.6.1. Company Overview
9.2.6.2. Key Retailing Partners
9.2.6.3. Business Segment Revenue
9.2.6.4. Ingredient Overview
9.2.6.5. Product Offering & its Presence
9.2.6.6. Certifications & Claims
9.2.7. Olympus Corporation of the Americas
9.2.7.1. Company Overview
9.2.7.2. Key Retailing Partners
9.2.7.3. Business Segment Revenue
9.2.7.4. Ingredient Overview
9.2.7.5. Product Offering & its Presence
9.2.7.6. Certifications & Claims
9.2.8. Scott Sports SA
9.2.8.1. Company Overview
9.2.8.2. Key Retailing Partners
9.2.8.3. Business Segment Revenue
9.2.8.4. Ingredient Overview
9.2.8.5. Product Offering & its Presence
9.2.8.6. Certifications & Claims
9.2.9. Specialized Bicycle Components
9.2.9.1. Company Overview
9.2.9.2. Key Retailing Partners
9.2.9.3. Business Segment Revenue
9.2.9.4. Ingredient Overview
9.2.9.5. Product Offering & its Presence
9.2.9.6. Certifications & Claims
9.2.10. Trek Bicycle Corporation
9.2.10.1. Company Overview
9.2.10.2. Key Retailing Partners
9.2.10.3. Business Segment Revenue
9.2.10.4. Ingredient Overview
9.2.10.5. Product Offering & its Presence
9.2.10.6. Certifications & Claims

10. Appendix
10.1. Research Methodology
10.2. Report Assumptions
10.3. Acronyms and Abbreviations
BASE YEAR

HISTORICAL DATA

FORECAST PERIOD

UNITS

2020

2018 - 2019

2021 - 2026

Value: US$ Million
REPORT FEATURES

DETAILS

Product Coverage

Mountain Bicycle

Multi-Purpose Bicycle

Road Bicycle

Others

Technology Coverage

Conventional

Hybrid

Electric

End-Use Coverage

Distribution Coverage

Geographical Coverage

North America

Europe

Germany

France

U.K.

Italy

Turkey

Spain

Russia

Rest of Europe

Asia Pacific

China

Japan

South Korea

India

Southeast Asia

Rest of Asia Pacific

Latin America

Brazil

Mexico

Rest of Latin America

Middle East & Africa

Leading Companies

Hero Cycles Ltd

Accell Group

Cervelo

Dorel Industries Inc.

Giant Bicycles

Merida Industry Co., Ltd.

Olympus Bikes

Scott Sports SA

Specialized Bicycle Components, Inc.

Trek Bicycle Corporation

Kona Bicycle Company

Report Highlights

Market Estimates and Forecast, Market Dynamics, Industry Trends, Competition Landscape, Product-, Application-, Region-, Country-wise Trends & Analysis, COVID-19 Impact Analysis, Key Trends