The global genetic engineering in agriculture market will rise at a significant pace of 6.5% CAGR during the period of assessment 2023 - 2030, reaching a market value of around US$1.5 Bn at the end of 2030.
Market Analysis in Brief
Recombinant DNA (rDNA) technology is used in genetic engineering to change a crop's genetic makeup. Genetic modification of crops is another name for this technique, which depends on the demand. Increased crop yields, cheaper costs for manufacturing food or medications, less need for pesticides, and increases in nutritional content and food quality are the major advantages of genetic engineering in agriculture. Increased food security and resistance to agricultural pests and diseases are two further advantages. Growing application of genetic engineering to boost agricultural production, reduce the need for and use of pesticides, protect crops from diseases and infections, and improve nutrient composition and food quality is one of the primary drivers fueling constant worldwide market revenue growth.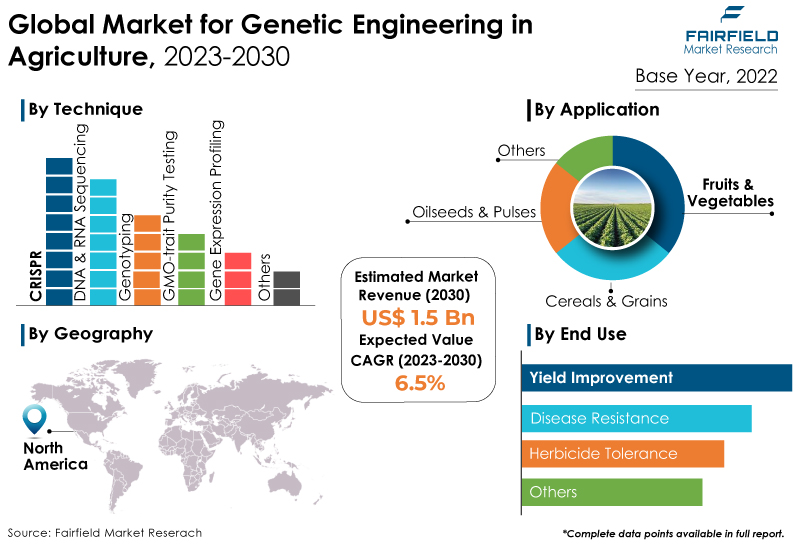 Rapid development of next-generation genetic engineering methods, the introduction of clustered regularly interspaced short palindromic repeats (CRISPR) technology, and increased public awareness of the benefits of gene editing in agriculture are the other factors that are expected to contribute to the market's revenue growth during the forecast period include. Furthermore, these benefits are anticipated to drive the adoption of such cutting-edge solutions in agriculture and further boost market revenue growth in the future. Genetic engineering has made it possible to produce more crops, streamline the development of new foods with desired traits, and increase the growth rate of crops.
Key Report Findings
The market for genetic engineering in agriculture will demonstrate robust growth between 2023 and 2030.
The expanding application of genetic engineering to boost agricultural output, reduce the need for and consumption of pesticides, protect crops from diseases and infections, and improve nutrient composition and food quality is one of the key factors driving steady global market revenue growth.
Genetic engineering in the agriculture industry has a higher demand for CRISPR techniques.
The fruits & vegetables category held the highest genetic engineering in agriculture market revenue share in 2022.
North America will continue to lead its way, whereas Asia Pacific's genetic engineering in the agriculture market will experience the strongest growth till 2030.
Growth Drivers
Exploding Rise in Food Demand
A major driver of the market for genetic engineering in agriculture is the rise in food demand. The population of the globe is expected to surpass 9 billion people by the year 2050 due to ongoing growth. As a result of population growth, there is a rise in the amount of food needed to feed billions of people. The availability of arable land for cultivation is limited and is becoming increasingly scarce due to soil degradation, urbanisation, and other land-use changes, making it difficult for traditional agricultural approaches to meet this expanding demand. Furthermore, extreme weather, altered rainfall patterns, and rising temperatures are just a few of the serious dangers climate change brings to agriculture. These elements may have a detrimental effect on agricultural yields and lower food production.
Due to these factors, genetic engineering in agriculture provides several answers to the problems brought on by the rise in global food demand. To produce more food on the same land area, genetically modified crops can be produced for better yields. By doing so, the productivity of agriculture as a whole is increased, helping to fulfill the rising need for food. Furthermore, genetically modified crops can be created to have improved resistance to pests and diseases, lowering crop losses and assuring a more reliable food supply. Additionally, to increase the amount of food accessible for consumption, genetically modified crops with longer shelf lives and lower susceptibility to spoiling can assist in reducing food loss across the supply chain.
Biotechnology Advancements
The market for genetic engineering in agriculture is driven by advancements in biotechnology, which are the ongoing developments and innovations in biotechnology that have had a significant impact on the creation, use, and commercialisation of GE crops and agricultural practices. Genetic engineering has been completely transformed by developments in biotechnology, making it more specialised, effective, and available. The invention of precise gene-editing methods like CRISPR-Cas9 is one of the most important biotechnological developments. These methods allow scientists to alter particular genes within an organism's DNA precisely. This accuracy enables targeted genetic tweaks in crops, boosting desired features without introducing unneeded changes.
Additionally, genetic engineering techniques have become more effective due to advances in biotechnology, which has shortened the time needed to create genetically modified crops. Moreover, the price of genetic engineering has decreased as a result of developments in biotechnology. Genetically modified crops are more economically viable for farmers and seed producers as the costs of their invention, research, and implementation decline as technology becomes more streamlined and widely available. Thus, these developments have contributed to improvements in world agriculture and food production by assisting in resolving technical issues, enhancing the effectiveness of genetic alterations, and speeding up the release of genetically modified crops onto the market.
Market Challenges
Instability, and Presence of Toxic Materials
Ethical and social concerns about genetic engineering in agriculture significantly influence genetically modified crops' acceptance, regulation, and use. The unforeseen environmental effects of releasing genetically modified crops into the ecosystem raise worries. Concern over accidental gene flow to non-GMO crops or wild relatives and its effects on ecosystems and biodiversity raises moral concerns about the long-term effects of genetic engineering in agriculture.
Some people and organisations express concerns concerning the safety of GM crops for human consumption. Ethical concerns center on the conceivable allergenicity, toxicity, or unidentified health problems linked to eating genetically altered foods.
Additionally, different communities may have various socioeconomic effects as a result of the adoption and distribution of genetically modified crops. The impact on small-scale farmers, conventional farming methods, and the possibility of unequal access to genetically modified seeds are all causes for concern.
Overview of Key Segments
CRISPR Remains the Most Preferred Technique
The CRISPR category held the largest share of the market in 2022 due to the CRISPR technology's ongoing development, the method's many advantages over current agricultural practices, and the growing potential for agricultural innovation. The CRISPR technique works without adding foreign DNA and can make exact modifications to an organism's genome, which allays ethical worries about genetic alteration. CRISPR is more affordable than other gene editing techniques and is simple to tailor for each purpose, which has further increased its acceptance and is anticipated to support this market's forecasted revenue growth.
The field of agricultural genetic engineering has revolutionised because of CRISPR's effectiveness, precision, and comparatively simple use. Compared to conventional breeding techniques, it has given scientists new opportunities for agricultural development and allowed them to create innovative crop types more quickly and effectively. Thus, by applying CRISPR and other genome editing technologies, scientists may address various agricultural difficulties and contribute to sustainable and resilient food production systems.
Fruits & Vegetables Leading Application Category
The fruits & vegetables category in the application led the market in 2022 due to rising approval for genetically modified foods in numerous nations around the world, increased production of GM fruits and vegetables like apples, potatoes, tomatoes, and squash, and the development of more nutrient-dense fruits and vegetables to meet rising global food demand. The increased safety for human consumption provided by insect and herbicide resistance in genetically modified fruits and vegetables is another reason for boosting this market's revenue growth.
Additionally, altering the genetic structure of fruits and vegetables can enhance their flavor, texture, and scent, giving consumers higher-quality produce. Moreover, developing genetically altered crops more resilient to environmental challenges like drought, heat, or cold would produce more dependable and long-lasting food.
Growth Opportunities Across Regions
North America's Dominance Intact
Genetic engineering in the agriculture market will continue to dominate in North America due to factors such as the region's accessibility to cutting-edge research facilities, the expansion of the agricultural sector, the quick adoption of genetic editing techniques in agricultural practices, the growing global demand for food, and the increasing acceptance of genetically modified crops in Canada, and the United States. Other factors anticipated to help the revenue growth of the North American market include rising investment in R&D activities and a strong presence of leading industry competitors.
In the upcoming years, biotechnology research is anticipated to benefit greatly from key corporations' increased focus on exploiting genetically modified plants to create recombinant vaccines. The market in this region is anticipated to grow due to large pharmaceutical and biotechnology businesses finding novel ways to use genetically modified crops to manufacture new medicines.
Asia Pacific Develops a Lucrative Market
The market for genetic engineering in agriculture across Asia Pacific will display a significant CAGR over the forecast period. This can be attributed to increased crop output and productivity due to the increased use of cutting-edge molecular biology and genetic technology, as well as an increase in the demand for food due to the rapid population growth.
Advances in agricultural technology, the expansion of the agricultural sector in nations like China, and India, increased investment and funding to speed up research and development in the agriculture sector, and a growing presence of major biotechnology companies in the region are additional important factors.
Additionally, the market is expected to develop due to the surge in demand for enhanced crop types that can withstand the region's harsh weather patterns and other extreme chemical content in the soil. Furthermore, it is anticipated that increased expenditures in agriculture's use of next-generation genetic engineering would promote stronger revenue creation in the years to come.
Genetic Engineering in Agriculture Market: Competitive Landscape
Some of the leading players at the forefront in the genetic engineering in agriculture market space include Eurofins Scientific, Illumina, Inc., Keygene, Agilent Technologies, Qiagen N.V., Neogen Corporation, Nrgene, Traitgenetics GmbH, Novogene Corporation, and Oxford Nanopore Technologies.
Global Genetic Engineering in Agriculture Market is Segmented as Below:
By Technique
DNA & RNA Sequencing
Genotyping
GMO-trait Purity Testing
Gene Expression Profiling
CRISPR
Others
By Application
Cereals & Grains
Fruits & Vegetables
Oilseeds & Pulses
Others
By End Use
Yield Improvement
Disease Resistance
Herbicide Tolerance
Others
By Geographic Coverage
North America
Europe

Germany
U.K.
France
Italy
Turkey
Russia
Rest of Europe

Asia Pacific

China
Japan
South Korea
India
Southeast Asia
Rest of Asia Pacific

Latin America

Brazil
Mexico
Rest of Latin America Argentina

Middle East & Africa

GCC
South Africa
Rest of Middle East & Africa
Leading Companies
Eurofins Scientific
Oxford Nanopore Technologies
Agilent Technologies
Qiagen N.V.
NRgene
Keygene
Traitgenetics GmbH
1. Executive Summary
1.1. Global Genetic Engineering in Agriculture Market Snapshot
1.2. Future Projections
1.3. Key Market Trends
1.4. Regional Snapshot, by Value, 2022
1.5. Analyst Recommendations

2. Market Overview
2.1. Market Definitions and Segmentations
2.2. Market Dynamics
2.2.1. Drivers
2.2.2. Restraints
2.2.3. Market Opportunities
2.3. Value Chain Analysis
2.4. Porter's Five Forces Analysis
2.5. Covid-19 Impact Analysis
2.5.1. Supply
2.5.2. Demand
2.6. Impact of Ukraine-Russia Conflict
2.7. Economic Overview
2.7.1. World Economic Projections
2.8. PESTLE Analysis

3. Global Genetic Engineering in Agriculture Market Outlook, 2018 - 2030
3.1. Global Genetic Engineering in Agriculture Market Outlook, by Technique, Value (US$ Bn), 2018 - 2030
3.1.1. Key Highlights
3.1.1.1. DNA & RNA Sequencing
3.1.1.2. Genotyping
3.1.1.3. GMO-trait Purity Testing
3.1.1.4. Gene Expression Profiling
3.1.1.5. CRISPR
3.1.1.6. Misc.
3.2. Global Genetic Engineering in Agriculture Market Outlook, by Application, Value (US$ Bn), 2018 - 2030
3.2.1. Key Highlights
3.2.1.1. Cereals & Grains
3.2.1.2. Fruits & Vegetables
3.2.1.3. Oilseeds & Pulses
3.2.1.4. Misc.
3.3. Global Genetic Engineering in Agriculture Market Outlook, by End-User, Value (US$ Bn), 2018 - 2030
3.3.1. Key Highlights
3.3.1.1. Yield Improvement
3.3.1.2. Disease Resistance
3.3.1.3. Herbicide Tolerance
3.3.1.4. Misc.
3.4. Global Genetic Engineering in Agriculture Market Outlook, by Region, Value (US$ Bn), 2018 - 2030
3.4.1. Key Highlights
3.4.1.1. North America
3.4.1.2. Europe
3.4.1.3. Asia Pacific
3.4.1.4. Latin America
3.4.1.5. Middle East & Africa


4. North America Genetic Engineering in Agriculture Market Outlook, 2018 - 2030
4.1. North America Genetic Engineering in Agriculture Market Outlook, by Technique, Value (US$ Bn), 2018 - 2030
4.1.1. Key Highlights
4.1.1.1. DNA & RNA Sequencing
4.1.1.2. Genotyping
4.1.1.3. GMO-trait Purity Testing
4.1.1.4. Gene Expression Profiling
4.1.1.5. CRISPR
4.1.1.6. Misc.
4.2. North America Genetic Engineering in Agriculture Market Outlook, by Application, Value (US$ Bn), 2018 - 2030
4.2.1. Key Highlights
4.2.1.1. Cereals & Grains
4.2.1.2. Fruits & Vegetables
4.2.1.3. Oilseeds & Pulses
4.2.1.4. Misc.
4.3. North America Genetic Engineering in Agriculture Market Outlook, by End-User, Value (US$ Bn), 2018 - 2030
4.3.1. Key Highlights
4.3.1.1. Yield Improvement
4.3.1.2. Disease Resistance
4.3.1.3. Herbicide Tolerance
4.3.1.4. Misc.
4.3.2. Market Attractiveness Analysis
4.4. North America Genetic Engineering in Agriculture Market Outlook, by Country, Value (US$ Bn), 2018 - 2030
4.4.1. Key Highlights
4.4.1.1. U.S. Genetic Engineering in Agriculture Market by Technique, Value (US$ Bn), 2018 - 2030
4.4.1.2. U.S. Genetic Engineering in Agriculture Market Application, Value (US$ Bn), 2018 - 2030
4.4.1.3. U.S. Genetic Engineering in Agriculture Market End-User, Value (US$ Bn), 2018 - 2030
4.4.1.4. Canada Genetic Engineering in Agriculture Market by Technique, Value (US$ Bn), 2018 - 2030
4.4.1.5. Canada Genetic Engineering in Agriculture Market Application, Value (US$ Bn), 2018 - 2030
4.4.1.6. Canada Genetic Engineering in Agriculture Market End-User, Value (US$ Bn), 2018 - 2030
4.4.2. BPS Analysis/Market Attractiveness Analysis

5. Europe Genetic Engineering in Agriculture Market Outlook, 2018 - 2030
5.1. Europe Genetic Engineering in Agriculture Market Outlook, by Technique, Value (US$ Bn), 2018 - 2030
5.1.1. Key Highlights
5.1.1.1. DNA & RNA Sequencing
5.1.1.2. Genotyping
5.1.1.3. GMO-trait Purity Testing
5.1.1.4. Gene Expression Profiling
5.1.1.5. CRISPR
5.1.1.6. Misc.
5.2. Europe Genetic Engineering in Agriculture Market Outlook, by Application, Value (US$ Bn), 2018 - 2030
5.2.1. Key Highlights
5.2.1.1. Cereals & Grains
5.2.1.2. Fruits & Vegetables
5.2.1.3. Oilseeds & Pulses
5.2.1.4. Misc.
5.3. Europe Genetic Engineering in Agriculture Market Outlook, by End-User, Value (US$ Bn), 2018 - 2030
5.3.1. Key Highlights
5.3.1.1. Yield Improvement
5.3.1.2. Disease Resistance
5.3.1.3. Herbicide Tolerance
5.3.1.4. Misc.
5.3.2. BPS Analysis/Market Attractiveness Analysis
5.4. Europe Genetic Engineering in Agriculture Market Outlook, by Country, Value (US$ Bn), 2018 - 2030
5.4.1. Key Highlights
5.4.1.1. Germany Genetic Engineering in Agriculture Market by Technique, Value (US$ Bn), 2018 - 2030
5.4.1.2. Germany Genetic Engineering in Agriculture Market Application, Value (US$ Bn), 2018 - 2030
5.4.1.3. Germany Genetic Engineering in Agriculture Market End-User, Value (US$ Bn), 2018 - 2030
5.4.1.4. U.K. Genetic Engineering in Agriculture Market by Technique, Value (US$ Bn), 2018 - 2030
5.4.1.5. U.K. Genetic Engineering in Agriculture Market Application, Value (US$ Bn), 2018 - 2030
5.4.1.6. U.K. Genetic Engineering in Agriculture Market End-User, Value (US$ Bn), 2018 - 2030
5.4.1.7. France Genetic Engineering in Agriculture Market by Technique, Value (US$ Bn), 2018 - 2030
5.4.1.8. France Genetic Engineering in Agriculture Market Application, Value (US$ Bn), 2018 - 2030
5.4.1.9. France Genetic Engineering in Agriculture Market End-User, Value (US$ Bn), 2018 - 2030
5.4.1.10. Italy Genetic Engineering in Agriculture Market by Technique, Value (US$ Bn), 2018 - 2030
5.4.1.11. Italy Genetic Engineering in Agriculture Market Application, Value (US$ Bn), 2018 - 2030
5.4.1.12. Italy Genetic Engineering in Agriculture Market End-User, Value (US$ Bn), 2018 - 2030
5.4.1.13. Russia Genetic Engineering in Agriculture Market by Technique, Value (US$ Bn), 2018 - 2030
5.4.1.14. Russia Genetic Engineering in Agriculture Market Application, Value (US$ Bn), 2018 - 2030
5.4.1.15. Russia Genetic Engineering in Agriculture Market End-User, Value (US$ Bn), 2018 - 2030
5.4.1.16. Rest of Europe Genetic Engineering in Agriculture Market by Technique, Value (US$ Bn), 2018 - 2030
5.4.1.17. Rest of Europe Genetic Engineering in Agriculture Market Application, Value (US$ Bn), 2018 - 2030
5.4.1.18. Rest of Europe Genetic Engineering in Agriculture Market End-User, Value (US$ Bn), 2018 - 2030
5.4.2. BPS Analysis/Market Attractiveness Analysis

6. Asia Pacific Genetic Engineering in Agriculture Market Outlook, 2018 - 2030
6.1. Asia Pacific Genetic Engineering in Agriculture Market Outlook, by Technique, Value (US$ Bn), 2018 - 2030
6.1.1. Key Highlights
6.1.1.1. DNA & RNA Sequencing
6.1.1.2. Genotyping
6.1.1.3. GMO-trait Purity Testing
6.1.1.4. Gene Expression Profiling
6.1.1.5. CRISPR
6.1.1.6. Misc.
6.2. Asia Pacific Genetic Engineering in Agriculture Market Outlook, by Application, Value (US$ Bn), 2018 - 2030
6.2.1. Key Highlights
6.2.1.1. Cereals & Grains
6.2.1.2. Fruits & Vegetables
6.2.1.3. Oilseeds & Pulses
6.2.1.4. Misc.
6.3. Asia Pacific Genetic Engineering in Agriculture Market Outlook, by End-User, Value (US$ Bn), 2018 - 2030
6.3.1. Key Highlights
6.3.1.1. Yield Improvement
6.3.1.2. Disease Resistance
6.3.1.3. Herbicide Tolerance
6.3.1.4. Misc.
6.3.2. BPS Analysis/Market Attractiveness Analysis
6.4. Asia Pacific Genetic Engineering in Agriculture Market Outlook, by Country, Value (US$ Bn), 2018 - 2030
6.4.1. Key Highlights
6.4.1.1. China Genetic Engineering in Agriculture Market by Technique, Value (US$ Bn), 2018 - 2030
6.4.1.2. China Genetic Engineering in Agriculture Market Application, Value (US$ Bn), 2018 - 2030
6.4.1.3. China Genetic Engineering in Agriculture Market End-User, Value (US$ Bn), 2018 - 2030
6.4.1.4. Japan Genetic Engineering in Agriculture Market by Technique, Value (US$ Bn), 2018 - 2030
6.4.1.5. Japan Genetic Engineering in Agriculture Market by Application, Value (US$ Bn), 2018 - 2030
6.4.1.6. Japan Genetic Engineering in Agriculture Market by End-User, Value (US$ Bn), 2018 - 2030
6.4.1.7. South Korea Genetic Engineering in Agriculture Market by Technique, Value (US$ Bn), 2018 - 2030
6.4.1.8. South Korea Genetic Engineering in Agriculture Market by Application, Value (US$ Bn), 2018 - 2030
6.4.1.9. South Korea Genetic Engineering in Agriculture Market by End-User, Value (US$ Bn), 2018 - 2030
6.4.1.10. India Genetic Engineering in Agriculture Market by Technique, Value (US$ Bn), 2018 - 2030
6.4.1.11. India Genetic Engineering in Agriculture Market by Application, Value (US$ Bn), 2018 - 2030
6.4.1.12. India Genetic Engineering in Agriculture Market by End-User, Value (US$ Bn), 2018 - 2030
6.4.1.13. Southeast Asia Genetic Engineering in Agriculture Market by Technique, Value (US$ Bn), 2018 - 2030
6.4.1.14. Southeast Asia Genetic Engineering in Agriculture Market by Application, Value (US$ Bn), 2018 - 2030
6.4.1.15. Southeast Asia Genetic Engineering in Agriculture Market by End-User, Value (US$ Bn), 2018 - 2030
6.4.1.16. Rest of Asia Pacific Genetic Engineering in Agriculture Market by Technique, Value (US$ Bn), 2018 - 2030
6.4.1.17. Rest of Asia Pacific Genetic Engineering in Agriculture Market by Application, Value (US$ Bn), 2018 - 2030
6.4.1.18. Rest of Asia Pacific Genetic Engineering in Agriculture Market by End-User, Value (US$ Bn), 2018 - 2030
6.4.2. BPS Analysis/Market Attractiveness Analysis

7. Latin America Genetic Engineering in Agriculture Market Outlook, 2018 - 2030
7.1. Latin America Genetic Engineering in Agriculture Market Outlook, by Technique, Value (US$ Bn), 2018 - 2030
7.1.1. Key Highlights
7.1.1.1. DNA & RNA Sequencing
7.1.1.2. Genotyping
7.1.1.3. GMO-trait Purity Testing
7.1.1.4. Gene Expression Profiling
7.1.1.5. CRISPR
7.1.1.6. Misc.
7.2. Latin America Genetic Engineering in Agriculture Market Outlook, by Application, Value (US$ Bn), 2018 - 2030
7.2.1. Key Highlights
7.2.1.1. Cereals & Grains
7.2.1.2. Fruits & Vegetables
7.2.1.3. Oilseeds & Pulses
7.2.1.4. Misc.
7.3. Latin America Genetic Engineering in Agriculture Market Outlook, by End-User, Value (US$ Bn), 2018 - 2030
7.3.1. Key Highlights
7.3.1.1. Yield Improvement
7.3.1.2. Disease Resistance
7.3.1.3. Herbicide Tolerance
7.3.1.4. Misc.
7.3.2. BPS Analysis/Market Attractiveness Analysis
7.4. Latin America Genetic Engineering in Agriculture Market Outlook, by Country, Value (US$ Bn), 2018 - 2030
7.4.1. Key Highlights
7.4.1.1. Brazil Genetic Engineering in Agriculture Market by Technique, Value (US$ Bn), 2018 - 2030
7.4.1.2. Brazil Genetic Engineering in Agriculture Market by Application, Value (US$ Bn), 2018 - 2030
7.4.1.3. Brazil Genetic Engineering in Agriculture Market by End-User, Value (US$ Bn), 2018 - 2030
7.4.1.4. Mexico Genetic Engineering in Agriculture Market by Technique, Value (US$ Bn), 2018 - 2030
7.4.1.5. Mexico Genetic Engineering in Agriculture Market by Application, Value (US$ Bn), 2018 - 2030
7.4.1.6. Mexico Genetic Engineering in Agriculture Market by End-User, Value (US$ Bn), 2018 - 2030
7.4.1.7. Rest of Latin America Genetic Engineering in Agriculture Market by Technique, Value (US$ Bn), 2018 - 2030
7.4.1.8. Rest of Latin America Genetic Engineering in Agriculture Market by Application, Value (US$ Bn), 2018 - 2030
7.4.1.9. Rest of Latin America Genetic Engineering in Agriculture Market by End-User, Value (US$ Bn), 2018 - 2030
7.4.2. BPS Analysis/Market Attractiveness Analysis


8. Middle East & Africa Genetic Engineering in Agriculture Market Outlook, 2018 - 2030
8.1. Middle East & Africa Genetic Engineering in Agriculture Market Outlook, by Technique, Value (US$ Bn), 2018 - 2030
8.1.1. Key Highlights
8.1.1.1. DNA & RNA Sequencing
8.1.1.2. Genotyping
8.1.1.3. GMO-trait Purity Testing
8.2. Middle East & Africa Genetic Engineering in Agriculture Market Outlook, by Application, Value (US$ Bn), 2018 - 2030
8.2.1. Key Highlights
8.2.1.1. Cereals & Grains
8.2.1.2. Fruits & Vegetables
8.2.1.3. Oilseeds & Pulses
8.2.1.4. Misc.
8.3. Middle East & Africa Genetic Engineering in Agriculture Market Outlook, by End-User, Value (US$ Bn), 2018 - 2030
8.3.1. Key Highlights
8.3.1.1. Yield Improvement
8.3.1.2. Disease Resistance
8.3.1.3. Herbicide Tolerance
8.3.1.4. Misc.
8.3.2. BPS Analysis/Market Attractiveness Analysis
8.4. Middle East & Africa Genetic Engineering in Agriculture Market Outlook, by Country, Value (US$ Bn), 2018 - 2030
8.4.1. Key Highlights
8.4.1.1. GCC Genetic Engineering in Agriculture Market by Technique, Value (US$ Bn), 2018 - 2030
8.4.1.2. GCC Genetic Engineering in Agriculture Market by Application, Value (US$ Bn), 2018 - 2030
8.4.1.3. GCC Genetic Engineering in Agriculture Market by End-User, Value (US$ Bn), 2018 - 2030
8.4.1.4. South Africa Genetic Engineering in Agriculture Market by Technique, Value (US$ Bn), 2018 - 2030
8.4.1.5. South Africa Genetic Engineering in Agriculture Market by Application, Value (US$ Bn), 2018 - 2030
8.4.1.6. South Africa Genetic Engineering in Agriculture Market by End-User, Value (US$ Bn), 2018 - 2030
8.4.1.7. Rest of Middle East & Africa Genetic Engineering in Agriculture Market by Technique, Value (US$ Bn), 2018 - 2030
8.4.1.8. Rest of Middle East & Africa Genetic Engineering in Agriculture Market by Application, Value (US$ Bn), 2018 - 2030
8.4.1.9. Rest of Middle East & Africa Genetic Engineering in Agriculture Market by End-User, Value (US$ Bn), 2018 - 2030
8.4.2. BPS Analysis/Market Attractiveness Analysis


9. Competitive Landscape
9.1. Product vs Application Heatmap
9.2. Manufacturer vs Application Heatmap
9.3. Company Market Share Analysis, 2022
9.4. Competitive Dashboard
9.5. Company Profiles
9.5.1. Eurofins Scientific
9.5.1.1. Company Overview
9.5.1.2. Product Portfolio
9.5.1.3. Financial Overview
9.5.1.4. Business Strategies and Development
9.5.2. Illumina, Inc.
9.5.2.1. Company Overview
9.5.2.2. Product Portfolio
9.5.2.3. Financial Overview
9.5.2.4. Business Strategies and Development
9.5.3. Qiagen N.V.
9.5.3.1. Company Overview
9.5.3.2. Product Portfolio
9.5.3.3. Financial Overview
9.5.3.4. Business Strategies and Development
9.5.4. Agilent Technologies
9.5.4.1. Company Overview
9.5.4.2. Product Portfolio
9.5.4.3. Financial Overview
9.5.4.4. Business Strategies and Development
9.5.5. NRgene
9.5.5.1. Company Overview
9.5.5.2. Product Portfolio
9.5.5.3. Financial Overview
9.5.5.4. Business Strategies and Development
9.5.6. Neogen Corporation
9.5.6.1. Company Overview
9.5.6.2. Product Portfolio
9.5.6.3. Financial Overview
9.5.6.4. Business Strategies and Development
9.5.7. Keygene
9.5.7.1. Company Overview
9.5.7.2. Product Portfolio
9.5.7.3. Financial Overview
9.5.7.4. Business Strategies and Development
9.5.8. Traitgenetics GmbH
9.5.8.1. Company Overview
9.5.8.2. Product Portfolio
9.5.8.3. Financial Overview
9.5.8.4. Business Strategies and Development
9.5.9. Novogene Corporation
9.5.9.1. Company Overview
9.5.9.2. Product Portfolio
9.5.9.3. Financial Overview
9.5.9.4. Business Strategies and Development
9.5.10. Oxford Nanopore Technologies
9.5.10.1. Company Overview
9.5.10.2. Product Portfolio
9.5.10.3. Financial Overview
9.5.10.4. Business Strategies and Development

10. Appendix
10.1. Research Methodology
10.2. Report Assumptions
10.3. Acronyms and Abbreviations
BASE YEAR

HISTORICAL DATA

FORECAST PERIOD

UNITS

2022

2019 - 2022

2023 - 2030

Value: US$ Million
REPORT FEATURES

DETAILS

Technique Coverage

Application Coverage

Cereals & Grains

Fruits & Vegetables

Oilseeds & Pulses

Others

End Use Coverage

Yield Improvement

Disease Resistance

Herbicide Tolerance

Others

Geographical Coverage

North America

Europe

Germany

UK

France

Italy

Spain

Rest of EU

Asia Pacific

China

Japan

India

South Korea

Rest of APAC

RoW

Leading Companies

Report Highlights

Key Market Indicators, Macro

-

micro economic impact analysis, Technological Roadmap,

Key Trends, Driver, Restraints, and Future Opportunities & Revenue Pockets, Porter

'

s 5 Forces Analysis, Historical Trend

(

2019

-

2021

)

, Market Estimates and Forecast, Market Dynamics, Industry Trends, Competition

Landscape, Category, Region,

Country

-

wise

Trends & Analysis, COVID

-

19 Impact Analysis

(

Demand and Supply Chain

)