Graphite Market Outlook
Global graphite market is projected to reach a value of US$ 26.8 Bn by the end of 2025, from US$ 16.4 Bn in 2017. During the forecast years of 2021 and 2025, the market is expected to register a CAGR of 8.5%.
Key Report Findings
Accelerating growth of the renewables sector to bode well for graphite market expansion
Despite prominence of synthetic graphite with over 60% market share, natural graphite likely to surge ahead rapidly
Steelmaking, and Li-ion battery manufacturing to remain the key areas of application
China spearheads global landscape, pushing Asia Pacific's contribution up to more than 55%
Market Analysis in Brief
Carbon is present in two most well-known crystalline forms graphite, and diamond. Each have a unique arrangement of carbon atoms resulting in distinct physical properties, making them popular forms of carbon acro-ss major industries. Graphite derived from Greek word, 'Graphein', meaning 'to write', is a unique soft crystalline material that exhibits properties of both metal, and non-metal. Graphite is one of the most promising materials in the era of technological revolutions. The renewable energy sector is rushing to mine this rough diamond, as it is a vital material to renewable and cleaner energy generation such as solar panels, and EV batteries. This is expected to fuel the expansion of graphite market.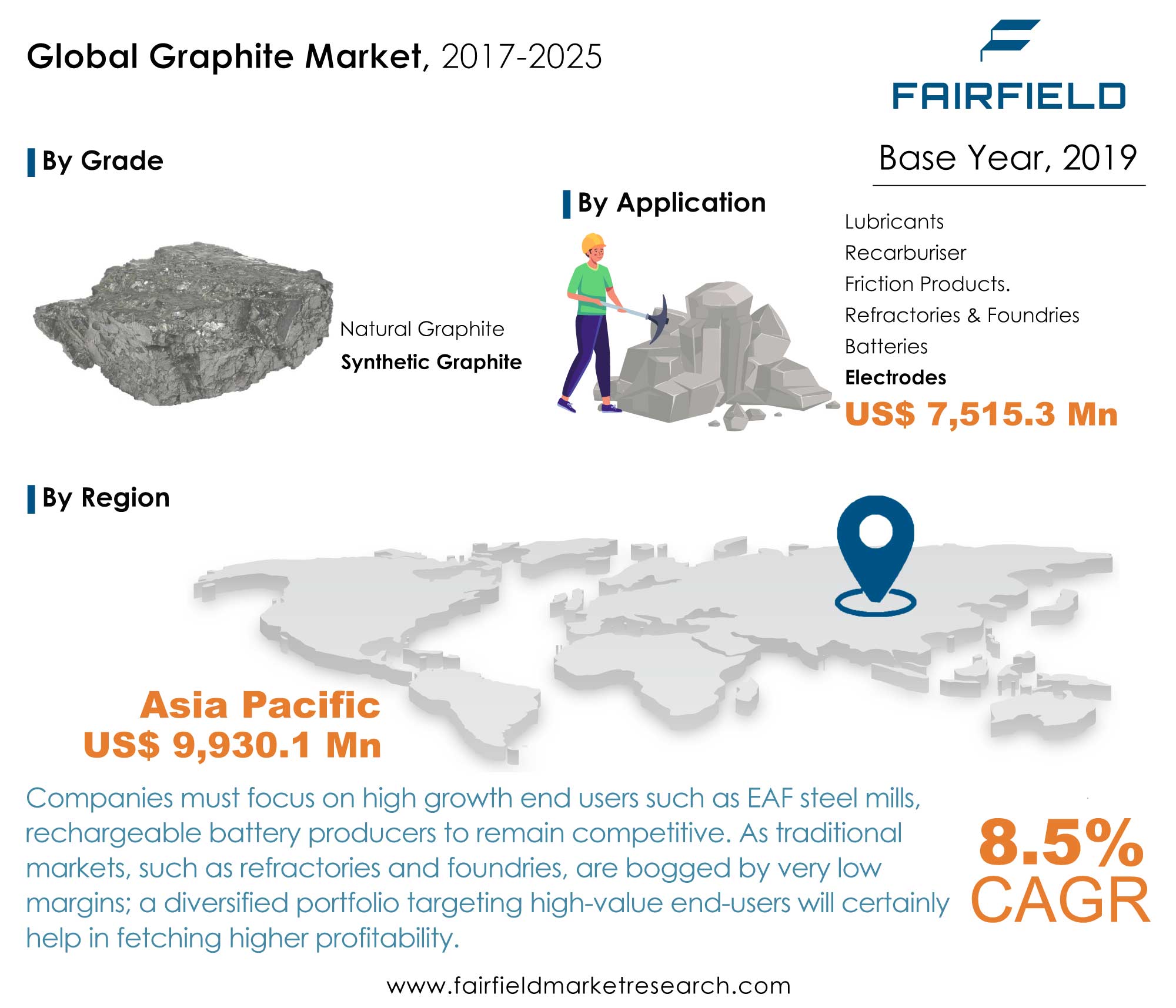 Growth Drivers
In graphite, carbon atoms are organized hexagonally in a planar condensed ring structure, wherein layers are stacked parallelly. It is found in igneous and metamorphic rocks. It can be found naturally as well as produced synthetically. Synthetically in can be produced through wide range of carbon comprising substances such as coal tar pitch, petrochemicals, coals, and acetylene). At temperature levels higher than 4000oC (super-heated), the carbon atoms reorganize themselves into layers to from graphite.
Synthetic graphite is known in the graphite industry to have better purity (over 99% carbon content) than natural graphite and is used is high-end applications wherein graphite purity is the priority. Graphite has excellent electrical conductivity, high mechanical strength, better lubricity, low coefficient of thermal expansion & friction, and good thermal shock resistance. Besides, a growing perception about graphite as an immensely promising potential material in the world of clean energy technology will drive the growth of global graphite market.
Overview of Key Segments
Synthetic Graphite Dominates
Synthetic graphite accounted for more than 60% of the total graphite market in 2019. It is used in range of applications including electrodes, Li-ion battery anodes, synthetic carbon, lubricants, foundries, refractory materials, conductive fillers, coatings, graphite shapes, and recarburisers. Majority of the synthetic graphite is consumed for electrodes. These electrodes are used in electric arc furnaces (EAF), and melting furnaces in steel making and silicon plants. In the past few years, steel production with EAF technology has increased and is expected to boost the demand for graphite electrodes. Synthetic graphite is preferred as compared to its natural counterpart owing to its ability to handle very high electric currents due to its high conductivity, and purity.
Ample Opportunity Spotted for Natural Graphite
Natural graphite is available in two major categories: amorphous and flake graphite. Flake graphite holds more than half of the share of natural graphite and is one of the fastest-growing product categories owing to rise in demand from rechargeable batteries. Flake graphite is converted into spherical graphite (SpG), a product with superior purity and electrical conductivity making it an ideal material for anodes in Li-ion batteries. Natural graphite flakes are used in the production of flexible or expanded graphite, one of the fastest-growing markets for Li-ion batteries. It is manufactured by treating natural flake graphite with diluted acid solution and heating to cause expansion in the process splitting the flakes apart. This product has huge market potential in thermal management and battery storage applications, which is anticipated to thrust the development of graphite market over the coming years.
Electrodes, Refractories to Remain Major Traditional End Users
Steel production and other metallurgical activities such as electrodes, refractories & foundries, recarburizers, and friction products are the largest consumers of graphite currently, accounting for more than 65% of the total graphite market. High purity graphite electrodes are consumed every 8-10 hours in steel manufacturing with EAF technology. Currently, EAF technology accounts for around 1/4th of the total steelmaking and the growth is expected to accelerate over coming years thus driving the demand for graphite electrodes. EAF steelmaking production is considered as a big winner in the race to produce steel in carbon neutral and eco-friendlier way. With growing demand for steel from various end users such as automotive, aerospace, and electronics, the demand for graphite is likely to boost over the years to come.
Battery to Exhibit Huge Market Potential
Rechargeable Li-ion batteries is one of the fastest-growing applications with a huge market potential for graphite. Batteries segment is anticipated to growth with a CAGR of 14.1% between 2021 and 2025. The world LIB production is anticipated to reach 1,500 GWh by 2025. Graphite is the most dominant anode materials used in Li-ion batteries. Graphite is most used in lithium manganese oxide (LMO), lithium cobalt oxide (LCO), and lithium iron phosphate (LFP) batteries. Although, batteries represent relatively small share in the global graphite market, with technological advancements the sector offers the largest growth opportunity for spherical and expanded graphite over the coming years. Li-ion battery growth is majorly driven by vehicle electrification, electronic devices, and grid storage.
Growth Opportunities Across Regions
Primacy of Asia Pacific Intact
Asia Pacific, led by China, remained the major consumer of graphite worldwide. Asia Pacific accounted for more than 55% of the volume share in 2019. China is the world's largest producer of steel accounting for more than half of the total production (1,869.9 million tons) in 2019. In the past few years, China has ramped up the production of EAF steel mills wherein, graphite electrodes are in great demand. Furthermore, other countries in Asia Pacific region such as India, and other Southeast Asian countries are expected to add new EAF-based steel mills over the coming years. This is expected to boost the growth of graphite market in the region. Countries such as Japan, South Korea, and China are also of the largest producers of Li-ion batteries and battery materials, who are likely to offer huge growth potential for graphite.
Developed Western Markets Stable
Companies in Europe, and North America are developing an integrated supply chain for graphite owing to rising response to the graphite anodes from the battery sector. Growing investment in e-mobility, and grid-scale battery storage is projected to enhance the consumption of graphite in these regions. Additionally, demand from traditional end users such as steelmaking, and refractories is expected to remain stable over the coming years.
Key Players' Analysis: Graphite Market
Companies such as Shenzhen Showa Denko Materials Co. Ltd., Shanshan Technology, Qingdao Haida Graphite Co., Ltd., BTR New Materials, Nacional de Grafite, and Aoyu Graphite Group accounted for more than 50% of the total graphite industry. China based companies dominate the natural graphite market accounting for around 60% of the global natural graphite production.
New Capacity Expansion, Strategic Alliances to Take Center Stage
In the past few years, the global graphite industry has witnessed fierce competition. Both natural and synthetic graphite markets are consolidated, wherein companies with integrated business operations are dominating the synthetic graphite market. In 2020, Imerys announced plans to expand its synthetic graphite capacity at its Bodio plant, Switzerland. The company aims to increase its presence in synthetic graphite value and plans to meet growing demand from Li-ion battery sector in Europe, Asia, and North America. The same year, Novonix Limited announced strategic alliances with Harper International Corporation to develop furnace technology. The specialized technology will enhance Novonix's synthetic graphite production process. This partnership will enable Novonix to produce greater quantities synthetic graphite anode material and scale more quickly and cost effectively in the future.
The Global Graphite Market is Segmented as Below:
By Product Coverage
Natural Graphite
Flake
Amorphous
Vein
Synthetic Graphite
By Application Coverage
Electrodes
Refractories & Foundries
Batteries
Recarburiser
Lubricants
Friction Products
Misc. (Graphite Shapes, Aerospace Materials, etc.)
By Geographical Coverage
North America
Europe

Germany
France
UK
Italy
Turkey
Russia
Rest of Europe

Asia Pacific

China
Japan
South Korea
India
Southeast Asia
Rest of Asia Pacific

Latin America

Brazil
Mexico
Rest of Latin America

Middle East & Africa

GCC
Iran
Rest of Middle East & Africa
Leading Companies
Shenzhen BTR New Materials
Shanshan Technology
Showa Denko Materials Co. Ltd.
Mitsubishi Chemical
Nacional de Grafite
Hunan Zhongke Shinzoom Technology Co., Ltd.
Hensen Graphite
Aoyu Graphite Group
Qingdao Haida Graphite Co., Ltd.
Nippon Graphite Industries, Ltd.
Superior Graphite Co.
Inside This Report You Will Find:
1. Executive Summary
2. Market Overview
3. Production Output and Trade Statistics
4. Price Trends Analysis and Future Projects, 2017 - 2025
5. Global Graphite Market Outlook, 2017 - 2025
6. North America Graphite Market Outlook, 2017 - 2025
7. Europe Graphite Market Outlook, 2017 - 2025
8. Asia Pacific Graphite Market Outlook, 2017 - 2025
9. Latin America Graphite Market Outlook, 2017 - 2025
10. Middle East & Africa Graphite Market Outlook, 2017 - 2025
11. Competitive Landscape
12. Appendix
Post Sale Support, Research Updates & Offerings:
We value the trust shown by our customers in Fairfield Market Research. We support our clients through our post sale support, research updates and offerings.
The report will be prepared in a PPT format and will be delivered in a PDF format.
Additionally, Market Estimation and Forecast numbers will be shared in Excel Workbook.
If a report being sold was published over a year ago, we will offer a complimentary copy of the updated research report along with Market Estimation and Forecast numbers within 2-3 weeks' time of the sale.
If we update this research study within the next 2 quarters, post purchase of the report, we will offer a Complimentary copy of the updated Market Estimation and Forecast numbers in Excel Workbook.
If there is a geopolitical conflict, pandemic, recession, and the like which can impact global economic scenario and business activity, which might entirely alter the market dynamics or future projections in the industry, we will create a Research Update upon your request at a nominal charge.
1. Executive Summary
1.1. Global Graphite Market Snapshot
1.2. Future Projections
1.3. Key Market Trends
1.4. Analyst Recommendations


2. Market Overview
2.1. Market Definitions and Segmentations
2.2. Market Dynamics
2.2.1. Drivers
2.2.2. Restraints
2.2.3. Market Opportunities
2.3. Value Chain Analysis
2.4. Porter's Five Forces Analysis
2.5. Covid-19 Impact Analysis
2.5.1. Supply
2.5.2. Demand
2.6. Graphite Production Process
2.7. Economic Overview
2.8. Raw Materials Impact Analysis
3. Production Output and Trade Statistics
4. Price Trends Analysis and Future Projects, 2017 - 2025
4.1. Price Trends Analysis and Future Projects, 2017 - 2025
4.2. Global Average Price Analysis, by Product vs Application, US$ per Kg
5. Global Graphite Market Outlook, 2017 - 2025
5.1. Global Graphite Market Outlook, by Product, Volume (Kilo Tons) and Value (US$ Mn), 2017 - 2025
5.1.1. Key Highlights
5.1.1.1. Natural Graphite
5.1.1.1.1. Flake
5.1.1.1.2. Amorphous
5.1.1.1.3. Vein
5.1.1.2. Synthetic Graphite
5.2. Global Graphite Market Outlook, by Application, Volume (Kilo Tons) and Value (US$ Mn), 2017 - 2025
5.2.1. Key Highlights
5.2.1.1. Electrodes
5.2.1.2. Refractories & Foundries
5.2.1.3. Batteries
5.2.1.4. Recarburiser
5.2.1.5. Lubricants
5.2.1.6. Friction Products
5.2.1.7. Misc. (Graphite Shapes, Aerospace Materials, etc.)
5.3. Global Graphite Market Outlook, by Region, Volume (Kilo Tons) and Value (US$ Mn), 2017 - 2025
5.3.1. Key Highlights
5.3.1.1. North America
5.3.1.2. Europe
5.3.1.3. Asia Pacific
5.3.1.4. Latin America
5.3.1.5. Middle East & Africa
6. North America Graphite Market Outlook, 2017 - 2025
6.1. North America Graphite Market Outlook, by Product, Volume (Kilo Tons) and Value (US$ Mn), 2017 - 2025
6.1.1. Key Highlights
6.1.1.1. Natural Graphite
6.1.1.1.1. Flake
6.1.1.1.2. Amorphous
6.1.1.1.3. Vein
6.1.1.2. Synthetic Graphite
6.1.2. BPS Analysis/Market Attractiveness Analysis
6.2. North America Graphite Market Outlook, by Application, Volume (Kilo Tons) and Value (US$ Mn), 2017 - 2025
6.2.1. Key Highlights
6.2.1.1. Electrodes
6.2.1.2. Refractories & Foundries
6.2.1.3. Batteries
6.2.1.4. Recarburiser
6.2.1.5. Lubricants
6.2.1.6. Friction Products
6.2.1.7. Misc. (Graphite Shapes, Aerospace Materials, etc.)
6.2.2. BPS Analysis/Market Attractiveness Analysis
6.3. North America Graphite Market Outlook, by Country, Volume (Kilo Tons) and Value (US$ Mn), 2017 - 2025
6.3.1. Key Highlights
6.3.1.1. U.S. Graphite Market by Product, Volume (Kilo Tons) and Value (US$ Mn), 2017 - 2025
6.3.1.2. U.S. Graphite Market by Application, Volume (Kilo Tons) and Value (US$ Mn), 2017 - 2025
6.3.1.3. Canada Graphite Market by Product, Volume (Kilo Tons) and Value (US$ Mn), 2017 - 2025
6.3.1.4. Canada Graphite Market by Application, Volume (Kilo Tons) and Value (US$ Mn), 2017 - 2025
6.3.2. BPS Analysis/Market Attractiveness Analysis
7. Europe Graphite Market Outlook, 2017 - 2025
7.1. Europe Graphite Market Outlook, by Product, Volume (Kilo Tons) and Value (US$ Mn), 2017 - 2025
7.1.1. Key Highlights
7.1.1.1. Natural Graphite
7.1.1.1.1. Flake
7.1.1.1.2. Amorphous
7.1.1.1.3. Vein
7.1.1.2. Synthetic Graphite
7.1.2. BPS Analysis/Market Attractiveness Analysis
7.2. Europe Graphite Market Outlook, by Application, Volume (Kilo Tons) and Value (US$ Mn), 2017 - 2025
7.2.1. Key Highlights
7.2.1.1. Electrodes
7.2.1.2. Refractories & Foundries
7.2.1.3. Batteries
7.2.1.4. Recarburiser
7.2.1.5. Lubricants
7.2.1.6. Friction Products
7.2.1.7. Misc. (Graphite Shapes, Aerospace Materials, etc.)
7.2.2. BPS Analysis/Market Attractiveness Analysis
7.3. Europe Graphite Market Outlook, by Country, Volume (Kilo Tons) and Value (US$ Mn), 2017 - 2025
7.3.1. Key Highlights
7.3.1.1. Germany Graphite Market by Product, Volume (Kilo Tons) and Value (US$ Mn), 2017 - 2025
7.3.1.2. Germany Graphite Market by Application, Volume (Kilo Tons) and Value (US$ Mn), 2017 - 2025
7.3.1.3. U.K. Graphite Market by Product, Volume (Kilo Tons) and Value (US$ Mn), 2017 - 2025
7.3.1.4. U.K. Graphite Market by Application, Volume (Kilo Tons) and Value (US$ Mn), 2017 - 2025
7.3.1.5. France Graphite Market by Product, Volume (Kilo Tons) and Value (US$ Mn), 2017 - 2025
7.3.1.6. France Graphite Market by Application, Volume (Kilo Tons) and Value (US$ Mn), 2017 - 2025
7.3.1.7. Italy Graphite Market by Product, Volume (Kilo Tons) and Value (US$ Mn), 2017 - 2025
7.3.1.8. Italy Graphite Market by Application, Volume (Kilo Tons) and Value (US$ Mn), 2017 - 2025
7.3.1.9. Spain Graphite Market by Product, Volume (Kilo Tons) and Value (US$ Mn), 2017 - 2025
7.3.1.10. Spain Graphite Market by Application, Volume (Kilo Tons) and Value (US$ Mn), 2017 - 2025
7.3.1.11. Russia Graphite Market by Product, Volume (Kilo Tons) and Value (US$ Mn), 2017 - 2025
7.3.1.12. Russia Graphite Market by Application, Volume (Kilo Tons) and Value (US$ Mn), 2017 - 2025
7.3.1.13. Rest of Europe Graphite Market by Product, Volume (Kilo Tons) and Value (US$ Mn), 2017 - 2025
7.3.1.14. Rest of Europe Graphite Market by Application, Volume (Kilo Tons) and Value (US$ Mn), 2017 - 2025
7.3.2. BPS Analysis/Market Attractiveness Analysis
8. Asia Pacific Graphite Market Outlook, 2017 - 2025
8.1. Asia Pacific Graphite Market Outlook, by Product, Volume (Kilo Tons) and Value (US$ Mn), 2017 - 2025
8.1.1. Key Highlights
8.1.1.1. Natural Graphite
8.1.1.1.1. Flake
8.1.1.1.2. Amorphous
8.1.1.1.3. Vein
8.1.1.2. Synthetic Graphite
8.1.2. BPS Analysis/Market Attractiveness Analysis
8.2. Asia Pacific Graphite Market Outlook, by Application, Volume (Kilo Tons) and Value (US$ Mn), 2017 - 2025
8.2.1. Key Highlights
8.2.1.1. Electrodes
8.2.1.2. Refractories & Foundries
8.2.1.3. Batteries
8.2.1.4. Recarburiser
8.2.1.5. Lubricants
8.2.1.6. Friction Products
8.2.1.7. Misc. (Graphite Shapes, Aerospace Materials, etc.)
8.2.2. BPS Analysis/Market Attractiveness Analysis
8.3. Asia Pacific Graphite Market Outlook, by Country, Volume (Kilo Tons) and Value (US$ Mn), 2017 - 2025
8.3.1. Key Highlights
8.3.1.1. China Graphite Market by Product, Volume (Kilo Tons) and Value (US$ Mn), 2017 - 2025
8.3.1.2. China Graphite Market by Application, Volume (Kilo Tons) and Value (US$ Mn), 2017 - 2025
8.3.1.3. Japan Graphite Market by Product, Volume (Kilo Tons) and Value (US$ Mn), 2017 - 2025
8.3.1.4. Japan Graphite Market by Application, Volume (Kilo Tons) and Value (US$ Mn), 2017 - 2025
8.3.1.5. South Korea Graphite Market by Product, Volume (Kilo Tons) and Value (US$ Mn), 2017 - 2025
8.3.1.6. South Korea Graphite Market by Application, Volume (Kilo Tons) and Value (US$ Mn), 2017 - 2025
8.3.1.7. India Graphite Market by Product, Volume (Kilo Tons) and Value (US$ Mn), 2017 - 2025
8.3.1.8. India Graphite Market by Application, Volume (Kilo Tons) and Value (US$ Mn), 2017 - 2025
8.3.1.9. Southeast Asia Graphite Market by Product, Volume (Kilo Tons) and Value (US$ Mn), 2017 - 2025
8.3.1.10. Southeast Asia Graphite Market by Application, Volume (Kilo Tons) and Value (US$ Mn), 2017 - 2025
8.3.1.11. Rest of Asia Pacific Graphite Market by Product, Volume (Kilo Tons) and Value (US$ Mn), 2017 - 2025
8.3.1.12. Rest of Asia Pacific Graphite Market by Application, Volume (Kilo Tons) and Value (US$ Mn), 2017 - 2025
8.3.2. BPS Analysis/Market Attractiveness Analysis
9. Latin America Graphite Market Outlook, 2017 - 2025
9.1. Latin America Graphite Market Outlook, by Product, Volume (Kilo Tons) and Value (US$ Mn), 2017 - 2025
9.1.1. Key Highlights
9.1.1.1. Natural Graphite
9.1.1.1.1. Flake
9.1.1.1.2. Amorphous
9.1.1.1.3. Vein
9.1.1.2. Synthetic Graphite
9.1.2. BPS Analysis/Market Attractiveness Analysis
9.2. Latin America Graphite Market Outlook, by Application, Volume (Kilo Tons) and Value (US$ Mn), 2017 - 2025
9.2.1. Key Highlights
9.2.1.1. Electrodes
9.2.1.2. Refractories & Foundries
9.2.1.3. Batteries
9.2.1.4. Recarburiser
9.2.1.5. Lubricants
9.2.1.6. Friction Products
9.2.1.7. Misc. (Graphite Shapes, Aerospace Materials, etc.)
9.2.2. BPS Analysis/Market Attractiveness Analysis
9.3. Latin America Graphite Market Outlook, by Country, Volume (Kilo Tons) and Value (US$ Mn), 2017 - 2025
9.3.1. Key Highlights
9.3.1.1. Brazil Graphite Market by Product, Volume (Kilo Tons) and Value (US$ Mn), 2017 - 2025
9.3.1.2. Brazil Graphite Market by Application, Volume (Kilo Tons) and Value (US$ Mn), 2017 - 2025
9.3.1.3. Mexico Graphite Market by Product, Volume (Kilo Tons) and Value (US$ Mn), 2017 - 2025
9.3.1.4. Mexico Graphite Market by Application, Volume (Kilo Tons) and Value (US$ Mn), 2017 - 2025
9.3.1.5. Rest of Latin America Graphite Market by Product, Volume (Kilo Tons) and Value (US$ Mn), 2017 - 2025
9.3.1.6. Rest of Latin America Graphite Market by Application, Volume (Kilo Tons) and Value (US$ Mn), 2017 - 2025
9.3.2. BPS Analysis/Market Attractiveness Analysis
10. Middle East & Africa Graphite Market Outlook, 2017 - 2025
10.1. Middle East & Africa Graphite Market Outlook, by Product, Volume (Kilo Tons) and Value (US$ Mn), 2017 - 2025
10.1.1. Key Highlights
10.1.1.1. Natural Graphite
10.1.1.1.1. Flake
10.1.1.1.2. Amorphous
10.1.1.1.3. Vein
10.1.1.2. Synthetic Graphite
10.1.2. BPS Analysis/Market Attractiveness Analysis
10.2. Middle East & Africa Graphite Market Outlook, by Application, Volume (Kilo Tons) and Value (US$ Mn), 2017 - 2025
10.2.1. Key Highlights
10.2.1.1. Electrodes
10.2.1.2. Refractories & Foundries
10.2.1.3. Batteries
10.2.1.4. Recarburiser
10.2.1.5. Lubricants
10.2.1.6. Friction Products
10.2.1.7. Misc. (Graphite Shapes, Aerospace Materials, etc.)
10.2.2. BPS Analysis/Market Attractiveness Analysis
10.3. Middle East & Africa Graphite Market Outlook, by Country, Volume (Kilo Tons) and Value (US$ Mn), 2017 - 2025
10.3.1. Key Highlights
10.3.1.1. GCC Graphite Market by Product, Volume (Kilo Tons) and Value (US$ Mn), 2017 - 2025
10.3.1.2. GCC Graphite Market by Application, Volume (Kilo Tons) and Value (US$ Mn), 2017 - 2025
10.3.1.3. South Africa Graphite Market by Product, Volume (Kilo Tons) and Value (US$ Mn), 2017 - 2025
10.3.1.4. South Africa Graphite Market by Application, Volume (Kilo Tons) and Value (US$ Mn), 2017 - 2025
10.3.1.5. Rest of Middle East & Africa Graphite Market by Product, Volume (Kilo Tons) and Value (US$ Mn), 2017 - 2025
10.3.1.6. Rest of Middle East & Africa Graphite Market by Application, Volume (Kilo Tons) and Value (US$ Mn), 2017 - 2025
10.3.2. BPS Analysis/Market Attractiveness Analysis
11. Competitive Landscape
11.1. Product vs Application Heatmap
11.2. Graphite Market Structure
11.3. Company Market Share Analysis, 2019
11.4. Technological Developments
11.5. Company Manufacturing Footprint Analysis
11.6. Company Profiles
11.6.1. Shenzhen BTR New Materials
11.6.1.1. Company Overview
11.6.1.2. Product Portfolio
11.6.1.3. Financial Overview
11.6.1.4. Business Strategies and Development
11.6.2. Shanshan Technology
11.6.2.1. Company Overview
11.6.2.2. Product Portfolio
11.6.2.3. Financial Overview
11.6.2.4. Business Strategies and Development
11.6.3. Showa Denko Materials Co. Ltd.
11.6.3.1. Company Overview
11.6.3.2. Product Portfolio
11.6.3.3. Financial Overview
11.6.3.4. Business Strategies and Development
11.6.4. Mitsubishi Chemical
11.6.4.1. Company Overview
11.6.4.2. Product Portfolio
11.6.4.3. Financial Overview
11.6.4.4. Business Strategies and Development
11.6.5. Nacional de Grafite
11.6.5.1. Company Overview
11.6.5.2. Product Portfolio
11.6.5.3. Production Capacities
11.6.5.4. Business Strategies and Development
11.6.6. Hunan Zhongke Shinzoom Technology Co., Ltd.
11.6.6.1. Company Overview
11.6.6.2. Product Portfolio
11.6.6.3. Financial Overview
11.6.6.4. Business Strategies and Development
11.6.7. Hensen Graphite
11.6.7.1. Company Overview
11.6.7.2. Product Portfolio
11.6.7.3. Production Capacities
11.6.7.4. Business Strategies and Development
11.6.8. Aoyu Graphite Group
11.6.8.1. Company Overview
11.6.8.2. Product Portfolio
11.6.8.3. Production Capacities
11.6.8.4. Business Strategies and Development
11.6.9. Qingdao Haida Graphite Co., Ltd.
11.6.9.1. Company Overview
11.6.9.2. Product Portfolio
11.6.9.3. Production Capacities
11.6.9.4. Business Strategies and Development
11.6.10. Nippon Graphite Industries, Ltd.
11.6.10.1. Company Overview
11.6.10.2. Product Portfolio
11.6.10.3. Production Capacities
11.6.10.4. Business Strategies and Development
11.6.11. Superior Graphite Co.
11.6.11.1. Company Overview
11.6.11.2. Product Portfolio
11.6.11.3. Production Capacities
11.6.11.4. Business Strategies and Development
12. Appendix
12.1. Research Methodology
12.2. Report Assumptions
12.3. Acronyms and Abbreviations