Hemophilia Treatment Market Outlook
The global hemophilia treatment market registered revenue worth US$14,785.4 Mn in 2021 and is set to witness robust revenue growth between 2022 and 2027. Fairfield Market Research indicates that the global hemophilia treatment market will rise at a healthy pace of 5.2% CAGR during the period of assessment (2022-2027), reaching market value of US$21,349.6 Mn.
Demand for Hemophilia Treatment to Grow Strong Owing to Significantly Increasing Prevalence of Blood Clotting and Bleeding Related Diseases
Hemophilia is a rare X-linked recessive bleeding disorder wherein the blood does not clot properly due to lack of, or absence of a protein called clotting factor. It is known to occur in a relatively small population across the globe, and thus is classified as a rare/orphan disease. There are three main types namely, hemophilia A, hemophilia B, and acquired hemophilia. Approximately 70% of hemophilia cases are inherited. Hemophilia A accounts for 80-85%, and hemophilia B 15-20% of all the hemophilia cases. Perpetually rising prevalence of the diseases related to blood clotting and bleeding coupled with rise in testing is resulting in growth of the target population.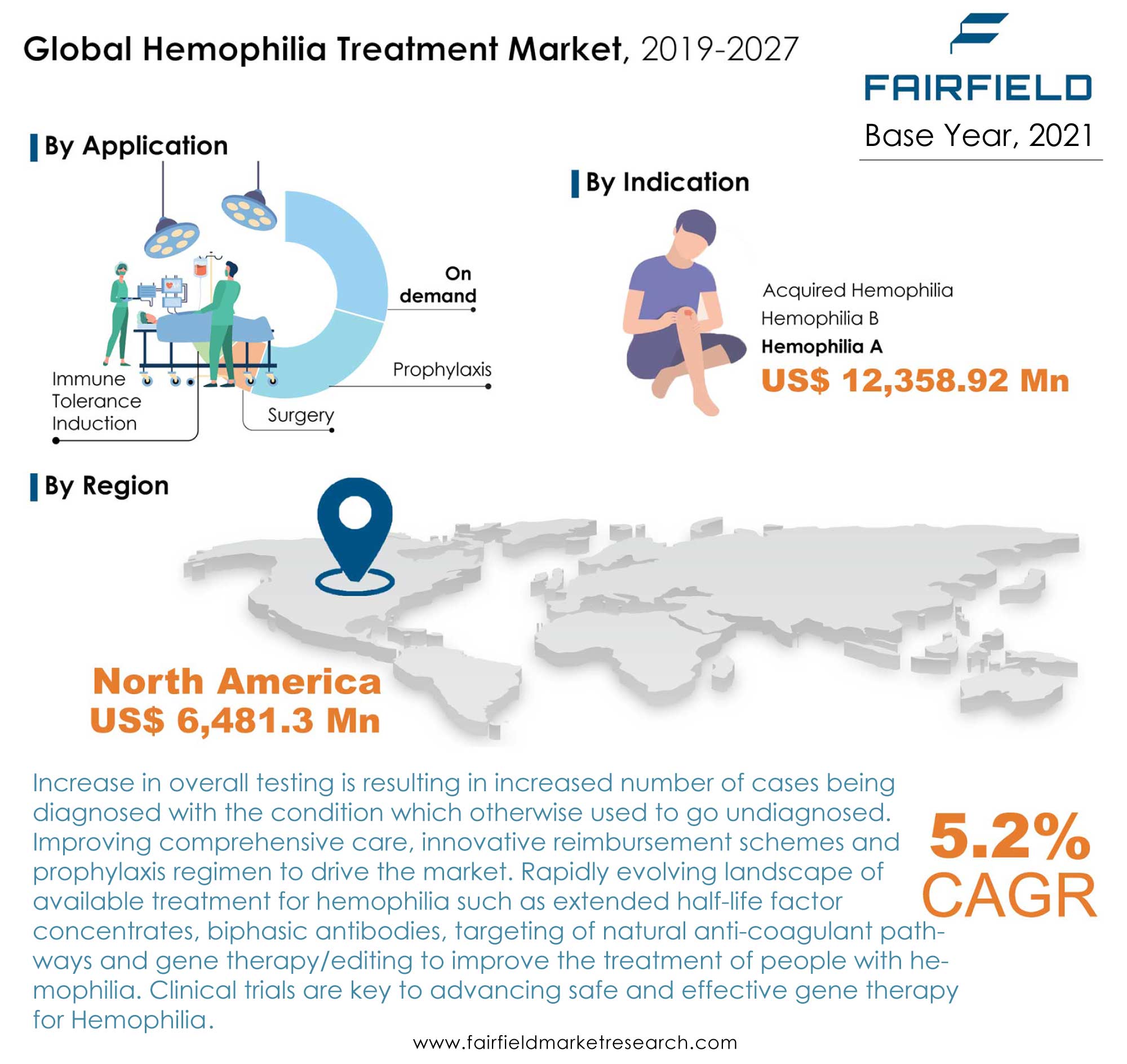 Introduction of Novel Therapeutics to Primarily Drive Market Growth
Novel therapeutics viz; extended half-life factor concentrates (FVIII/FIX), biphasic antibodies (FVIII mimetics), targeting of natural anti-coagulant pathways, and gene therapy/editing to improve the treatment of people with hemophilia. The advent of newer clotting factor concentrates (CFCs) with extended half-life has not only led to decreased burden of care for patients; more importantly, extended half-life CFCs have made it possible to maintain significantly higher factor trough levels on regular replacement therapy than has been possible with standard half-life CFCs. However, all the factor concentrate-based approaches currently require intravenous infusion and will be ineffective in those with FVIII/FIX inhibitors and will result in allo-antibody formation in some patients. Solid efficacy, and more convenient dosing are thus allowing Hemlibra (emicizumab) to take market share away from older hemophilia treatments.
Lucrative Growth Opportunities Arise in Hemophilia Treatment Market with Development of Safe and Effective Gene Therapy Solutions
Several hemophilia gene therapies are poised to enter late-stage clinical trials in the coming time. Resolving the challenges in hemophilia gene therapy would rapidly pave a path for this new treatment alternative. More recently, the use of molecular genetic information has successfully been applied to deliver human hemophilia gene therapy. Apparently, development of successful gene therapies for hemophilia A and B face different challenges. Applying gene therapy to hemophilia A is more challenging. Hemophilia B has thus always been the focus of biotech companies since most big pharma efforts were engaged with the bigger hemophilia A market. Promising prospects of personalised medication is thus expected to contribute to the growth of hemophilia treatment market to a large extent.
Developed Countries Hold a Majority Market Share, Market to See Phenomenal Growth in Asia Pacific
Presence of major market players in North American, and European countries is contributing to the highest revenue generation in these regions. Moreover, higher spending capacity, availability of government rebates, and high awareness about the available treatment options are driving the growth of hemophilia treatment market in North America, and Europe. While Asia Pacific is expected to showcase the fastest growth rate owing to availability of advanced treatments at comparatively cheaper price in addition to the constantly rising patient population. Asia Pacific is expected to witness highest CAGR of 7.2% during the forecast period.
High Treatment Costs, and Reluctance in Adopting Advanced Therapies to Hinder Market Growth
Relative lack of awareness, and inadequacy of reliable and cost-effective treatment solutions especially in developing economies, continue to hinder the growth of hemophilia treatment market. Inadequate safety, and efficacy of the newly-launched treatments will further continue to limit the growth of hemophilia treatment market through the forecast period. Lack of willingness by patients to switch from the established treatment, and high cost of novel treatment limiting the demand for advanced hemophilia care. In addition, advanced treatments are expensive with no or limited government rebate resulting in higher out of pocket cost, which is restraining adoption of advanced treatment in a larger patient population. The Centers for Disease Control and Prevention (CDC) estimates that about 1,500 people with hemophilia in the US are living with an inhibitor, and the presence of inhibitors adds more than $800,000 per year to their treatment. For the entire population, this amounts to excess healthcare costs of nearly US$1.4 Bn per year.
Key Market Players Prioritise R&D, and Geographic Expansion to Strengthen Global Market Positioning
The top players holding substantial shares in global hemophilia treatment market include Bayer AG, BioMarin Pharmaceuticals, Inc., F. Hoffman La Roche Ltd., Grifols S.A., Sanofi, Takeda Pharmaceuticals Company Ltd., CSL Behring, Medexus Pharmaceuticals Inc., Novo Nordisk, Octapharma AG, and Pfizer Inc.
The Hemophilia Treatment Market has been Segmented as Below:
By Disease
Hemophilia A
Hemophilia B
By Product
Recombinant Factor Concentrates
Plasma-derived Factor Concentrates
Extended Half-life Products
Others
By Patient
By Treatment
By Therapy
Factor Replacement Therapy
Non-factor Replacement Therapy
By Drug Class
Vasopressin
Coagulation Factors
By Route of Administration
By End Use
Hospitals
Clinics
Hemophilia Treatment Centers
Others
By Region
North America
Europe

UK
Germany
France
Italy
Russia

Asia Pacific

China
India
Japan
South Korea

Latin America
MEA

Saudi Arabia
UAE
South Africa
1. Executive Summary
1.1. Global Hemophilia Treatment Market Outlook, 2019 - 2027 (US$ Million)
1.2. Global Hemophilia Treatment Market Incremental Opportunity, 2022- 2027 (US$ Million)
1.3. Key Industry Trends

2. Market Overview
2.1. Market Definitions and Segmentations
2.2. Market Dynamics
2.2.1. Market Drivers
2.2.2. Market Threats
2.2.3. Market Opportunities
2.3. Regulatory Framework
2.4. Value Framework of Clinical Scenarios
2.5. Hemophilia Treatment Centres: Comprehensive Care Model
2.6. Reimbursement Scenario
2.7. COVID 19 Impact Analysis
2.8. Hemophilia Market Landscape

3. Global Hemophilia Treatment Market Outlook, 2019 - 2027
3.1. Global Hemophilia Treatment Market Outlook, By Treatment Type, 2019 - 2027
3.1.1. Key Highlights
3.1.2. Global Hemophilia Treatment Market Outlook, by Treatment Type, Value (US$ Million), 2019 - 2027
3.1.2.1. Plasma Derived Factor Concentrates
3.1.2.2. Recombinant Factor Concentrates
3.1.2.3. Alternative Coagulation Promoters
3.1.2.4. Others
3.1.3. Global Hemophilia Treatment Market Share and BPS Analysis, by Treatment Type, Value, 2022 and 2027
3.1.4. Global Hemophilia Treatment Market Attractiveness Analysis, by Treatment Type, Value, 2022 - 2027
3.2. Global Hemophilia Treatment Market Outlook, By Indication Type, 2019 - 2027
3.2.1. Key Highlights
3.2.2. Global Hemophilia Treatment Market Outlook, by Indication Type, Value (US$ Million), 2019 - 2027
3.2.2.1. Hemophilia A
3.2.2.2. Hemophilia B
3.2.2.3. Acquired Hemophilia
3.2.3. Global Hemophilia Treatment Market Share and BPS Analysis, by Indication Type, Value, 2022 and 2027
3.2.4. Global Hemophilia Treatment Market Attractiveness Analysis, by Indication Type, Value, 2022 - 2027
3.3. Global Hemophilia Treatment Market Outlook, By Application, 2019 - 2027
3.3.1. Key Highlights
3.3.2. Global Hemophilia Treatment Market Outlook, by Application, Value (US$ Million), 2019 - 2027
3.3.2.1. Prophylaxis
3.3.2.2. On Demand
3.3.2.3. Surgery
3.3.2.4. Immune Tolerance Induction (ITI)
3.3.2.5. Others
3.3.3. Global Hemophilia Treatment Market Share and BPS Analysis, by Application Value, 2022 and 2027
3.3.4. Global Hemophilia Treatment Market Attractiveness Analysis, by Application, Value 2022 - 2027
3.4. Global Hemophilia Treatment Market Outlook, By Region, 2019 - 2027
3.4.1. Key Highlights
3.4.2. Global Hemophilia Treatment Market Outlook, by Region, Value (US$ Million), 2019 - 2027
3.4.2.1. North America
3.4.2.2. Europe
3.4.2.3. Asia Pacific
3.4.2.4. Rest of the World
3.4.3. Global Hemophilia Treatment Market Share and BPS Analysis, by Region, Value, 2022 and 2027
3.4.4. Global Hemophilia Treatment Market Attractiveness Analysis, by Region, Value, 2022 - 2027

4. North America Hemophilia Treatment Market Outlook, 2019 - 2027
4.1. North America Hemophilia Treatment Market Outlook, By Treatment Type, 2019 - 2027
4.1.1. Key Highlights
4.1.2. North America Hemophilia Treatment Market Outlook, by Country, Value (US$ Million), 2019 - 2027
4.1.2.1. U.S.
4.1.2.2. Canada
4.1.3. North America Hemophilia Treatment Market Outlook, by Treatment Type, Value (US$ Million), 2019 - 2027
4.1.3.1. Plasma Derived Factor Concentrates
4.1.3.2. Recombinant Factor Concentrates
4.1.3.3. Alternative Coagulation Promotors
4.1.3.4. Others
4.1.4. North America Hemophilia Treatment Market Share and BPS Analysis, by Treatment Type, Value, 2022 and 2027
4.1.5. North America Hemophilia Treatment Market Attractiveness Analysis, by Treatment Type, Value, 2022 - 2027
4.2. North America Hemophilia Treatment Market Outlook, By Indication Type, 2019 - 2027
4.2.1. Key Highlights
4.2.2. North America Hemophilia Treatment Market Outlook, by Indication Type, Value (US$ Million), 2019 - 2027
4.2.2.1. Hemophilia A
4.2.2.2. Hemophilia B
4.2.2.3. Acquired Hemophilia
4.2.3. North America Hemophilia Treatment Market Share and BPS Analysis, by Indication Value, 2022 and 2027
4.2.4. North America Hemophilia Treatment Market Attractiveness Analysis, by Indication Type Value, 2022 - 2027
4.3. North America Hemophilia Treatment Market Outlook, By Application, 2019 - 2027
4.3.1. Key Highlights
4.3.2. North America Hemophilia Treatment Market Outlook, by Application, Value (US$ Million) 2019 - 2027
4.3.2.1. Prophylaxis
4.3.2.2. On Demand
4.3.2.3. Surgery
4.3.2.4. Immune Tolerance Induction (ITI)
4.3.2.5. Others
4.3.3. North America Hemophilia Treatment Market Share and BPS Analysis, by Application, Value, 2022 and 2027
4.3.4. North America Hemophilia Treatment Market Attractiveness Analysis, by Application, Value, 2022 - 2027

5. Europe Hemophilia Treatment Market Outlook, 2019 - 2027
5.1. Europe Hemophilia Treatment Market Outlook, By Treatment Type, 2019 - 2027
5.1.1. Key Highlights
5.1.2. Europe Hemophilia Treatment Market Outlook, by Country, Value (US$ Million), 2019 - 2027
5.1.2.1. U.K.
5.1.2.2. France
5.1.2.3. Germany
5.1.2.4. Italy
5.1.2.5. Spain
5.1.2.6. Rest of Europe
5.1.3. Europe Hemophilia Treatment Market Outlook, by Treatment Type, Value (US$ Million), 2019 - 2027
5.1.3.1. Plasma Derived Factor Concentrates
5.1.3.2. Recombinant Factor Concentrates
5.1.3.3. Alternative Coagulation Promotors
5.1.3.4. Others
5.1.4. Europe Hemophilia Treatment Market Share and BPS Analysis, by Treatment Type, Value, 2022 and 2027
5.1.5. Europe Hemophilia Treatment Market Attractiveness Analysis, by Treatment Type, Value, 2022 - 2027
5.2. Europe Hemophilia Treatment Market Outlook, By Indication Type, 2019 - 2027
5.2.1. Key Highlights
5.2.2. Europe Hemophilia Treatment Market Outlook, by Indication Type, Value (US$ Million), 2019 - 2027
5.2.2.1. Hemophilia A
5.2.2.2. Hemophilia B
5.2.2.3. Acquired Hemophilia
5.2.3. Europe Hemophilia Treatment Market Share and BPS Analysis, by Indication Value, 2022 and 2027
5.2.4. Europe Hemophilia Treatment Market Attractiveness Analysis, by Indication Type Value, 2022 - 2027
5.3. Europe Hemophilia Treatment Market Outlook, By Application, 2019 - 2027
5.3.1. Key Highlights
5.3.2. Europe Hemophilia Treatment Market Outlook, by Application, Value (US$ Million) 2019 - 2027
5.3.2.1. Prophylaxis
5.3.2.2. On Demand
5.3.2.3. Surgery
5.3.2.4. Immune Tolerance Induction (ITI)
5.3.2.5. Others
5.3.3. Europe Hemophilia Treatment Market Share and BPS Analysis, by Application, Value, 2022 and 2027
5.3.4. Europe Hemophilia Treatment Market Attractiveness Analysis, by Application, Value, 2022 - 2027

6. Asia Pacific Hemophilia Treatment Market Outlook, 2019 - 2027
6.1. Asia Pacific Hemophilia Treatment Market Outlook, By Treatment Type, 2019 - 2027
6.1.1. Key Highlights
6.1.2. Asia Pacific Hemophilia Treatment Market Outlook, by Country, Value (US$ Million), 2019 - 2027
6.1.2.1. India
6.1.2.2. Japan
6.1.2.3. China
6.1.2.4. Australia
6.1.2.5. Rest of Asia Pacific
6.1.3. Asia Pacific Hemophilia Treatment Market Outlook, by Treatment Type, Value (US$ Million), 2019 - 2027
6.1.3.1. Plasma Derived Factor Concentrates
6.1.3.2. Recombinant Factor Concentrates
6.1.3.3. Alternative Coagulation Promotors
6.1.3.4. Others
6.1.4. Asia Pacific Hemophilia Treatment Market Share and BPS Analysis, by Treatment Type, Value, 2022 and 2027
6.1.5. Asia Pacific Hemophilia Treatment Market Attractiveness Analysis, by Treatment Type, Value, 2022 - 2027
6.2. Asia Pacific Hemophilia Treatment Market Outlook, By Indication Type, 2019 - 2027
6.2.1. Key Highlights
6.2.2. Asia Pacific Hemophilia Treatment Market Outlook, by Indication Type, Value (US$ Million), 2019 - 2027
6.2.2.1. Hemophilia A
6.2.2.2. Hemophilia B
6.2.2.3. Acquired Hemophilia
6.2.3. Asia Pacific Hemophilia Treatment Market Share and BPS Analysis, by Indication Value, 2022 and 2027
6.2.4. Asia Pacific Hemophilia Treatment Market Attractiveness Analysis, by Indication Type Value, 2022 - 2027
6.3. Asia Pacific Hemophilia Treatment Market Outlook, By Application, 2019 - 2027
6.3.1. Key Highlights
6.3.2. Asia Pacific Hemophilia Treatment Market Outlook, by Application, Value (US$ Million) 2019 - 2027
6.3.2.1. Prophylaxis
6.3.2.2. On Demand
6.3.2.3. Surgery
6.3.2.4. Immune Tolerance Induction (ITI)
6.3.2.5. Others
6.3.3. Asia Pacific Hemophilia Treatment Market Share and BPS Analysis, by Application, Value, 2022 and 2027
6.3.4. Asia Pacific Hemophilia Treatment Market Attractiveness Analysis, by Application, Value, 2022 - 2027

7. Rest of the World Hemophilia Treatment Market Outlook, 2019 - 2027
7.1. Rest of the World Hemophilia Treatment Market Outlook, By Treatment Type, 2019 - 2027
7.1.1. Key Highlights
7.1.2. Rest of the World Hemophilia Treatment Market Outlook, by Country, Value (US$ Million), 2019 - 2027
7.1.2.1. Latin America
7.1.2.2. Middle East & Africa
7.1.3. Rest of the World Hemophilia Treatment Market Outlook, by Treatment Type, Value (US$ Million), 2019 - 2027
7.1.3.1. Plasma Derived Factor Concentrates
7.1.3.2. Recombinant Factor Concentrates
7.1.3.3. Alternative Coagulation Promotors
7.1.3.4. Others
7.1.4. Rest of the World Hemophilia Treatment Market Share and BPS Analysis, by Treatment Type, Value, 2022 and 2027
7.1.5. Rest of the World Hemophilia Treatment Market Attractiveness Analysis, by Treatment Type, Value, 2022 - 2027
7.2. Rest of the World Hemophilia Treatment Market Outlook, By Indication Type, 2019 - 2027
7.2.1. Key Highlights
7.2.2. Rest of the World Hemophilia Treatment Market Outlook, by Indication Type, Value (US$ Million), 2019 - 2027
7.2.2.1. Hemophilia A
7.2.2.2. Hemophilia B
7.2.2.3. Acquired Hemophilia
7.2.3. Rest of the World Hemophilia Treatment Market Share and BPS Analysis, by Indication Value, 2022 and 2027
7.2.4. Rest of the World Hemophilia Treatment Market Attractiveness Analysis, by Indication Type Value, 2022 - 2027
7.3. Rest of the World Hemophilia Treatment Market Outlook, By Application, 2019 - 2027
7.3.1. Key Highlights
7.3.2. Rest of the World Hemophilia Treatment Market Outlook, by Application, Value (US$ Million) 2019 - 2027
7.3.2.1. Prophylaxis
7.3.2.2. On Demand
7.3.2.3. Surgery
7.3.2.4. Immune Tolerance Induction (ITI)
7.3.2.5. Others
7.3.3. Rest of the World Hemophilia Treatment Market Share and BPS Analysis, by Application, Value, 2022 and 2027
7.3.4. Rest of the World Hemophilia Treatment Market Attractiveness Analysis, by Application, Value, 2022 - 2027

8. Competitive Landscape
8.1. Market Share Analysis, 2021
8.2. Company Profiles
8.2.1. Bayer AG
8.2.1.1. Company overview
8.2.1.2. Financial performance
8.2.1.3. Product Portfolio
8.2.1.4. Pipeline Analysis
Above details will include, but not be limited to below list of companies based on availability
8.2.2. BioMarin Pharmaceuticals, Inc.
8.2.3. F. Hoffman La Roche Ltd.
8.2.4. Grifols S.A.
8.2.5. Sanofi
8.2.6. Takeda Pharmaceuticals Company Ltd.
8.2.7. CSL Behring
8.2.8. Medexus Pharmaceuticals Inc.
8.2.9. Novo Nordisk
8.2.10. Octapharma AG
8.2.11. Pfizer Inc.

9. Appendix
9.1. Research Methodology
9.2. Report Specific Research Approach