Natural Vanillin Market Outlook
Global natural vanillin market was valued at nearly US$336 Mn in 2021 and will reach the valuation of US$845 Mn by 2029, registering the CAGR of 9.5% between the forecast years.
Market Analysis in Brief
Food and beverages industry has absorbed vanillin as a chosen aromatic and sweetening agent over the past few decades. However, with the global natural ingredients drive, consumer inclination toward the natural variants of flavoring and aromatic agents is expected to reach new heights in near future. While F&B industry participants witness deepening penetration of natural vanillin, soaring application across pharmaceuticals, as well as cosmetics and personal care industries is also expected to fuel progression of the natural vanillin industry. Besides, growing uptake as a preferred flavoring and aromatic masking agent for a host of categories like medicines, cleaning products, and toothpastes, is also likely to create tailwinds for natural vanillin market.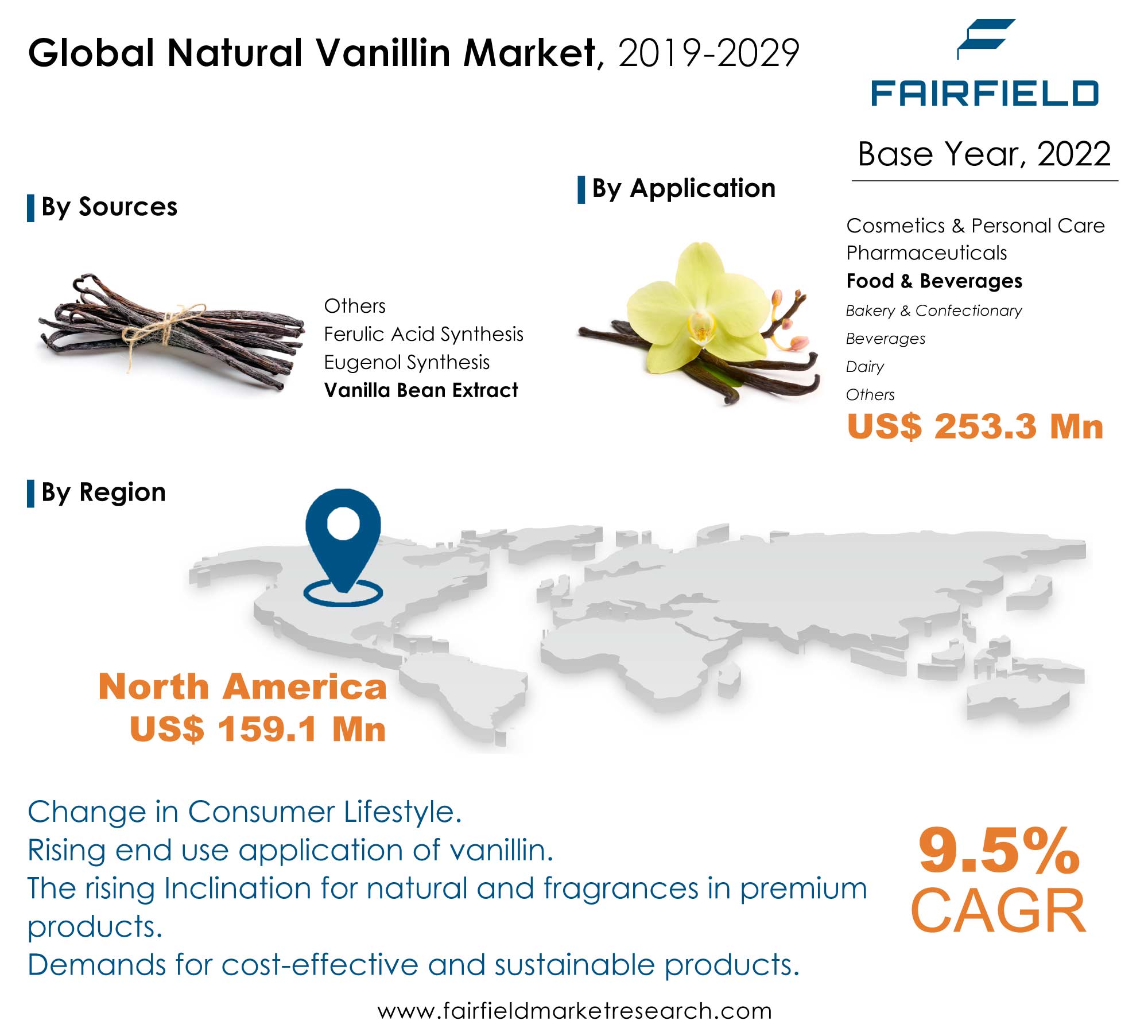 Key Report Findings
Toward the end of forecast year 2029, natural vanillin sales to account for revenue of nearly US$845 Mn
Natural vanillin market all set to display strong growth of more than 9% in revenue
Food and beverages industry records the maximum consumption of natural vanillin
Vanilla bean extracts account for more than 56% of total sales
North America, and Europe account for a collective revenue share of over 55%
Growth Drivers
A Widening Application Base in F&B
One of the few components used across a variety of sectors, including food and beverage, personal care, animal and poultry feed, and pharmaceuticals, is vanillin. As a result, vanillin is in high demand all around the world. To reduce the amount of sugar, and other artificial sweeteners in their goods, manufacturers employ vanillin in beverages. Due to the taste and sweetness-adding properties of vanillin, both alcoholic, and non-alcoholic beverages infused with vanillin are growing in popularity with consumers. Adding vanilla to milk-based beverages can reduce the quantity of sugar consumed by 20–50%, according to Penn State's studies in Pennsylvania. Such findings facilitate the growth of natural vanillin market.
On the back of its sweet, sugary aroma, vanillin also predominates in the ice cream and chocolate industries. Moreover, vanillin has been utilized in a number of industries, such as perfume, and metal plating. Other odd uses include as an attractant in pesticides, an anti-foaming agent in lubricants, and a solubilizer for riboflavin. There are new chances for vanilla's distinctive application in the food industry as a preservative in fruit creams and clarified butter, among other uses, due to its mild antioxidant capability for foods high in polyunsaturated fatty acids (PUFA).
Ascending Uptake for Fragrance, and Aroma
Vanillin has anti-inflammatory properties and is a component of drugs for gout, allergies, and arthritis. Because of its anti-mutagenic and anti-clastogenic qualities, vanillin is also used in the packaging sector as an antimicrobial film. To enhance the production of vanillin from the purest sources, businesses are setting up cultivation projects in Madagascar, where vanillin is renowned for its flavor, and perfume. The surging demand for room and car fresheners, along with the growing popularity of aromatherapy, is projected to drive the demand for vanillin in the cosmetics, and toiletries application segment. The wide application and easy accessibility and affordability of vanillin have resulted in its increased penetration across the world, which, in turn, is accelerating the growth of the natural vanillin market.
Growth Challenges
The environmental uncertainties that directly influence the worldwide vanilla bean output will remain the major longstanding challenge facing the natural vanillin market.
Overview of Key Segments
Bean Extract Sought
Based on the source of vanillin, the report projects vanilla bean extracts to surge ahead of the other two segments, i.e., ferulic acid synthesis, and eugenol synthesis. The bean extract sales represent a lion's share of more than 56% in the natural vanillin market revenue.
F&B Industry Leads in Consumption
Food and beverages, and cosmetics and personal care are the top two end-use industries registering remarkable consumption of natural vanillin. While F&B segment accounts for over 59% value share, the latter makes up for nearly a fourth of the global natural vanillin market valuation. Demand from pharma industry has also been pacing up recently. Research further shows notable demand coming in from beverages, and bakery and confectionary.
Growth Opportunities Across Regions
North America, closely trailed by Europe, currently accounts for more than 35% share in the overall revenue of global natural vanillin industry. The latter, with over 30% value share, also represents a significant market as the region witnesses consistent growth of the processed food sector. The market here will also benefit largely from frequent new launches, says the report. Exploding success of the ready-to-eat category is also expected to contribute heavily toward the growth of North America's natural vanillin market. On the other hand, the European market is likely to thrive on the back of mounting demand from food processing, cosmetics, and pharmaceutical industries. The UK, Italy, Germany, and France represent the key markets across Europe. Strong presence and success of some of the top cosmetics brands like P&G, and Loreal further complements the progression of market here.
Global Natural Vanillin Market: Competitive Landscape
The global natural vanillin market is highly diversified and competitive in nature owing to the presence of large number of local and international manufacturers, globally. Also, numerous producers of natural vanillin have made huge production facilities available in several countries. Some of the leading market players identified are Givaudan, Firmenich SA, Symrise, Kerry Group, Sensient Tech Corp, MANE, PROVA, SOLVAY, Aurochemicals, and Advanced BioTech. Natural vanillin industry is witnessing strong competition, globally. Many market players are acquiring or merging with small and large manufacturers to sustain in this competitive market.
Recent Notable Developments
In September 2022, Solvay launched new natural vanillin flavors for the food and beverage industries. It expands the range of one of its flagship products, Rhovanil Natural CW, with three new natural flavor ingredients: Rhovanil Natural Delica, Alta, and Sublima


In May 2022, Solvay announced an investment in Suanfarma's Cipan manufacturing site located in Lisbon, Portugal, to develop its biotechnological capabilities and support the development of natural ingredients


In January 2022, Foodchem International Corporation announced the launch of the FoodVanil product, which steadily releases the essence of vanilla beans at temperatures of more than 200℃
The Global Natural Vanillin Market is Segmented as Below:
By Application Coverage
Food & Beverages

Bakery & Confectionary
Beverages
Dairy
Others

Pharmaceuticals
Cosmetics & Personal Care
By Sources Coverage
Vanilla Bean Extract
Eugenol Synthesis
Ferulic Acid Synthesis
Others
By Geographical Coverage
North America
Europe

Germany
France
U.K.
Italy
Turkey
Spain
Russia
Rest of Europe

Asia Pacific

China
Japan
South Korea
India
Southeast Asia
Rest of Asia Pacific

Latin America

Brazil
Mexico
Rest of Latin America

Middle East & Africa

GCC
Egypt
Rest of Middle East & Africa
Leading Companies
Givaudan
Firmenich SA
Symrise
Kerry Group
Sensient Tech Corp
MANE
PROVA
SOLVAY
Aurochemicals
Advanced BioTech
Inside This Report You Will Find:
1. Executive Summary
2. Market Overview
3. Global Natural Vanillin Market Outlook, 2019 - 2029
4. North America Natural Vanillin Market Outlook, 2019 - 2029
5. Europe Natural Vanillin Market Outlook, 2019 - 2029
6. Asia Pacific Natural Vanillin Market Outlook, 2019 - 2029
7. Latin America Natural Vanillin Market Outlook, 2019 - 2029
8. Middle East & Africa Natural Vanillin Market Outlook, 2019 - 2029
9. Competitive Landscape
10. Appendix

Post Sale Support, Research Updates & Offerings:
We value the trust shown by our customers in Fairfield Market Research. We support our clients through our post sale support, research updates and offerings.
The report will be prepared in a PPT format and will be delivered in a PDF format.
Additionally, Market Estimation and Forecast numbers will be shared in Excel Workbook.
If a report being sold was published over a year ago, we will offer a complimentary copy of the updated research report along with Market Estimation and Forecast numbers within 2-3 weeks' time of the sale.
If we update this research study within the next 2 quarters, post purchase of the report, we will offer a Complimentary copy of the updated Market Estimation and Forecast numbers in Excel Workbook.
If there is a geopolitical conflict, pandemic, recession, and the like which can impact global economic scenario and business activity, which might entirely alter the market dynamics or future projections in the industry, we will create a Research Update upon your request at a nominal charge.
1. Executive Summary
1.1. Global Natural Vanillin Market Snapshot
1.2. Future Projections
1.3. Key Market Trends
1.4. Analyst Recommendations

2. Market Overview
2.1. Market Definitions
2.2. Market Taxonomy
2.3. Market Dynamics
2.3.1. Drivers
2.3.2. Restraints
2.4. Value Chain Analysis
2.5. Porter's Five Forces Analysis
2.6. Covid-19 Impact Analysis
2.7. Key Patents

3. Global Natural Vanillin Market Outlook, 2019 - 2029
3.1. Global Natural Vanillin Market Outlook, by Application, Value (US$ '000), 2019 - 2029
3.1.1. Key Highlights
3.1.1.1. Food & Beverages
3.1.1.1.1. Bakery & Confectionary
3.1.1.1.2. Beverages
3.1.1.1.3. Dairy
3.1.1.1.4. Others
3.1.1.2. Pharmaceuticals
3.1.1.3. Cosmetics & Personal Care
3.1.2. BPS Analysis/Market Attractiveness Analysis
3.2. Global Natural Vanillin Market Outlook, by Sources, Value (US$ '000), 2019 - 2029
3.2.1. Key Highlights
3.2.1.1. Vanilla Bean Extract
3.2.1.2. Eugenol Synthesis
3.2.1.3. Ferulic Acid Synthesis
3.2.1.4. Others
3.2.2. BPS Analysis/Market Attractiveness Analysis
3.3. Global Natural Vanillin Market Outlook, by Region, Value (US$ '000), 2019 - 2029
3.3.1. Key Highlights
3.3.1.1. North America
3.3.1.2. Europe
3.3.1.3. Asia Pacific
3.3.1.4. Latin America
3.3.1.5. Middle East & Africa
3.3.2. BPS Analysis/Market Attractiveness Analysis

4. North America Natural Vanillin Market Outlook, 2019 - 2029
4.1. North America Natural Vanillin Market Outlook, by Application, Value (US$ '000), 2019 - 2029
4.1.1. Key Highlights
4.1.1.1. Food & Beverages
4.1.1.1.1. Bakery & Confectionary
4.1.1.1.2. Beverages
4.1.1.1.3. Dairy
4.1.1.1.4. Others
4.1.1.2. Pharmaceuticals
4.1.1.3. Cosmetics & Personal Care
4.1.2. BPS Analysis/Market Attractiveness Analysis
4.2. North America Natural Vanillin Market Outlook, by Sources, Value (US$ '000), 2019 - 2029
4.2.1. Key Highlights
4.2.1.1. Vanilla Bean Extract
4.2.1.2. Eugenol Synthesis
4.2.1.3. Ferulic Acid Synthesis
4.2.1.4. Others
4.2.2. BPS Analysis/Market Attractiveness Analysis
4.3. North America Natural Vanillin Market Outlook, by Country, Value (US$ '000), 2019 - 2029
4.3.1. Key Highlights
4.3.1.1. U.S. Natural Vanillin Market by Value (US$ '000), 2019 - 2029
4.3.1.2. Canada Natural Vanillin Market by Value (US$ '000), 2019 - 2029
4.3.2. BPS Analysis/Market Attractiveness Analysis

5. Europe Natural Vanillin Market Outlook, 2019 - 2029
5.1. Europe Natural Vanillin Market Outlook, by Application, Value (US$ '000), 2019 - 2029
5.1.1. Key Highlights
5.1.1.1. Food & Beverages
5.1.1.1.1. Bakery & Confectionary
5.1.1.1.2. Beverages
5.1.1.1.3. Dairy
5.1.1.1.4. Others
5.1.1.2. Pharmaceuticals
5.1.1.3. Cosmetics & Personal Care
5.1.2. BPS Analysis/Market Attractiveness Analysis
5.2. Europe Natural Vanillin Market Outlook, by Sources, Value (US$ '000), 2019 - 2029
5.2.1. Key Highlights
5.2.1.1. Vanilla Bean Extract
5.2.1.2. Eugenol Synthesis
5.2.1.3. Ferulic Acid Synthesis
5.2.1.4. Others
5.2.2. BPS Analysis/Market Attractiveness Analysis
5.3. Europe Natural Vanillin Market Outlook, by Country, Value (US$ '000), 2019 - 2029
5.3.1. Key Highlights
5.3.1.1. Germany Natural Vanillin Market by Value (US$ '000), 2019 - 2029
5.3.1.2. France Natural Vanillin Market by Product, Value (US$ '000), 2019 - 2029
5.3.1.3. U.K. Natural Vanillin Market by Value (US$ '000), 2019 - 2029
5.3.1.4. Italy Natural Vanillin Market by Value (US$ '000), 2019 - 2029
5.3.1.5. Spain Natural Vanillin Market by Product, Value (US$ '000), 2019 - 2029
5.3.1.6. Rest of Europe Natural Vanillin Market Value (US$ '000), 2019 - 2029
5.3.2. BPS Analysis/Market Attractiveness Analysis

6. Asia Pacific Natural Vanillin Market Outlook, 2019 - 2029
6.1. Asia Pacific Natural Vanillin Market Outlook, by Application, Value (US$ '000), 2019 - 2029
6.1.1. Key Highlights
6.1.1.1. Food & Beverages
6.1.1.1.1. Bakery & Confectionary
6.1.1.1.2. Beverages
6.1.1.1.3. Dairy
6.1.1.1.4. Others
6.1.1.2. Pharmaceuticals
6.1.1.3. Cosmetics & Personal Care
6.1.2. BPS Analysis/Market Attractiveness Analysis
6.2. Asia Pacific Natural Vanillin Market Outlook, by Sources, Value (US$ '000), 2019 - 2029
6.2.1. Key Highlights
6.2.1.1. Vanilla Bean Extract
6.2.1.2. Eugenol Synthesis
6.2.1.3. Ferulic Acid Synthesis
6.2.1.4. Others
6.2.2. BPS Analysis/Market Attractiveness Analysis
6.3. Asia Pacific Natural Vanillin Market Outlook, by Country, Value (US$ '000), 2019 - 2029
6.3.1. Key Highlights
6.3.1.1. India Natural Vanillin Market by Value (US$ '000), 2019 - 2029
6.3.1.2. China Natural Vanillin Market by Value (US$ '000), 2019 - 2029
6.3.1.3. Japan Natural Vanillin Market by Value (US$ '000), 2019 - 2029
6.3.1.4. Australia & New Zealand Natural Vanillin Market Value (US$ '000), 2019 - 2029
6.3.1.5. Rest of Asia Pacific Market by Value (US$ '000), 2019 - 2029
6.3.2. BPS Analysis/Market Attractiveness Analysis

7. Latin America Natural Vanillin Market Outlook, 2019 - 2029
7.1. Latin America Natural Vanillin Market Outlook, by Application, Value (US$ '000), 2019 - 2029
7.1.1. Key Highlights
7.1.1.1. Food & Beverages
7.1.1.1.1. Bakery & Confectionary
7.1.1.1.2. Beverages
7.1.1.1.3. Dairy
7.1.1.1.4. Others
7.1.1.2. Pharmaceuticals
7.1.1.3. Cosmetics & Personal Care
7.1.2. BPS Analysis/Market Attractiveness Analysis
7.2. Latin America Natural Vanillin Market Outlook, by Sources, Value (US$ '000), 2019 - 2029
7.2.1. Key Highlights
7.2.1.1. Vanilla Bean Extract
7.2.1.2. Eugenol Synthesis
7.2.1.3. Ferulic Acid Synthesis
7.2.1.4. Others
7.2.2. BPS Analysis/Market Attractiveness Analysis
7.3. Latin America Natural Vanillin Market Outlook, by Country, Value (US$ '000), 2019 - 2029
7.3.1. Key Highlights
7.3.1.1. Brazil Natural Vanillin Market by Value (US$ '000), 2019 - 2029
7.3.1.2. Mexico Natural Vanillin Market by Value (US$ '000), 2019 - 2029
7.3.1.3. Rest of Latin America Natural Vanillin Market by Value (US$ '000), 2019 - 2029
7.3.2. BPS Analysis/Market Attractiveness Analysis

8. Middle East & Africa Natural Vanillin Market Outlook, 2019 - 2029
8.1. Middle East & Africa Natural Vanillin Market Outlook, by Application, Value (US$ '000), 2019 - 2029
8.1.1. Key Highlights
8.1.1.1. Food & Beverages
8.1.1.1.1. Bakery & Confectionary
8.1.1.1.2. Beverages
8.1.1.1.3. Dairy
8.1.1.1.4. Others
8.1.1.2. Pharmaceuticals
8.1.1.3. Cosmetics & Personal Care
8.1.2. BPS Analysis/Market Attractiveness Analysis
8.2. Middle East & Africa Natural Vanillin Market Outlook, by Sources, Value (US$ '000), 2019 - 2029
8.2.1. Key Highlights
8.2.1.1. Vanilla Bean Extract
8.2.1.2. Eugenol Synthesis
8.2.1.3. Ferulic Acid Synthesis
8.2.1.4. Others
8.2.2. BPS Analysis/Market Attractiveness Analysis
8.3. Middle East & Africa Natural Vanillin Market Outlook, by Country, Value (US$ '000), 2019 - 2029
8.3.1. Key Highlights
8.3.1.1. GCC Natural Vanillin Market by Value (US$ '000), 2019 - 2029
8.3.1.2. South Africa Natural Vanillin Market by Value (US$ '000), 2019 - 2029
8.3.1.3. Rest of Middle East & Africa Natural Vanillin Market by Value (US$ '000), 2019 - 2029
8.3.2. BPS Analysis/Market Attractiveness Analysis

9. Competitive Landscape
9.1. Company Market Share Analysis, 2021
9.2. Company Profiles
9.2.1. Givaudan
9.2.1.1. Company Overview
9.2.1.2. Key Retailing Partners
9.2.1.3. Business Segment Revenue
9.2.1.4. Ingredient Overview
9.2.1.5. Product Offering & its Presence
9.2.1.6. Certifications & Claims
9.2.2. Firmenich SA
9.2.3. Symrise
9.2.4. Kerry Group
9.2.5. Sensient Tech Corp
9.2.6. MANE
9.2.7. PROVA
9.2.8. SOLVAY
9.2.9. Aurochemicals
9.2.10. Advanced BioTech

10. Appendix
10.1. Research Methodology
10.2. Report Assumptions
10.3. Acronyms and Abbreviations
BASE YEAR

HISTORICAL DATA

FORECAST PERIOD

UNITS

2021

2019 - 2021

2022 - 2029

Value: US$ Million
REPORT FEATURES

DETAILS

Application Coverage

Sources Coverage

Vanilla Bean Extract

Eugenol Synthesis

Ferulic Acid Synthesis

Others

Geographical Coverage

North America

Europe

Germany

France

U.K.

Italy

Turkey

Spain

Russia

Rest of Europe

Asia Pacific

China

Japan

South Korea

India

Southeast Asia

Rest of Asia Pacific

Latin America

Brazil

Mexico

Rest of Latin America

Middle East & Africa

Leading Companies

Givaudan

Firmenich SA

Symrise

Kerry Group

Sensient Tech Corp

MANE

PROVA

SOLVAY

Aurochemicals

Advanced BioTech

Report Highlights

Market Estimates and Forecast, Market Dynamics, Industry Trends, Competition Landscape, Product-, Application, Region, Country-wise Trends & Analysis, COVID-19 Impact Analysis, Key Trends