Pea Protein Ingredient Market Outlook
The global pea protein ingredient market is expected to experience a favorable growth scenario during the forecast period. The market is expected to reach US$1,374.3 Mn by 2025, registering a promising CAGR.
Market Analysis in Brief
Contrary to the growing significance of vegetarian, vegan, and flexitarian diet formats worldwide, rising concern around the potential health hazards of red meat consumption create the collective tailwinds for pea protein ingredients. The global pea protein ingredient market has been also reaping the benefit from an expanding gluten-free, and dairy-free sectors of F&B. Brands are increasingly prioritizing inclusion of protein supplemented products, whereas protein powders are gaining traction for maintaining muscle and bone health. The mass consumer shift toward a healthy dietary lifestyle is predominantly fueling the expansion of pea protein ingredient industry. Pea protein is prominently extracted from the various types of pea varieties, including green, dry, and chickpea that are extensively available in concentrated, textured, as well as isolated forms.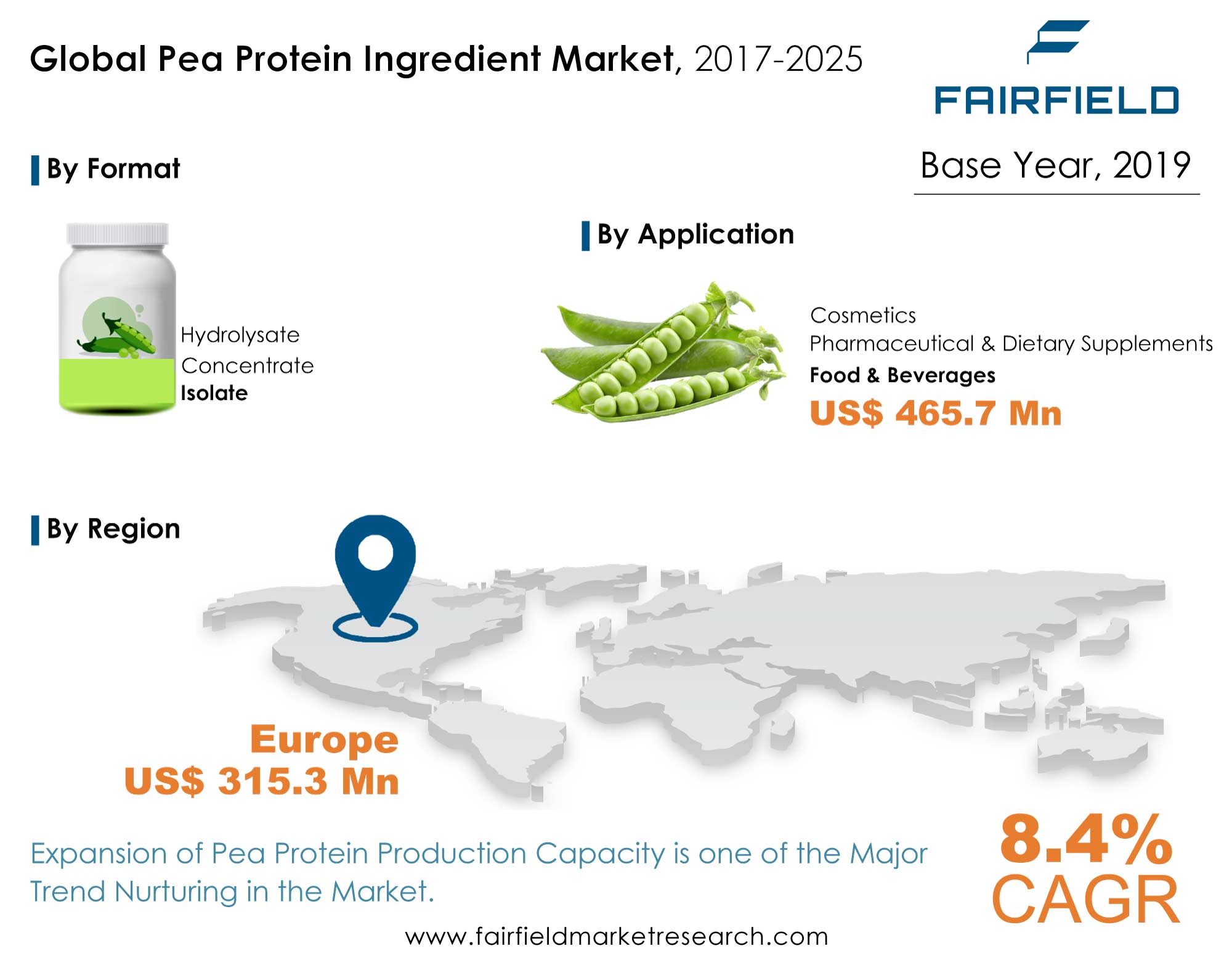 Key Report Findings
Pea protein ingredient market size likely to expand at a strong CAGR of 8.4% between 2021 and 2025
Conventional pea protein ingredient remains preferred over organic, with more than 83% share
North America, and Europe to account for a collective revenue share of more than 65%
China, Japan, and Australia to elevate growth potential of Asia Pacific's pea protein ingredient market
Growth Drivers
The Boom Around Veganism, and Plant-based
General awareness toward personal health, environmental concerns, as well as animal welfare are majorly supporting the growth of pea protein ingredient market. A shift towards veganism has also been identified as a key factor generating demand for pea protein. Plant-based diet is no more a ridiculed concept, which is giving meat-free products and food products labelled as vegan a confident space on retail shelves.
The ongoing trend is further being validated for consumers via promotions on social media platforms such as YouTube, popular events, and documentaries. The rise of influencers on social media promoting benefits of veganism has also been an added advantage to the pea protein space, in turn favoring the expansion of pea protein ingredient market.
Growth Challenges
Rising Whey Protein Sales
Pea protein will however continue to face the constant threat of equivalent, widely available substitutes like whey, hemp, soy, and rice protein in the long run. While rice and pea protein tend to offer similar content of protein, they also possess some of the most desirable attributes as well, i.e., allergy- and gluten-friendly. Rocketing whey protein consumption by athletes further raise the intensity of this threat for the market.
COVID- 19 Impact Analysis
The outbreak of COVID-19 had brought the supply and sale of organically derived pea protein to a screeching halt due to disrupted supply chain. Moreover, the impact of COVID-19 has also generated the need for stringent regulatory framework. Many food regulatory bodies are developing and drafting new laws related to plant based diet. Many countries including Australia, China, and India are still at an early stage for developing regulations related to plant-based products and laws are still pending to be passed by the government.
Overview of Key Segments
Conventional Variant Surges Ahead of Organic Counterpart
As compared to organic segment, conventional of pea starch format is estimated to account for largest value share of 83.5% in 2020. Rising prevalence of COVID-19 has affected the global supply chain. Processed food manufacturers are now focusing on procuring raw materials, which are affordable and easily available. This factor is expected to support the conventional pea starch growth in the near future. Conventional pea protein ingredient is expected to create an incremental dollar opportunity of US$365.5 Mn during the forecast period.
Growth Opportunities Across Regions
North America and Europe Reflect Lucrative Opportunities
Globally, North America, and Europe are collectively estimated to contribute 65.1% of value share in global pea protein ingredient market in 2020. Rising vegan population coupled with increasing demand for allergen-free food is supporting the market growth in this region.
Meanwhile, Asia Pacific is expected to attain the potential growth in the global pea protein ingredient market. Countries such as China, Australia, and Japan are expected to be the major contributors in terms of value share. Asia Pacific is projected to receive a continuous product launch from the processed food manufacturers. Furthermore, booming quick service restaurant industry in the region will also contribute to the market growth.
Global Pea Protein Ingredient Market: Key Players
To increase production capacity and to collaborate for ingredient supply agreement with processed food manufactures is the key strategy adopted by pea protein ingredient market players. Some of the major players studied in the global pea protein ingredient market report are Roquette Group, Ingredion Incorporated, PURIS, Emsland Group, CosucraGroupeWarcoing SA, Axiom Foods, DuPont de Nemours, Inc, The Scoular Company, and BurconNutraScience Corporation, and Glanbia plc.
Recent Notable Developments
In 2020, OmniPork, a producer of plant-based pork products in Asia Pacific expanded its footprint in China with the launch of its product in 210 stores across the country. Key product offerings include ground meat, dumplings, strips, stuffed buns, luncheon meat, and prepared meals. The protein sources include soy, and pea


In 2020, Beyond Meat, one of the major pea protein-based meat alternative manufacturer, announced to expansion of their presence in China. To smoothen the move the company is also exploring a potential partnership with Yantai Shuangta Food, which is one of the world's largest producers of non-genetically modified pea protein, and pea starch


In 2020, Beyond Meat partnered with Starbucks to introduce Beyond Beef as part of their new 'GOOD GOOD' menu in China. The product is available at 3,300 Starbucks locations across the country. The menu includes primarily three options that is Beyond Beef Classic Lasagna, Beyond Beef Pesto Pasta, and Beyond Beef Spicy & Sour Wrap
The Global Pea Protein Ingredient Market is Segmented as Below:
By Nature Coverage
By Format Coverage
Isolate
Concentrate
Hydrolysate
By Application Coverage
Food & Beverages

Cereals & Snacks
Meat Substitute
Bakery & Confectionery
Performance Nutrition
Beverages & Desserts

Animal & Pet Food
Pharmaceutical & Dietary Supplements
Cosmetics
By Geographical Coverage
North America
Europe

Germany
France
UK
Spain
Italy
Russia
Poland
Rest of Europe

Asia Pacific

India
China
Japan
ASEAN
Australia
Rest of Asia Pacific

Latin America

Brazil
Mexico
Rest of Latin America

Middle East & Africa

GCC Countries
South Africa
Rest of Middle East & Africa
Leading Companies
Roquette Group
Ingredion Incorporated
PURIS
Emsland Group
Cosucra Groupe Warcoing SA Group
Axiom Foods
DuPont de Nemours, Inc
The Scoular Company
Burcon NutraScience Corporation
Glanbia plc
Inside This Report You Will Find:
1. Executive Summary
2. Market Overview
3. Global Pea Protein Ingredient Market Outlook, 2017 - 2025
4. North America Pea Protein Ingredient Market Outlook, 2017 - 2025
5. Europe Pea Protein Ingredient Market Outlook, 2017 - 2025
6. Asia Pacific Pea Protein Ingredient Market Outlook, 2017 - 2025
7. Latin America Pea Protein Ingredient Market Outlook, 2017 - 2025
8. Middle East & Africa Pea Protein Ingredient Market Outlook, 2017 - 2025
9. Competitive Landscape
10. Appendix
Post Sale Support, Research Updates & Offerings:
We value the trust shown by our customers in Fairfield Market Research. We support our clients through our post sale support, research updates and offerings.
The report will be prepared in a PPT format and will be delivered in a PDF format.
Additionally, Market Estimation and Forecast numbers will be shared in Excel Workbook.
If a report being sold was published over a year ago, we will offer a complimentary copy of the updated research report along with Market Estimation and Forecast numbers within 2-3 weeks' time of the sale.
If we update this research study within the next 2 quarters, post purchase of the report, we will offer a Complimentary copy of the updated Market Estimation and Forecast numbers in Excel Workbook.
If there is a geopolitical conflict, pandemic, recession, and the like which can impact global economic scenario and business activity, which might entirely alter the market dynamics or future projections in the industry, we will create a Research Update upon your request at a nominal charge.
1. Executive Summary
1.1. Global Pea Protein Ingredient Market Snapshot
1.2. Future Projections
1.3. Key Market Trends
1.4. Analyst Recommendations


2. Market Overview
2.1. Market Definitions and Segmentations
2.2. Market Dynamics
2.2.1. Drivers
2.2.2. Restraints
2.2.3. Market Opportunities
2.3. Value Chain Analysis
2.4. Porter's Five Forces Analysis
2.5. Covid-19 Impact Analysis
2.6. Economic Overview
2.7. Key Developments
2.8. Key Regulations
2.9. Key Patents


3. Global Pea Protein Ingredient Market Outlook, 2017 - 2025
3.1. Global Pea Protein Ingredient Market Outlook, by Nature, Volume (Tons) and Value (US$ Mn ) 2017 - 2025
3.1.1. Key Highlights
3.1.1.1. Organic
3.1.1.2. Conventional
3.1.2. BPS Analysis/Market Attractiveness Analysis
3.2. Global Pea Protein Ingredient Market Outlook, by Format, Volume (Tons) and Value (US$ Mn ) 2017 - 2025
3.2.1. Key Highlights
3.2.1.1. Isolate
3.2.1.2. Concentrate
3.2.1.3. Hydrolysate
3.2.2. BPS Analysis/Market Attractiveness Analysis
3.3. Global Pea Protein Ingredient Market Outlook, by Application, Volume (Tons) and Value (US$ Mn ) 2017 - 2025
3.3.1. Key Highlights
3.3.1.1. Food & Beverages
3.3.1.1.1. Cereals & Snacks
3.3.1.1.2. Meat Substitute
3.3.1.1.3. Bakery & Confectionery
3.3.1.1.4. Performance Nutrition
3.3.1.1.5. Beverage & Desserts
3.3.1.2. Animal & Pet Food
3.3.1.3. Pharmaceutical & Dietary Supplements
3.3.1.4. Cosmetics
3.3.2. BPS Analysis/Market Attractiveness Analysis
3.4. Global Pea Protein Ingredient Market Outlook, by Region, Volume (Tons) and Value (US$ Mn ) 2017 - 2025
3.4.1. Key Highlights
3.4.1.1. North America
3.4.1.2. Europe
3.4.1.3. Asia Pacific
3.4.1.4. Latin America
3.4.1.5. Middle East & Africa
3.4.2. BPS Analysis/Market Attractiveness Analysis


4. North America Pea Protein Ingredient Market Outlook, 2017 - 2025
4.1. North America Pea Protein Ingredient Market Outlook, by Nature, Volume (Tons) and Value (US$ Mn ) 2017 - 2025
4.1.1. Key Highlights
4.1.1.1. Nature
4.1.1.2. Organic
4.1.1.3. Conventional
4.1.2. BPS Analysis/Market Attractiveness Analysis
4.2. North America Pea Protein Ingredient Market Outlook, by Format, Volume (Tons) and Value (US$ Mn ) 2017 - 2025
4.2.1. Key Highlights
4.2.1.1. Isolate
4.2.1.2. Concentrate
4.2.1.3. Hydrolysate
4.2.2. BPS Analysis/Market Attractiveness Analysis
4.3. North America Pea Protein Ingredient Market Outlook, by Application, Volume (Tons) and Value (US$ Mn ) 2017 - 2025
4.3.1. Key Highlights
4.3.1.1. Food & Beverages
4.3.1.1.1. Cereals & Snacks
4.3.1.1.2. Meat Substitute
4.3.1.1.3. Bakery & Confectionery
4.3.1.1.4. Performance Nutrition
4.3.1.1.5. Beverage & Desserts
4.3.1.2. Animal & Pet Food
4.3.1.3. Pharmaceutical & Dietary Supplements
4.3.1.4. Cosmetics
4.3.2. BPS Analysis/Market Attractiveness Analysis
4.4. North America Pea Protein Ingredient Market Outlook, by Country, Volume (Tons) and Value (US$ Mn ) 2017 - 2025
4.4.1. Key Highlights
4.4.1.1. U.S.Pea Protein Ingredient Market by Volume (Tons) and Value (US$ Mn ) 2017 - 2025
4.4.1.2. Canada Pea Protein Ingredient Market by Volume (Tons) and Value (US$ Mn ) 2017 - 2025
4.4.2. BPS Analysis/Market Attractiveness Analysis


5. Europe Pea Protein Ingredient Market Outlook, 2017 - 2025
5.1. Europe Pea Protein Ingredient Market Outlook, by Nature, Volume (Tons) and Value (US$ Mn ) 2017 - 2025
5.1.1. Key Highlights
5.1.1.1. Organic
5.1.1.2. Conventional
5.1.2. BPS Analysis/Market Attractiveness Analysis
5.2. Europe Pea Protein Ingredient Market Outlook, by Format, Volume (Tons) and Value (US$ Mn ) 2017 - 2025
5.2.1. Key Highlights
5.2.1.1. Isolate
5.2.1.2. Concentrate
5.2.1.3. Hydrolysate
5.2.2. BPS Analysis/Market Attractiveness Analysis
5.3. EuropePea Protein Ingredient Market Outlook, by Application, Volume (Tons) and Value (US$ Mn ) 2017 - 2025
5.3.1. Key Highlights
5.3.1.1. Food & Beverages
5.3.1.1.1. Cereals & Snacks
5.3.1.1.2. Meat Substitute
5.3.1.1.3. Bakery & Confectionery
5.3.1.1.4. Performance Nutrition
5.3.1.1.5. Beverage & Desserts
5.3.1.2. Animal & Pet Food
5.3.1.3. Pharmaceutical & Dietary Supplements
5.3.1.4. Cosmetics
5.3.2. BPS Analysis/Market Attractiveness Analysis
5.4. Europe Pea Protein Ingredient Market Outlook, by Country, Volume (Tons) and Value (US$ Mn ) 2017 - 2025
5.4.1. Key Highlights
5.4.1.1. Germany Pea Protein Ingredient Market by Volume (Tons) and Value (US$ Mn ) 2017 - 2025
5.4.1.2. FrancePea Protein Ingredient Market by Product, Volume (Tons) and Value (US$ Mn ) 2017 - 2025
5.4.1.3. U.K.Pea Protein Ingredient Market by Volume (Tons) and Value (US$ Mn ) 2017 - 2025
5.4.1.4. ItalyPea Protein Ingredient Market by Volume (Tons) and Value (US$ Mn ) 2017 - 2025
5.4.1.5. Spain Pea Protein Ingredient Market by Product, Volume (Tons) and Value (US$ Mn ) 2017 - 2025
5.4.1.6. Russia Pea Protein Ingredient Market by Volume (Tons) and Value (US$ Mn ) 2017 - 2025
5.4.1.7. Poland Pea Protein Ingredient Market by Volume (Tons) and Value (US$ Mn ) 2017 - 2025
5.4.1.8. Rest of Europe Pea Protein Ingredient Market Volume (Tons) and Value (US$ Mn ) 2017 - 2025
5.4.2. BPS Analysis/Market Attractiveness Analysis


6. Asia Pacific Pea Protein Ingredient Market Outlook, 2017 - 2025
6.1. Asia Pacific Pea Protein Ingredient Market Outlook, by Nature Volume (Tons) and Value (US$ Mn ) 2017 - 2025
6.1.1. Key Highlights
6.1.1.1. Organic
6.1.1.2. Conventional
6.1.2. BPS Analysis/Market Attractiveness Analysis
6.2. Asia Pacific Pea Protein Ingredient Market Outlook, by Format, Volume (Tons) and Value (US$ Mn ) 2017 - 2025
6.2.1. Key Highlights
6.2.1.1. Isolate
6.2.1.2. Concentrate
6.2.1.3. Hydrolysate
6.2.2. BPS Analysis/Market Attractiveness Analysis
6.3. Asia Pacific Pea Protein Ingredient Market Outlook, by Application, Volume (Tons) and Value (US$ Mn ) 2017 - 2025
6.3.1. Key Highlights
6.3.1.1. Food & Beverages
6.3.1.1.1. Cereals & Snacks
6.3.1.1.2. Meat Substitute
6.3.1.1.3. Bakery & Confectionery
6.3.1.1.4. Performance Nutrition
6.3.1.1.5. Beverage & Desserts
6.3.1.2. Animal & Pet Food
6.3.1.3. Pharmaceutical & Dietary Supplements
6.3.1.4. Cosmetics
6.3.2. BPS Analysis/Market Attractiveness Analysis
6.4. Asia Pacific Pea Protein Ingredient Market Outlook, by Country, Volume (Tons) and Value (US$ Mn ) 2017 - 2025
6.4.1. Key Highlights
6.4.1.1. India Pea Protein Ingredient Market by Volume (Tons) and Value (US$ Mn ) 2017 - 2025
6.4.1.2. China Pea Protein Ingredient Market by Volume (Tons) and Value (US$ Mn ) 2017 - 2025
6.4.1.3. Japan Pea Protein Ingredient Market by volume (Tons) and Value (US$ Mn ) 2017 - 2025
6.4.1.4. ASEAN Pea Protein Ingredient Market by volume (Tons) and Value (US$ Mn ) 2017 - 2025
6.4.1.5. Australia Pea Protein Ingredient Market Volume (Tons) and Value (US$ Mn ) 2017 - 2025
6.4.1.6. Rest of Asia Pacific Market by Volume (Tons) and Value (US$ Mn ) 2017 - 2025
6.4.2. BPS Analysis/Market Attractiveness Analysis


7. Latin America Pea Protein Ingredient Market Outlook, 2017 - 2025
7.1. Latin America Pea Protein Ingredient Market Outlook, by Nature, Volume (Tons) and Value (US$ Mn ) 2017 - 2025
7.1.1. Key Highlights
7.1.1.1. Organic
7.1.1.2. Conventional
7.1.2. BPS Analysis/Market Attractiveness Analysis
7.2. Latin America Pea Protein Ingredient Market Outlook, by Format, Volume (Tons) and Value (US$ Mn ) 2017 - 2025
7.2.1. Key Highlights
7.2.1.1. Isolate
7.2.1.2. Concentrate
7.2.1.3. Hydrolysate
7.2.2. BPS Analysis/Market Attractiveness Analysis
7.3. Latin AmericaPea Protein Ingredient Market Outlook, by Application, Volume (Tons) and Value (US$ Mn ) 2017 - 2025
7.3.1. Key Highlights
7.3.1.1. Food & Beverages
7.3.1.1.1. Cereals & Snacks
7.3.1.1.2. Meat Substitute
7.3.1.1.3. Bakery & Confectionery
7.3.1.1.4. Performance Nutrition
7.3.1.1.5. Beverage & Desserts
7.3.1.2. Animal & Pet Food
7.3.1.3. Pharmaceutical & Dietary Supplements
7.3.1.4. Cosmetics
7.3.2. BPS Analysis/Market Attractiveness Analysis
7.4. Latin America Pea Protein Ingredient Market Outlook, by Country, Volume (Tons) and Value (US$ Mn ) 2017 - 2025
7.4.1. Key Highlights
7.4.1.1. Brazil Pea Protein Ingredient Market by Volume (Tons) and Value (US$ Mn ) 2017 - 2025
7.4.1.2. Mexico Pea Protein Ingredient Market by Volume (Tons) and Value (US$ Mn ) 2017 - 2025
7.4.1.3. Rest of Latin America Pea Protein Ingredient Market by Volume (Tons) and Value (US$ Mn ) 2017 - 2025
7.4.2. BPS Analysis/Market Attractiveness Analysis


8. Middle East & Africa Pea Protein Ingredient Market Outlook, 2017 - 2025
8.1. Middle East & AfricaPea Protein Ingredient Market Outlook, by Nature, Volume (Tons) and Value (US$ Mn ) 2017 - 2025
8.1.1. Key Highlights
8.1.1.1. Organic
8.1.1.2. Conventional
8.1.2. BPS Analysis/Market Attractiveness Analysis
8.2. Middle East & AfricaPea Protein Ingredient Market Outlook, by Format, Volume (Tons) and Value (US$ Mn ) 2017 - 2025
8.2.1. Key Highlights
8.2.1.1. Isolate
8.2.1.2. Concentrate
8.2.1.3. Hydrolysate
8.2.2. BPS Analysis/Market Attractiveness Analysis
8.3. Middle East & AfricaPea Protein Ingredient Market Outlook, by Application, Volume (Tons) and Value (US$ Mn ) 2017 - 2025
8.3.1. Key Highlights
8.3.1.1. Food & Beverages
8.3.1.1.1. Cereals & Snacks
8.3.1.1.2. Meat Substitute
8.3.1.1.3. Bakery & Confectionery
8.3.1.1.4. Performance Nutrition
8.3.1.1.5. Beverage & Desserts
8.3.1.2. Animal & Pet Food
8.3.1.3. Pharmaceutical & Dietary Supplements
8.3.1.4. Cosmetics
8.3.2. BPS Analysis/Market Attractiveness Analysis
8.4. Middle East & AfricaPea Protein Ingredient Market Outlook, by Country, Volume (Tons) and Value (US$ Mn ) 2017 - 2025
8.4.1. Key Highlights
8.4.1.1. GCC Pea Protein Ingredient Market by Volume (Tons) and Value (US$ Mn ) 2017 - 2025
8.4.1.2. South Africa Pea Protein Ingredient Market by Volume (Tons) and Value (US$ Mn ) 2017 - 2025
8.4.1.3. Rest of Middle East & Africa Pea Protein Ingredient Market by Volume (Tons) and Value (US$ Mn ) 2017 - 2025
8.4.2. BPS Analysis/Market Attractiveness Analysis


9. Competitive Landscape
9.1. Company Market Share Analysis, 2019
9.2. Product Heatmap
9.3. Company Profiles
9.3.1. Roquette Group
9.3.1.1. Company Overview
9.3.1.2. Regional Presence & Revenue
9.3.1.3. Business Segment Revenue
9.3.1.4. Product Portfolio
9.3.2. Ingredion Incorporated
9.3.2.1. Company Overview
9.3.2.2. Regional Presence & Revenue
9.3.2.3. Business Segment Revenue
9.3.2.4. Product Portfolio
9.3.3. PURIS
9.3.3.1. Company Overview
9.3.3.2. Regional Presence & Revenue
9.3.3.3. Business Segment Revenue
9.3.3.4. Product Portfolio
9.3.4. Emsland Group
9.3.4.1. Company Overview
9.3.4.2. Regional Presence & Revenue
9.3.4.3. Business Segment Revenue
9.3.4.4. Product Portfolio
9.3.5. Cosucra Groupe Warcoing SA
9.3.5.1. Company Overview
9.3.5.2. Regional Presence & Revenue
9.3.5.3. Business Segment Revenue
9.3.5.4. Product Portfolio
9.3.6. Axiom Foods
9.3.6.1. Company Overview
9.3.6.2. Regional Presence & Revenue
9.3.6.3. Business Segment Revenue
9.3.6.4. Product Portfolio
9.3.7. DuPont de Nemours, Inc
9.3.7.1. Company Overview
9.3.7.2. Regional Presence & Revenue
9.3.7.3. Business Segment Revenue
9.3.7.4. Product Portfolio
9.3.8. The Scoular Company
9.3.8.1. Company Overview
9.3.8.2. Regional Presence & Revenue
9.3.8.3. Business Segment Revenue
9.3.8.4. Product Portfolio
9.3.9. BurconNutraScience Corporation
9.3.9.1. Company Overview
9.3.9.2. Regional Presence & Revenue
9.3.9.3. Business Segment Revenue
9.3.9.4. Product Portfolio
9.3.10. Glanbia plc
9.3.10.1. Company Overview
9.3.10.2. Regional Presence & Revenue
9.3.10.3. Business Segment Revenue
9.3.10.4. Product Portfolio


10. Appendix
10.1. Research Methodology
10.2. Report Assumptions
10.3. Acronyms and Abbreviations
BASE YEAR

HISTORICAL DATA

FORECAST PERIOD

UNITS

2019

2017 - 2019

2020 - 2025

Value: US$ Million

Volume: Tons
REPORT FEATURES

DETAILS

Nature Coverage

Format Coverage

Isolate

Concentrate

Hydrolysate

Application Coverage

Geographical Coverage

North America

Europe

Germany

France

U.K.

Spain

Italy

Russia

Poland

Rest of Europe

Asia Pacific

India

China

Japan

ASEAN

Australia

Rest of Asia Pacific

Latin America

Brazil

Mexico

Rest of Latin America

Middle East & Africa

Leading Companies

Roquette Group

Ingredion Incorporated

PURIS

Emsland Group

Cosucra Groupe Warcoing SA Group

Axiom Foods

DuPont de Nemours, Inc

The Scoular Company

Burcon NutraScience Corporation

Glanbia plc

Report Highlights

Key Market Indicators, Macro factors analysis, Supply Chain Analysis, Consumer Sentiment analysis, Key Regulations, Key Patents, Tracked Key Developments, Market Estimates and Forecast, Market Dynamics, Industry Trends, Competition Landscape, COVID-19 Impact Analysis (Demand and Supply Chain)