Global Psychedelic Drugs Market to Witness Double-digit Revenue Growth as Mental Health becomes Priority
The global psychedelic drugs market is all set to exhibit robust revenue growth during the forecast years from 2021 to 2026. The market is poised to benefit from the high prevalence of mental health diseases and conditions that are on the rise and a growing pool of patients with unmet treatment needs. Fairfield Market Research indicates that the global psychedelic drugs market revenue is anticipated to rise at a healthy pace of 14.5% CAGR during the period as the market reaches US$6330.0 Mn by 2026 from US$3210.0 Mn in 2021.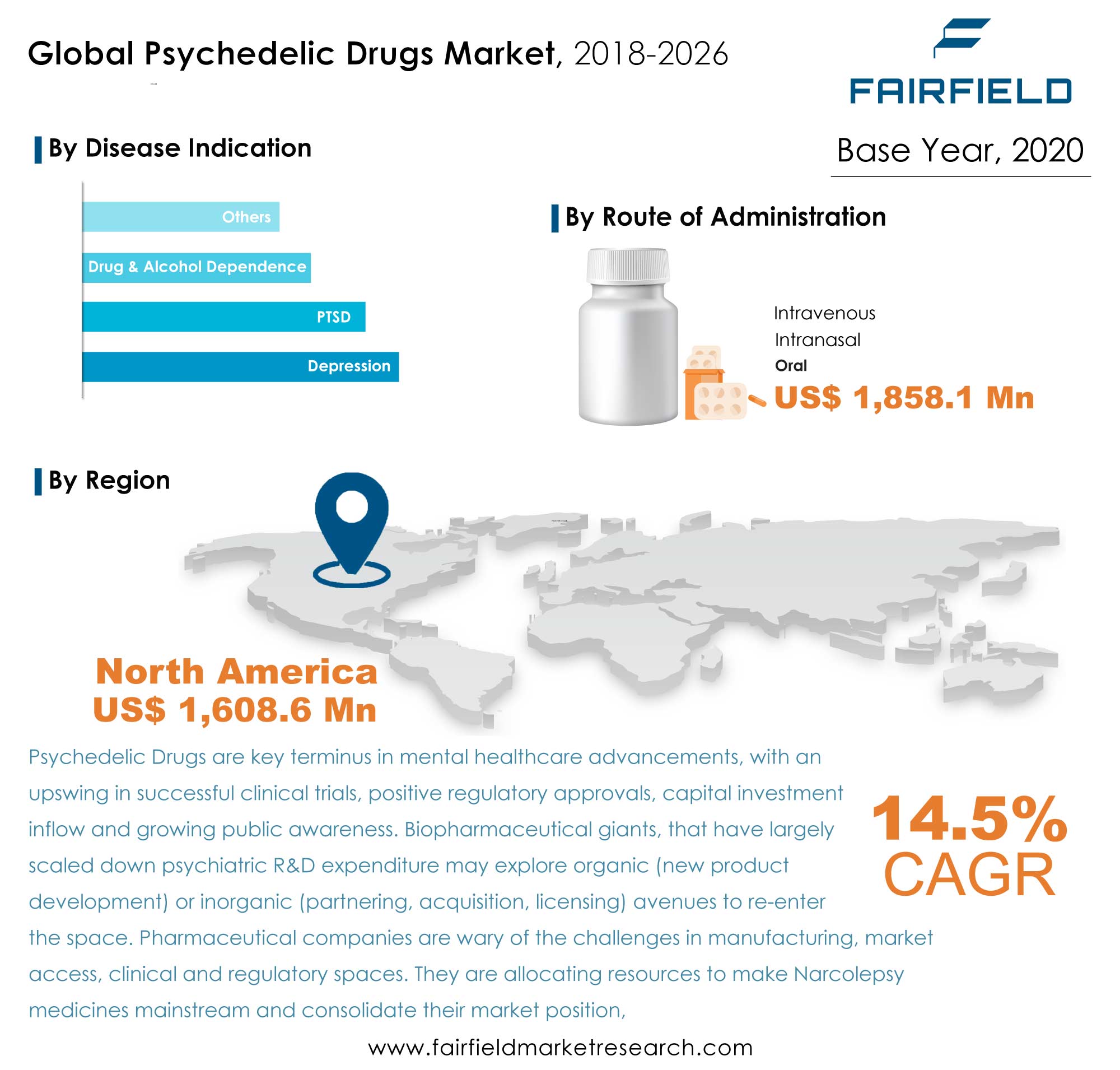 Mental health disorders result in thousands of deaths, creating a severe economic and productivity loss worldwide. Reported deaths in the U.S. due to drug overdose reached almost 72,000 in 2019 wherein opioids accounted for more than two-thirds of deaths. As per a 2011 Harvard study, the global cost of mental health conditions in 2010 was estimated at US$2.5 trillion and the cost is projected to surge to US$6.0 trillion by 2030. According to Centre for Addiction and Mental Health, Canadian direct and indirect economic costs of mental disorders is C$51 Bn.
Positive Evidence of Psychedelic Drugs Affecting Mental Health Helps Market in Greater Ways
Mental diseases viz. depression, PTSD, anxiety, schizophrenia, and drug and alcohol dependence have become a global concern. Globally, 971 million people suffer from a mental or substance use disorder. The U.S. alone witnesses more than 80,000 emergency department psychiatric drug adverse events per year. According to December 2020 WHO statistics, more than 264 million people of all ages suffer from depression. A 2007 Harvard Medical School study found that 19.1% of adults in the U.S. had an anxiety disorder as of 2001-2003. Data further suggest that specific phobias are the most commonly occurring anxiety disorders that affect more than 19 million adults in the U.S. These statistics put together are expected to generate a demand for psychedelic drugs as diagnosis, therapy, and mental health awareness programmes gain emphasis at individual and institutional levels.
Since 2015, seven new neuropsychiatric drugs have been approved, which is less than 10% as compared to the field of oncology. Superior methods of clinical trial and exceptional evidence gathering for a wide range of psychological disorders have trumped traditional treatments for mental health conditions such as depression. Psychedelic medicines seem to act fast and with precision to affect depression with the desired outcome. Furthermore, as these drugs are well-tolerated, analysts anticipate they will be in a greater demand to treat patients.
On the flip side, inadequate treatment options with poor uptake and adverse events are hindering psychedelic drugs adoption. Existing medicines have limited benefits, are ineffective with intolerable side effects, which sometimes leads to relapses.
Clinical Trials and Capital Investments Augment Psychedelic Drugs Market
Positive clinical outcomes coupled with capital investment is expected to present lucrative commercial opportunities to the global psychedelic drugs market. In various clinical trials, psychedelics are demonstrating both safety and efficacy across geographies. In one of the Phase II trials of 107 patients who had PTSD for an average of over 17 years, 56% showed no signs of the affliction after one session of MDMA-assisted therapy. A combination of psilocybin and cognitive therapy has helped 80% of another study's participants to abstain from cigarettes for at least six months. The therapy looks promising as compared to 35% for the most effective available smoking-cessation drug, varenicline.
There are over 200 biotech companies in North America and Europe focused on the psychedelic space. MindMed, Compass Pathways, and Atai Life Sciences were recently listed on a major U.S. stock exchange. Osmind, a health data and analytics platform for mental health providers offering psychedelic treatments picked up US$2 Mn in seed funding led by General Catalyst. Thus, the global psychedelic drugs market is witnessing massive investments to aid research, which will shape market growth.
Psychedelic Drugs Offer Exceptional Response to Mental Health Crisis due to COVID-19 Pandemic
Incidence of mental diseases has been exacerbated by the COVID-19 pandemic worldwide. A PEW Research Centre, U.S., conducted a survey of adults in February 2021, revealing that 21% of the U.S. adults are experiencing high levels of psychological distress, including 32% aged 18-29 and 31% with low incomes. Percentage of the U.S. adults experiencing symptoms of depression and anxiety rose from 11% in 2019 to 42% end of 2020. Forrester estimated consumers to make around 480 million virtual visits for healthcare in 2020 with almost 38% for mental healthcare. Demand for virtual mental healthcare such as therapy and counselling is estimated to total 138 million visits by end of 2021.
High Cost and Complicated Reimbursement Processes Hinders Market Growth
Many of the existing clinical trials involve both a drug and drug combination and a component of therapy. This bundled treatment option pushes prices in the upper direction. In the U.S., it is likely that this will be regulated through the FDA's Risk Evaluation and Mitigation Strategies (REMS) system, which forces specific requirements in drug administration. It has a significant cost implication for the strictly regulated therapy component.
On the other hand, some therapies require skilled and experienced therapists, such as COMPASS, which needs a five-tier therapist training program. The expense of training and the accreditation of therapists is at a premium. The length of therapy sessions varies between different providers and by the type of psychedelic; from four to six hours. It is significantly longer than typical analogous talking therapies lasting for one hour per session. So, the cost of administering these sessions, in specially designed rooms, is much higher.
While drug reimbursement pathways worldwide are well laid out and sufficiently funded, mental wellness therapies are the bone of contention. For drug plus therapy combinations, the processes of receiving reimbursement are complicated and equally fragmented in many countries. This typically is due to the different sources of funding and reimbursement codes, for both the drug and the services.
North America to Retain Market Dominance till the End of Forecast Period
The global psychedelic drugs market study by Fairfield Market Research finds that North America remains the largest contributor in value terms due to an upswing in successful clinical trials, positive regulatory approvals, capital investment inflow and growing public awareness in the region. North America contributes to half of the global psychedelic drugs market revenue and will reach US$3184.0 Mn in 2026.
Also, biopharmaceutical giants that have largely scaled-down psychiatric R&D expenditure may explore organic (new product development) or inorganic (partnering, acquisition, licensing) avenues to re-enter the space. Recent IPOs and notable results from clinical trials are anticipated to create tailwinds for the psychedelics market growth in the region.
Global Psychedelic Drugs Market: Key Players
Some of the key companies partaking in the global psychedelic drugs market are Jazz Pharmaceuticals, Inc., PharmaTher Holdings Ltd., ATAI LIFE SCIENCES N.V., COMPASS Pathways plc, Mind Medicine Inc., and Janssen Pharmaceuticals, Inc.
The Global Psychedelic Drugs Market is Segmented as Below:
By Product
DMT
Ketamine
LSD
MDMA
GHB
Psilocybin
Others
By Disease Indication
Depression
PTSD
Drug & Alcohol dependence
Others
By Route of Administration
Oral
Intranasal
Intravenous
By Origin
By Geographic Coverage
North America
Europe

Germany
France
United Kingdom
Italy
Spain
Rest of Europe

Asia Pacific

Japan
China
India
Australia & New Zealand
Rest of Asia Pacific

Rest of World

Latin America
Middle East & Africa
Leading Companies
Jazz Pharmaceuticals, Inc.
PharmaTher Holdings Ltd.
ATAI LIFE SCIENCES N.V.
COMPASS Pathways plc.
Mind Medicine Inc.
Janssen Pharmaceuticals, Inc.
Inside This Report You Will Find:
1. Executive Summary
2. Market Overview
3. Global Psychedelic Drugs Market Outlook, 2018 - 2026
4. North America Psychedelic Drugs Market Outlook, 2018 - 2026
5. Europe Psychedelic Drugs Market Outlook, 2018 - 2026
6. Asia Pacific Psychedelic Drugs Market Outlook, 2018 - 2026
7. Rest of World Psychedelic Drugs Market Outlook, 2018 - 2026
8. Competitive Landscape
9. Appendix
Post Sale Support, Research Updates & Offerings:
We value the trust shown by our customers in Fairfield Market Research. We support our clients through our post sale support, research updates and offerings.
The report will be prepared in a PPT format and will be delivered in a PDF format.
Additionally, Market Estimation and Forecast numbers will be shared in Excel Workbook.
If a report being sold was published over a year ago, we will offer a complimentary copy of the updated research report along with Market Estimation and Forecast numbers within 2-3 weeks' time of the sale.
If we update this research study within the next 2 quarters, post purchase of the report, we will offer a Complimentary copy of the updated Market Estimation and Forecast numbers in Excel Workbook.
If there is a geopolitical conflict, pandemic, recession, and the like which can impact global economic scenario and business activity, which might entirely alter the market dynamics or future projections in the industry, we will create a Research Update upon your request at a nominal charge.
1. Executive Summary
1.1. Global Psychedelic Drugs Market Outlook, 2018 - 2026 (US$ Million)
1.2. Global Psychedelic Drugs Market Incremental Opportunity, 2018 - 2026 (US$ Million)
1.3. Key Industry Trends
2. Market Overview
2.1. Market Definitions and Segmentations
2.2. Market Dynamics
2.2.1. Market Drivers
2.2.2. Market Restraints
2.2.3. Market Opportunities
2.3. Regulatory Scenario
2.4. Psychedelic Drugs Pipeline Analysis
2.5. Emerging Psychedelic Biotech Companies
3. Global Psychedelic Drugs Market Outlook, 2018 - 2026
3.1. Global Psychedelic Drugs Market Outlook, By Product, 2018 - 2026
3.1.1. Key Highlights
3.1.2. Global Psychedelic Drugs Market Outlook, by Product, Value (US$ Million), 2018 - 2026
3.1.2.1. DMT
3.1.2.2. Ketamine
3.1.2.3. LSD
3.1.2.4. MDMA
3.1.2.5. GHB
3.1.2.6. Psilocybin
3.1.2.7. Others
3.1.3. Global Psychedelic Drugs Market Share and BPS Analysis, by Product, 2021 and 2026
3.1.4. Global Psychedelic Drugs Market Attractiveness Analysis, by Product, 2021-2026
3.2. Global Psychedelic Drugs Market Outlook, By Disease Indication, 2018 - 2026
3.2.1. Key Highlights
3.2.2. Global Psychedelic Drugs Market Outlook, by Disease Indication, Value (US$ Million), 2018 - 2026
3.2.2.1. Depression
3.2.2.2. PTSD
3.2.2.3. Drug & Alcohol dependence
3.2.2.4. Others
3.2.3. Global Psychedelic Drugs Market Share and BPS Analysis, by Disease Indication, 2021 and 2026
3.2.4. Global Psychedelic Drugs Market Attractiveness Analysis, by Disease Indication, 2021-2026
3.3. Global Psychedelic Drugs Market Outlook, By Route of Administration, 2018 - 2026
3.3.1. Key Highlights
3.3.2. Global Psychedelic Drugs Market Outlook, by Route of Administration, Value (US$ Million), 2018 - 2026
3.3.2.1. Oral
3.3.2.2. Intranasal
3.3.2.3. Intravenous
3.3.3. Global Psychedelic Drugs Market Share and BPS Analysis, by Route of Administration, 2021 and 2026
3.3.4. Global Psychedelic Drugs Market Attractiveness Analysis, by Route of Administration, 2021-2026
3.4. Global Psychedelic Drugs Market Outlook, By Origin, 2018 - 2026
3.4.1. Key Highlights
3.4.2. Global Psychedelic Drugs Market Outlook, by Origin, Value (US$ Million), 2018 - 2026
3.4.2.1. Natural
3.4.2.2. Synthetic
3.4.3. Global Psychedelic Drugs Market Share and BPS Analysis, by Origin, 2021 and 2026
3.4.4. Global Psychedelic Drugs Market Attractiveness Analysis, by Origin, 2021-2026
3.5. Global Psychedelic Drugs Market Outlook, By Region, 2018 - 2026
3.5.1. Key Highlights
3.5.2. Global Psychedelic Drugs Market Outlook, by Region, Value (US$ Million), 2018 - 2026
3.5.2.1. North America
3.5.2.2. Europe
3.5.2.3. Asia Pacific
3.5.2.4. Rest of World
3.5.3. Global Psychedelic Drugs Market Share and BPS Analysis, by Region, 2021 and 2026
3.5.4. Global Psychedelic Drugs Market Attractiveness Analysis, by Region, 2021-2026
4. North America Psychedelic Drugs Market Outlook, 2018 - 2026
4.1. North America Psychedelic Drugs Market Outlook, By Product, 2018 - 2026
4.1.1. Key Highlights
4.1.2. North America Psychedelic Drugs Market Outlook, by Product, Value (US$ Million), 2018 - 2026
4.1.2.1. DMT
4.1.2.2. Ketamine
4.1.2.3. LSD
4.1.2.4. MDMA
4.1.2.5. GHB
4.1.2.6. Psilocybin
4.1.2.7. Others
4.1.3. North America Psychedelic Drugs Market Share and BPS Analysis, by Product, 2021 and 2026
4.2. North America Psychedelic Drugs Market Outlook, By Disease Indication, 2018 - 2026
4.2.1. Key Highlights
4.2.2. North America Psychedelic Drugs Market Outlook, by Disease Indication, Value (US$ Million), 2018 - 2026
4.2.2.1. Depression
4.2.2.2. PTSD
4.2.2.3. Drug & Alcohol dependence
4.2.2.4. Others
4.2.3. North America Psychedelic Drugs Market Share and BPS Analysis, by Disease Indication, 2021 and 2026
4.3. North America Psychedelic Drugs Market Outlook, By Route of Administration, 2018 - 2026
4.3.1. Key Highlights
4.3.2. North America Psychedelic Drugs Market Outlook, by Route of Administration, Value (US$ Million), 2018 - 2026
4.3.2.1. Oral
4.3.2.2. Intranasal
4.3.2.3. Intravenous
4.3.3. North America Psychedelic Drugs Market Share and BPS Analysis, by Route of Administration, 2021 and 2026
4.4. North America Psychedelic Drugs Market Outlook, By Origin, 2018 - 2026
4.4.1. Key Highlights
4.4.2. North America Psychedelic Drugs Market Outlook, by Origin, Value (US$ Million), 2018 - 2026
4.4.2.1. Natural
4.4.2.2. Synthetic
4.4.3. North America Psychedelic Drugs Market Share and BPS Analysis, by Origin, 2021 and 2026
4.5. North America Psychedelic Drugs Market Outlook, By Country, 2018 - 2026
4.5.1. Key Highlights
4.5.2. North America Psychedelic Drugs Market Outlook, by Country, Value (US$ Million), 2018 - 2026
4.5.2.1. U.S.
4.5.2.2. Canada
4.5.3. North America Psychedelic Drugs Market Share and BPS Analysis, by Country, 2021 and 2026
5. Europe Psychedelic Drugs Market Outlook, 2018 - 2026
5.1. Europe Psychedelic Drugs Market Outlook, By Product, 2018 - 2026
5.1.1. Key Highlights
5.1.2. Europe Psychedelic Drugs Market Outlook, by Product, Value (US$ Million), 2018 - 2026
5.1.2.1. DMT
5.1.2.2. Ketamine
5.1.2.3. LSD
5.1.2.4. MDMA
5.1.2.5. GHB
5.1.2.6. Psilocybin
5.1.2.7. Others
5.1.3. Europe Psychedelic Drugs Market Share and BPS Analysis, by Product, 2021 and 2026
5.2. Europe Psychedelic Drugs Market Outlook, By Disease Indication, 2018 - 2026
5.2.1. Key Highlights
5.2.2. Europe Psychedelic Drugs Market Outlook, by Disease Indication, Value (US$ Million), 2018 - 2026
5.2.2.1. Depression
5.2.2.2. PTSD
5.2.2.3. Drug & Alcohol dependence
5.2.2.4. Others
5.2.3. Europe Psychedelic Drugs Market Share and BPS Analysis, by Disease Indication, 2021 and 2026
5.3. Europe Psychedelic Drugs Market Outlook, By Route of Administration, 2018 - 2026
5.3.1. Key Highlights
5.3.2. Europe Psychedelic Drugs Market Outlook, by Route of Administration, Value (US$ Million), 2018 - 2026
5.3.2.1. Oral
5.3.2.2. Intranasal
5.3.2.3. Intravenous
5.3.3. Europe Psychedelic Drugs Market Share and BPS Analysis, by Route of Administration, 2021 and 2026
5.4. Europe Psychedelic Drugs Market Outlook, By Origin, 2018 - 2026
5.4.1. Key Highlights
5.4.2. Europe Psychedelic Drugs Market Outlook, by Origin, Value (US$ Million), 2018 - 2026
5.4.2.1. Natural
5.4.2.2. Synthetic
5.4.3. Europe Psychedelic Drugs Market Share and BPS Analysis, by Origin, 2021 and 2026
5.5. Europe Psychedelic Drugs Market Outlook, By Country, 2018 - 2026
5.5.1. Key Highlights
5.5.2. Europe Psychedelic Drugs Market Outlook, by Country, Value (US$ Million), 2018 - 2026
5.5.2.1. Germany
5.5.2.2. France
5.5.2.3. United Kingdom
5.5.2.4. Italy
5.5.2.5. Spain
5.5.2.6. Rest of Europe
5.5.3. Europe Psychedelic Drugs Market Share and BPS Analysis, by Country, 2021 and 2026
6. Asia Pacific Psychedelic Drugs Market Outlook, 2018 - 2026
6.1. Asia Pacific Psychedelic Drugs Market Outlook, By Product, 2018 - 2026
6.1.1. Key Highlights
6.1.2. Asia Pacific Psychedelic Drugs Market Outlook, by Product, Value (US$ Million), 2018 - 2026
6.1.2.1. DMT
6.1.2.2. Ketamine
6.1.2.3. LSD
6.1.2.4. MDMA
6.1.2.5. GHB
6.1.2.6. Psilocybin
6.1.2.7. Others
6.1.3. Asia Pacific Psychedelic Drugs Market Share and BPS Analysis, by Product, 2021 and 2026
6.2. Asia Pacific Psychedelic Drugs Market Outlook, By Disease Indication, 2018 - 2026
6.2.1. Key Highlights
6.2.2. Asia Pacific Psychedelic Drugs Market Outlook, by Disease Indication, Value (US$ Million), 2018 - 2026
6.2.2.1. Depression
6.2.2.2. PTSD
6.2.2.3. Drug & Alcohol dependence
6.2.2.4. Others
6.2.3. Asia Pacific Psychedelic Drugs Market Share and BPS Analysis, by Disease Indication, 2021 and 2026
6.3. Asia Pacific Psychedelic Drugs Market Outlook, By Route of Administration, 2018 - 2026
6.3.1. Key Highlights
6.3.2. Asia Pacific Psychedelic Drugs Market Outlook, by Route of Administration, Value (US$ Million), 2018 - 2026
6.3.2.1. Oral
6.3.2.2. Intranasal
6.3.2.3. Intravenous
6.3.3. Asia Pacific Psychedelic Drugs Market Share and BPS Analysis, by Route of Administration, 2021 and 2026
6.4. Asia Pacific Psychedelic Drugs Market Outlook, By Origin, 2018 - 2026
6.4.1. Key Highlights
6.4.2. Asia Pacific Psychedelic Drugs Market Outlook, by Origin, Value (US$ Million), 2018 - 2026
6.4.2.1. Natural
6.4.2.2. Synthetic
6.4.3. Asia Pacific Psychedelic Drugs Market Share and BPS Analysis, by Origin, 2021 and 2026
6.5. Asia Pacific Psychedelic Drugs Market Outlook, By Country, 2018 - 2026
6.5.1. Key Highlights
6.5.2. Asia Pacific Psychedelic Drugs Market Outlook, by Country, Value (US$ Million), 2018 - 2026
6.5.2.1. China
6.5.2.2. Japan
6.5.2.3. India
6.5.2.4. Australia & New Zealand
6.5.2.5. Rest of Asia Pacific
6.5.3. Asia Pacific Psychedelic Drugs Market Share and BPS Analysis, by Country, 2021 and 2026
7. Rest of World Psychedelic Drugs Market Outlook, 2018 - 2026
7.1. Rest of World Psychedelic Drugs Market Outlook, By Product, 2018 - 2026
7.1.1. Key Highlights
7.1.2. Rest of World Psychedelic Drugs Market Outlook, by Product, Value (US$ Million), 2018 - 2026
7.1.2.1. DMT
7.1.2.2. Ketamine
7.1.2.3. LSD
7.1.2.4. MDMA
7.1.2.5. GHB
7.1.2.6. Psilocybin
7.1.2.7. Others
7.1.3. Rest of World Psychedelic Drugs Market Share and BPS Analysis, by Product, 2021 and 2026
7.2. Rest of World Psychedelic Drugs Market Outlook, By Disease Indication, 2018 - 2026
7.2.1. Key Highlights
7.2.2. Rest of World Psychedelic Drugs Market Outlook, by Disease Indication, Value (US$ Million), 2018 - 2026
7.2.2.1. Depression
7.2.2.2. PTSD
7.2.2.3. Drug & Alcohol dependence
7.2.2.4. Others
7.2.3. Rest of World Psychedelic Drugs Market Share and BPS Analysis, by Disease Indication, 2021 and 2026
7.3. Rest of World Psychedelic Drugs Market Outlook, By Route of Administration, 2018 - 2026
7.3.1. Key Highlights
7.3.2. Rest of World Psychedelic Drugs Market Outlook, by Route of Administration, Value (US$ Million), 2018 - 2026
7.3.2.1. Oral
7.3.2.2. Intranasal
7.3.2.3. Intravenous
7.3.3. Rest of World Psychedelic Drugs Market Share and BPS Analysis, by Route of Administration, 2021 and 2026
7.4. Rest of World Psychedelic Drugs Market Outlook, By Origin, 2018 - 2026
7.4.1. Key Highlights
7.4.2. Rest of World Psychedelic Drugs Market Outlook, by Origin, Value (US$ Million), 2018 - 2026
7.4.2.1. Natural
7.4.2.2. Synthetic
7.4.3. Rest of World Psychedelic Drugs Market Share and BPS Analysis, by Origin, 2021 and 2026
7.5. Rest of World Psychedelic Drugs Market Outlook, By Sub-Region, 2018 - 2026
7.5.1. Key Highlights
7.5.2. Rest of World Psychedelic Drugs Market Outlook, by Sub-Region, Value (US$ Million), 2018 - 2026
7.5.2.1. Latin America
7.5.2.2. Middle East & Africa
7.5.3. Rest of World Psychedelic Drugs Market Share and BPS Analysis, by Sub-Region, 2021 and 2026
8. Competitive Landscape
8.1. Market Share Analysis, 2021
8.2. Company Profiles
8.2.1. Jazz Pharmaceuticals, Inc.
8.2.1.1. Company overview
8.2.1.2. Financial performance
8.2.1.3. Product Pipeline
8.2.1.4. Recent Developments
Above details will include, but not be limited to below list of companies based on availability
8.2.2. PharmaTher Holdings Ltd.
8.2.3. ATAI LIFE SCIENCES N.V.
8.2.4. COMPASS Pathways plc.
8.2.5. Mind Medicine Inc.
8.2.6. Janssen Pharmaceuticals, Inc.
Other Leading Players
9. Appendix
9.1. Research Methodology
9.2. Report Specific Research Approach