Up from US$155.4 Bn recorded in 2021, global rare diseases treatment market is likely to reach the valuation of US$346.5 Bn by 2029 end, indicates Fairfield Market Research in this latest released report. The report expects market to rise high at a robust 10.4% CAGR during the period of projection.
No More a Niche, Global Rare Diseases Treatment Market Awaits Significant Growth
The global rare diseases treatment market is all set to exhibit remarkable revenue growth during the forecast year from 2022 to 2029. The key to rare diseases treatment is expediting orphan drug development. The World Health Organization (WHO) defines rare disease as often debilitating lifelong disease or disorder with a prevalence of 1 or less, per 1000 population. The National Institutes of Health (NIH) reports that nearly 7,000 rare diseases affect more than 25 million Americans. Approximately 80% of rare diseases are caused by defect in single-gene and children account for about 50% of all rare diseases reported. Rare diseases are collectively considered as common, with 1 in 17 people being the victim of the orphan disease at some point in their lives. Furthermore, there is an urgent need for awareness campaigns, increase in advocacy efforts, and check on drug prices for rare disease treatment. Marking the World Rare Disease Day offers a platform for promoting the cause of rare diseases.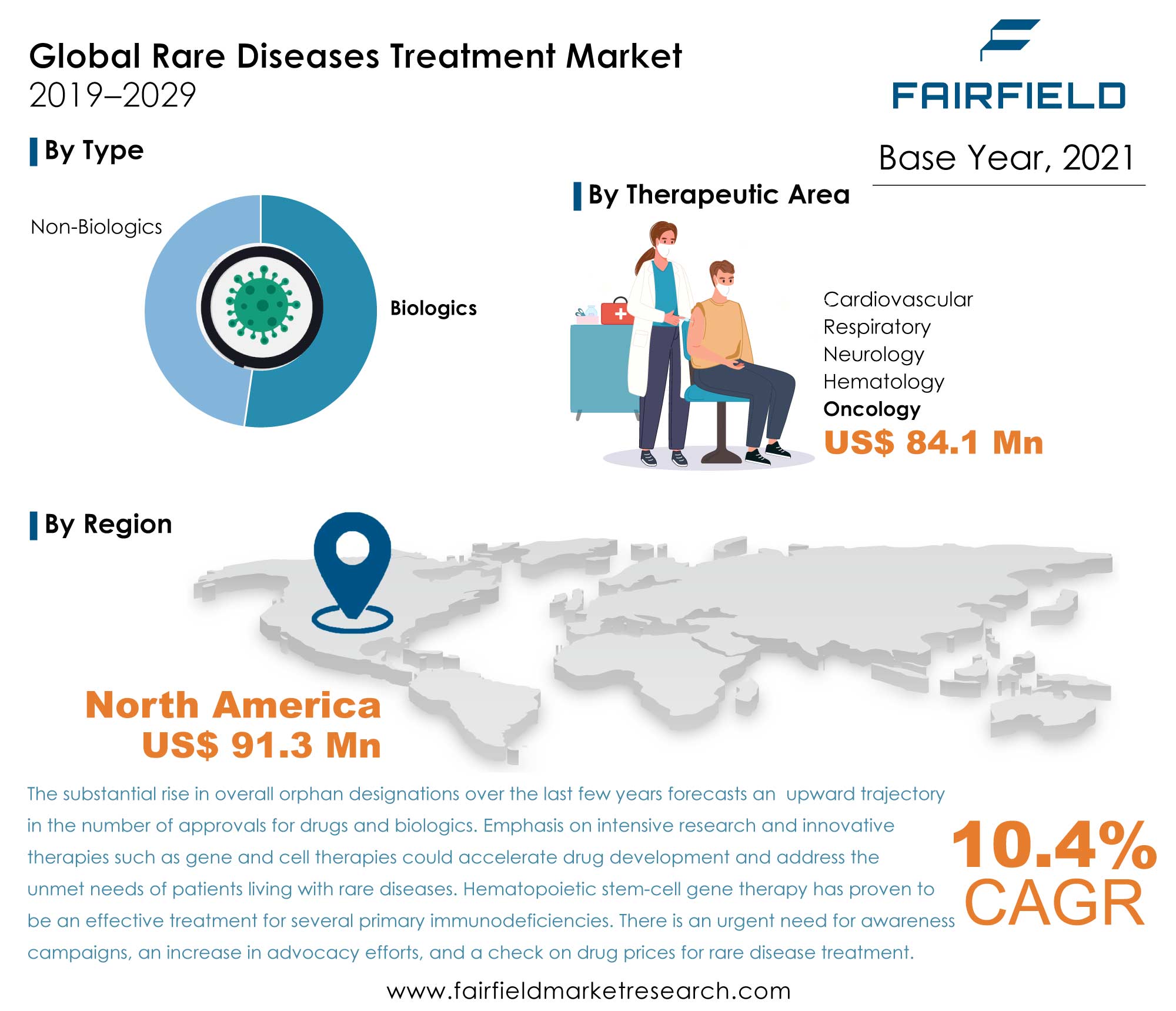 High treatment cost and lack of specialised centres for rare diseases treatment to hinder the market growth. Certain stumbling blocks hindering the progress of rare disease management includes lack of awareness and understanding, dearth of health policies, low check on drug prices for rare diseases by health-related legislation, non-existent health infrastructure for patients with the rare disease. Lack of awareness among the general population, decision-makers about symptoms, complications, and limited cures for rare diseases, and the deficient legal and regulatory marks which generate a lack of coverage in the health systems are various factors hindering the growth of rare diseases treatment market in developing regions across the globe. This, in turn, hold back rare disease patients from access to appropriate disease prevention and treatment.
Improved Awareness Forms a Strong Base for Lucrative Growth Opportunities in Rare Diseases Treatment Market
An increase in overall testing is resulting in an increased number of cases being diagnosed with the condition which otherwise used to go undiagnosed. A constant rise in the number of patients coupled with awareness about the availability of the treatment options among healthcare professionals as well as patients is driving the rare diseases treatment market forward. The substantial rise in overall orphan designations over the last few years forecasts an upward trajectory in number of approvals for drugs and biologics designed specifically for diagnosis, prevention, and treatment of rare diseases in the future. Various initiatives and patient engagement programs contribute to the understanding of the causes and characteristics of rare diseases, development of new diagnostic methods and therapies for patients, and encouraging best practices in hospitals and healthcare systems. European Joint Programme on Rare Disease, launched in January 2019, gathers research funders, universities, research organisations and infrastructure, hospitals, and patient organisations from more than 135 institutions in 35 countries, including 26 out of 27 EU countries.
Rare Oncology Represents a Major Chunk of Current Orphan Drugs, Generating Noteworthy Revenue in Rare Diseases Treatment Market
Oncology segment dominated global rare diseases treatment market with ~48.8% market share in 2019 and is projected to continue its dominance throughout the forecast period. Moreover, the indication is often associated with high revenue generation. The National Institute of Health defines rare cancers as those that affect fewer than 40,000 people in the US, and many cancer types are even rarer. Rare cancers make up 27% of all cancers. The rare neurology drugs pipeline is limited for many related disorders. For instance, Leigh syndrome, a severe pediatric disorder, has only one asset in the clinical stage. Currently, Charcot-Marie-Tooth disease and Steinert disease have no drugs in clinical trials. An early-stage investment is anticipated to yield a life-changing result for several patients along with harnessing a limited competition opportunity for the investors and a long exclusivity period post the treatment receives approval.
Rise of Biologics, and Advanced Breakthrough Technologies to Elevate Prospects of Rare Diseases Treatment Market
The global rare diseases treatment market categorises treatment type as biologics and non-biologics. Biologics are anticipated to dominate the rare diseases treatment throughout the forecast period. Gene therapies are now being explored in patients with rare diseases catering to their emphasis on correcting the root cause of the disease. In December 2021, Pfizer Inc., and Sangamo Therapeutics Inc. announced updated follow-up data from the Phase ½ Alta study of giroctocogene fitelparvovec, investigational gene therapy for patients with moderately severe to severe haemophilia A.
Rare Diseases Treatment Market Benefits from Worldwide Regulatory Initiatives, and Public Health Policies that Facilitate Paediatric Orphan Drug Development
Rare diseases are one of the major causes of child mortality in both developed and developing countries. Drug development for paediatrics suffering from rare diseases poses numerous challenges viz., lack of definitive outcome measures, assessment tools, difficulties with study design and logistical hurdles in completing trials. Various emerging trends in drug development such as targeted therapies, biologics, innovations in clinical trial design/data collection, regulatory approaches, and public health policies, efforts to increase awareness regarding patient engagement, and addressing inequities in access to clinical trials by paediatrics patient population are some of the factors that would contribute toward significant growth of rare diseases treatment market by 2029.
The US Reigns Supreme in Rare Diseases Treatment Market with Orphan Drug Development, Developing Markets Expect a Significant Demand Surge
North America dominates global rare diseases treatment market, surging ahead with a CAGR of 10.0% between the forecast period 2022-2029. Developing countries of Asia Pacific region are expected to witness significant growth over the forecast period. Enactment of legislation and regulation of rare diseases and orphan drugs has led to considerable progress in several Asian countries namely, Joan, Taiwan, South Korea, and China. India accounts for one-third of all the rare disease cases occurring in the world. About 9% of Southeast Asia's population suffers from rare diseases of genetic origin. Consanguineous marriages as a cultural practice are believed to be one of the many other reasons for the high prevalence of rare diseases in this region.
Rare Diseases Treatment Market - Competitive Landscape
The top ten key players capturing a significant share in the global rare diseases treatment market include Bristol Myers Squibb, Novartis, Johnson & Johnson, Roche, Abbvie, Vertex Pharmaceuticals, Sanofi, Astra Zeneca, Takeda, and Pfizer. While the other numerous pharma companies have the potential to create a substantial progressive shift in rare diseases treatment market, the key players have been extensively concentrating on implementing various strategies such as acquisitions, collaborations, joint ventures research and development, and launching of novel products to enhance their position in the global rare diseases treatment market.
The Global Rare Diseases Treatment Market is Segmented as Below:
By Therapeutic Area
Oncology
Hematology
Neurology
Respiratory
Cardiovascular
Other
By Type
By Patient Type
Adults
Paediatrics
Geriatrics
By Geographic Coverage
North America
Europe

United Kingdom
Germany
France
Italy
Spain
Rest of Europe

Asia Pacific

Japan
China
India
Australia
Rest of Asia Pacific

Rest of the World

Latin America
Middle East & Africa
By Leading Companies
Bristol Myers Squibb
Bayers AG
Johnson & Johnson
Novartis AG
Takeda Pharmaceutical Company Limited
Sanofi
Hoffmann-La Roche Ltd
Astra Zeneca
AbbVie
Vertex Pharmaceuticals
Pfizer Inc.
Novo Nordisk A/S
BioMarin Pharmaceuticals Inc.
Others
Inside This Report You Will Find:
1. Executive Summary
2. Market Overview
3. Global Rare Diseases Treatment Market Outlook, 2019 - 2029
4. North America Rare Diseases Treatment Market Outlook, 2019 - 2029
5. Europe Rare Diseases Treatment Market Outlook, 2019 - 2029
6. Asia Pacific Rare Diseases Treatment Market Outlook, 2019 - 2029
7. Rest of the World Rare Diseases Treatment Market Outlook, 2019 - 2029
8. Competitive Landscape
9. Appendix

Post Sale Support, Research Updates & Offerings:
We value the trust shown by our customers in Fairfield Market Research. We support our clients through our post sale support, research updates and offerings.
The report will be prepared in a PPT format and will be delivered in a PDF format.
Additionally, Market Estimation and Forecast numbers will be shared in Excel Workbook.
If a report being sold was published over a year ago, we will offer a complimentary copy of the updated research report along with Market Estimation and Forecast numbers within 2-3 weeks' time of the sale.
If we update this research study within the next 2 quarters, post purchase of the report, we will offer a Complimentary copy of the updated Market Estimation and Forecast numbers in Excel Workbook.
If there is a geopolitical conflict, pandemic, recession, and the like which can impact global economic scenario and business activity, which might entirely alter the market dynamics or future projections in the industry, we will create a Research Update upon your request at a nominal charge.
1. Executive Summary
1.1. Global Rare Diseases Treatment Market Outlook, 2019 - 2029 (US$ Billion)
1.2. Global Rare Diseases Treatment Market Incremental Opportunity, 2022 - 2029 (US$ Billion)
1.3. Key Industry Trends

2. Market Overview
2.1. Market Definitions and Segmentations
2.2. Market Dynamics
2.2.1. Market Drivers
2.2.2. Market Threats
2.2.3. Market Opportunities
2.3. Regulatory Framework
2.4. Covid 19 Impact Analysis

3. Global Rare Diseases Treatment Market Outlook, 2019 - 2029
3.1. Global Rare Diseases Treatment Market Outlook, By Therapeutic Area, 2019 - 2029
3.1.1. Key Highlights
3.1.2. Global Rare Diseases Treatment Market Outlook, by Therapeutic Area, Value (US$ Billion), 2019 - 2029
3.1.2.1. Oncology
3.1.2.2. Hematology
3.1.2.3. Neurology
3.1.2.4. Respiratory
3.1.2.5. Cardiovascular
3.1.2.6. Other
3.1.3. Global Rare Diseases Treatment Market Share and BPS Analysis, by Therapeutic Area, Value, 2022 and 2029
3.1.4. Global Rare Diseases Treatment Market Attractiveness Analysis, by Therapeutic Area, Value, 2019 - 2029
3.2. Global Rare Diseases Treatment Market Outlook, By Type, 2019 - 2029
3.2.1. Key Highlights
3.2.2. Global Rare Diseases Treatment Market Outlook, by Type, Value (US$ Billion), 2019 - 2029
3.2.2.1. Biologics
3.2.2.2. Non-Biologics
3.2.3. Global Rare Diseases Treatment Market Share and BPS Analysis, by Type, Value, 2022 and 2029
3.2.4. Global Rare Diseases Treatment Market Attractiveness Analysis, by Type, Value, 2019 - 2029
3.3. Global Rare Diseases Treatment Market Outlook, By Patient Type, 2019 - 2029
3.3.1. Key Highlights
3.3.2. Global Rare Diseases Treatment Market Outlook, By Patient Type, Value (US$ Billion), 2019 - 2029
3.3.2.1. Adults
3.3.2.2. Paediatrics
3.3.2.3. Geriatrics
3.3.3. Global Rare Diseases Treatment Market Share and BPS Analysis, By Patient Type, Value, 2022 and 2029
3.3.4. Global Rare Diseases Treatment Market Attractiveness Analysis, By Patient Type, Value, 2019 - 2029
3.4. Global Rare Diseases Treatment Market Outlook, By Region, 2019 - 2029
3.4.1. Key Highlights
3.4.2. Global Rare Diseases Treatment Market Outlook, by Region, Value (US$ Billion), 2019 - 2029
3.4.2.1. North America
3.4.2.2. Europe
3.4.2.3. Asia Pacific
3.4.2.4. Rest of the World
3.4.3. Global Rare Diseases Treatment Market Share and BPS Analysis, by Region, Value, 2022 and 2029
3.4.4. Global Rare Diseases Treatment Market Attractiveness Analysis, by Region, Value, 2019 - 2029

4. North America Rare Diseases Treatment Market Outlook, 2019 - 2029
4.1. North America Rare Diseases Treatment Market Outlook, By Therapeutic Area, 2019 - 2029
4.1.1. Key Highlights
4.1.2. North America Rare Diseases Treatment Market Outlook, by Therapeutic Area, Value (US$ Billion), 2019 - 2029
4.1.2.1. Oncology
4.1.2.2. Hematology
4.1.2.3. Neurology
4.1.2.4. Respiratory
4.1.2.5. Cardiovascular
4.1.2.6. Other
4.1.3. North America Rare Diseases Treatment Market Share and BPS Analysis, by Therapeutic Area, Value, 2022 and 2029
4.1.4. North America Rare Diseases Treatment Market Attractiveness Analysis, by Therapeutic Area, Value, 2019 - 2029
4.2. North America Rare Diseases Treatment Market Outlook, By Type, 2019 - 2029
4.2.1. Key Highlights
4.2.2. North America Rare Diseases Treatment Market Outlook, by Type, Value (US$ Billion), 2019 - 2029
4.2.2.1. Biologics
4.2.2.2. Non-Biologics
4.2.3. North America Rare Diseases Treatment Market Share and BPS Analysis, by Type, Value, 2022 and 2029
4.2.4. North America Rare Diseases Treatment Market Attractiveness Analysis, by Type, Value, 2019 - 2029
4.3. North America Rare Diseases Treatment Market Outlook, By Patient Type, 2019 - 2029
4.3.1. Key Highlights
4.3.2. North America Rare Diseases Treatment Market Outlook, By Patient Type, Value (US$ Billion), 2019 - 2029
4.3.2.1. Adults
4.3.2.2. Paediatrics
4.3.2.3. Geriatrics
4.3.3. North America Rare Diseases Treatment Market Share and BPS Analysis, By Patient Type, Value, 2022 and 2029
4.3.4. North America Rare Diseases Treatment Market Attractiveness Analysis, By Patient Type, Value, 2019 - 2029
4.4. North America Rare Diseases Treatment Market Outlook, By Country, 2019 - 2029
4.4.1. Key Highlights
4.4.2. North America Rare Diseases Treatment Market Outlook, by Country, Value (US$ Billion), 2019 - 2029
4.4.2.1. United States
4.4.2.2. Canada
4.4.3. North America Rare Diseases Treatment Market Share and BPS Analysis, by Country, Value, 2022 and 2029
4.4.4. North America Rare Diseases Treatment Market Attractiveness Analysis, by Country, Value, 2019 - 2029

5. Europe Rare Diseases Treatment Market Outlook, 2019 - 2029
5.1. Europe Rare Diseases Treatment Market Outlook, By Therapeutic Area, 2019 - 2029
5.1.1. Key Highlights
5.1.2. Europe Rare Diseases Treatment Market Outlook, by Therapeutic Area, Value (US$ Billion), 2019 - 2029
5.1.2.1. Oncology
5.1.2.2. Hematology
5.1.2.3. Neurology
5.1.2.4. Respiratory
5.1.2.5. Cardiovascular
5.1.2.6. Other
5.1.3. Europe Rare Diseases Treatment Market Share and BPS Analysis, by Therapeutic Area, Value, 2022 and 2029
5.1.4. Europe Rare Diseases Treatment Market Attractiveness Analysis, by Therapeutic Area, Value, 2019 - 2029
5.2. Europe Rare Diseases Treatment Market Outlook, By Type, 2019 - 2029
5.2.1. Key Highlights
5.2.2. Europe Rare Diseases Treatment Market Outlook, by Type, Value (US$ Billion), 2019 - 2029
5.2.2.1. Biologics
5.2.2.2. Non-Biologics
5.2.3. Europe Rare Diseases Treatment Market Share and BPS Analysis, by Type, Value, 2022 and 2029
5.2.4. Europe Rare Diseases Treatment Market Attractiveness Analysis, by Type, Value, 2019 - 2029
5.3. Europe Rare Diseases Treatment Market Outlook, By Patient Type, 2019 - 2029
5.3.1. Key Highlights
5.3.2. Europe Rare Diseases Treatment Market Outlook, By Patient Type, Value (US$ Billion), 2019 - 2029
5.3.2.1. Adults
5.3.2.2. Paediatrics
5.3.2.3. Geriatrics
5.3.3. Europe Rare Diseases Treatment Market Share and BPS Analysis, By Patient Type, Value, 2022 and 2029
5.3.4. Europe Rare Diseases Treatment Market Attractiveness Analysis, By Patient Type, Value, 2019 - 2029
5.4. Europe Rare Diseases Treatment Market Outlook, By Country, 2019 - 2029
5.4.1. Key Highlights
5.4.2. Europe Rare Diseases Treatment Market Outlook, by Country, Value (US$ Billion), 2019 - 2029
5.4.2.1. Germany
5.4.2.2. France
5.4.2.3. United Kingdom
5.4.2.4. Italy
5.4.2.5. Spain
5.4.2.6. Rest of Europe
5.4.3. Europe Rare Diseases Treatment Market Share and BPS Analysis, by Country, Value, 2022 and 2029
5.4.4. Europe Rare Diseases Treatment Market Attractiveness Analysis, by Country, Value, 2019 - 2029

6. Asia Pacific Rare Diseases Treatment Market Outlook, 2019 - 2029
6.1. Asia Pacific Rare Diseases Treatment Market Outlook, By Therapeutic Area, 2019 - 2029
6.1.1. Key Highlights
6.1.2. Asia Pacific Rare Diseases Treatment Market Outlook, by Therapeutic Area, Value (US$ Billion), 2019 - 2029
6.1.2.1. Oncology
6.1.2.2. Hematology
6.1.2.3. Neurology
6.1.2.4. Respiratory
6.1.2.5. Cardiovascular
6.1.2.6. Other
6.1.3. Asia Pacific Rare Diseases Treatment Market Share and BPS Analysis, by Therapeutic Area, Value, 2022 and 2029
6.1.4. Asia Pacific Rare Diseases Treatment Market Attractiveness Analysis, by Therapeutic Area, Value, 2019 - 2029
6.2. Asia Pacific Rare Diseases Treatment Market Outlook, By Type, 2019 - 2029
6.2.1. Key Highlights
6.2.2. Asia Pacific Rare Diseases Treatment Market Outlook, by Type, Value (US$ Billion), 2019 - 2029
6.2.2.1. Biologics
6.2.2.2. Non-Biologics
6.2.3. Asia Pacific Rare Diseases Treatment Market Share and BPS Analysis, by Type, Value, 2022 and 2029
6.2.4. Asia Pacific Rare Diseases Treatment Market Attractiveness Analysis, by Type, Value, 2019 - 2029
6.3. Asia Pacific Rare Diseases Treatment Market Outlook, By Patient Type, 2019 - 2029
6.3.1. Key Highlights
6.3.2. Asia Pacific Rare Diseases Treatment Market Outlook, By Patient Type, Value (US$ Billion), 2019 - 2029
6.3.2.1. Adults
6.3.2.2. Paediatrics
6.3.2.3. Geriatrics
6.3.3. Asia Pacific Rare Diseases Treatment Market Share and BPS Analysis, By Patient Type, Value, 2022 and 2029
6.3.4. Asia Pacific Rare Diseases Treatment Market Attractiveness Analysis, By Patient Type, Value, 2019 - 2029
6.4. Asia Pacific Rare Diseases Treatment Market Outlook, By Country, 2019 - 2029
6.4.1. Key Highlights
6.4.2. Asia Pacific Rare Diseases Treatment Market Outlook, by Country, Value (US$ Billion), 2019 - 2029
6.4.2.1. Japan
6.4.2.2. China
6.4.2.3. India
6.4.2.4. Australia & New Zealand
6.4.2.5. Rest of Asia Pacific
6.4.3. Asia Pacific Rare Diseases Treatment Market Share and BPS Analysis, by Country, Value, 2022 and 2029
6.4.4. Asia Pacific Rare Diseases Treatment Market Attractiveness Analysis, by Country, Value, 2019 - 2029

7. Rest of the World Rare Diseases Treatment Market Outlook, 2019 - 2029
7.1. Rest of the World Rare Diseases Treatment Market Outlook, By Therapeutic Area, 2019 - 2029
7.1.1. Key Highlights
7.1.2. Rest of the World Rare Diseases Treatment Market Outlook, by Therapeutic Area, Value (US$ Billion), 2019 - 2029
7.1.2.1. Oncology
7.1.2.2. Hematology
7.1.2.3. Neurology
7.1.2.4. Respiratory
7.1.2.5. Cardiovascular
7.1.2.6. Other
7.1.3. Rest of the World Rare Diseases Treatment Market Share and BPS Analysis, by Therapeutic Area, Value, 2022 and 2029
7.1.4. Rest of the World Rare Diseases Treatment Market Attractiveness Analysis, by Therapeutic Area, Value, 2019 - 2029
7.2. Rest of the World Rare Diseases Treatment Market Outlook, By Type, 2019 - 2029
7.2.1. Key Highlights
7.2.2. Rest of the World Rare Diseases Treatment Market Outlook, by Type, Value (US$ Billion), 2019 - 2029
7.2.2.1. Biologics
7.2.2.2. Non-Biologics
7.2.3. Rest of the World Rare Diseases Treatment Market Share and BPS Analysis, by Type, Value, 2022 and 2029
7.2.4. Rest of the World Rare Diseases Treatment Market Attractiveness Analysis, by Type, Value, 2019 - 2029
7.3. Rest of the World Rare Diseases Treatment Market Outlook, By Patient Type, 2019 - 2029
7.3.1. Key Highlights
7.3.2. Rest of the World Rare Diseases Treatment Market Outlook, By Patient Type, Value (US$ Billion), 2019 - 2029
7.3.2.1. Adults
7.3.2.2. Paediatrics
7.3.2.3. Geriatrics
7.3.3. Rest of the World Rare Diseases Treatment Market Share and BPS Analysis, By Patient Type, Value, 2022 and 2029
7.3.4. Rest of the World Rare Diseases Treatment Market Attractiveness Analysis, By Patient Type, Value, 2019 - 2029
7.4. Rest of the World Rare Diseases Treatment Market Outlook, By Sub-Region, 2019 - 2029
7.4.1. Key Highlights
7.4.2. Rest of the World Rare Diseases Treatment Market Outlook, by Sub-Region, Value (US$ Billion), 2019 - 2029
7.4.2.1. Latin America
7.4.2.2. Middle East & Arica
7.4.3. Rest of the World Rare Diseases Treatment Market Share and BPS Analysis, by Sub-Region, Value, 2022 and 2029
7.4.4. Rest of the World Rare Diseases Treatment Market Attractiveness Analysis, by Sub-Region, Value, 2019 - 2029

8. Competitive Landscape
8.1. Market Share Analysis, 2021
8.2. Company Profiles
8.2.1. Bristol Myers Squibb
8.2.1.1. Company overview
8.2.1.2. Financial performance
8.2.1.3. Product Portfolio
8.2.1.4. Recent Developments
Above details will include, but not limited to below list of companies based on availability
8.2.2. Bayer AG
8.2.3. BioMarin Pharmaceutical, Inc.
8.2.4. F. Hoffman La Roche Ltd
8.2.5. Grifols SA
8.2.6. Sanofi
8.2.7. Takeda Pharmaceutical Company Limited
8.2.8. Medexus Pharmaceuticals, Inc.
8.2.9. NovoNordisk A/S
8.2.10. Pfizer
Other Leading Players

9. Appendix
9.1. Research Methodology
9.2. Report Specific Research Approach