Addressing Plastic Pollution Gives Birth to Global Toothpaste Tablet Market
Global toothpaste tablets market is expected to reach US$152.3 Mn by 2026, registering a CAGR of 6.8% over the forecast period of 2021 to 2026. A general trend indicates that consumers are readily swapping personal care products for the ones that are packaged more consciously, highlighting a green packaging trend. The same holds true for toothpaste consumption as consumers are realising the harmful effects of its myopic packaging idea. The single-use tubes that end up in landfill have a higher carbon footprint, which has been the premise of developing toothpaste tablets. These tablets, usually sold in glass jars, are gaining traction as they commit to constructively engaging in better consumer choices.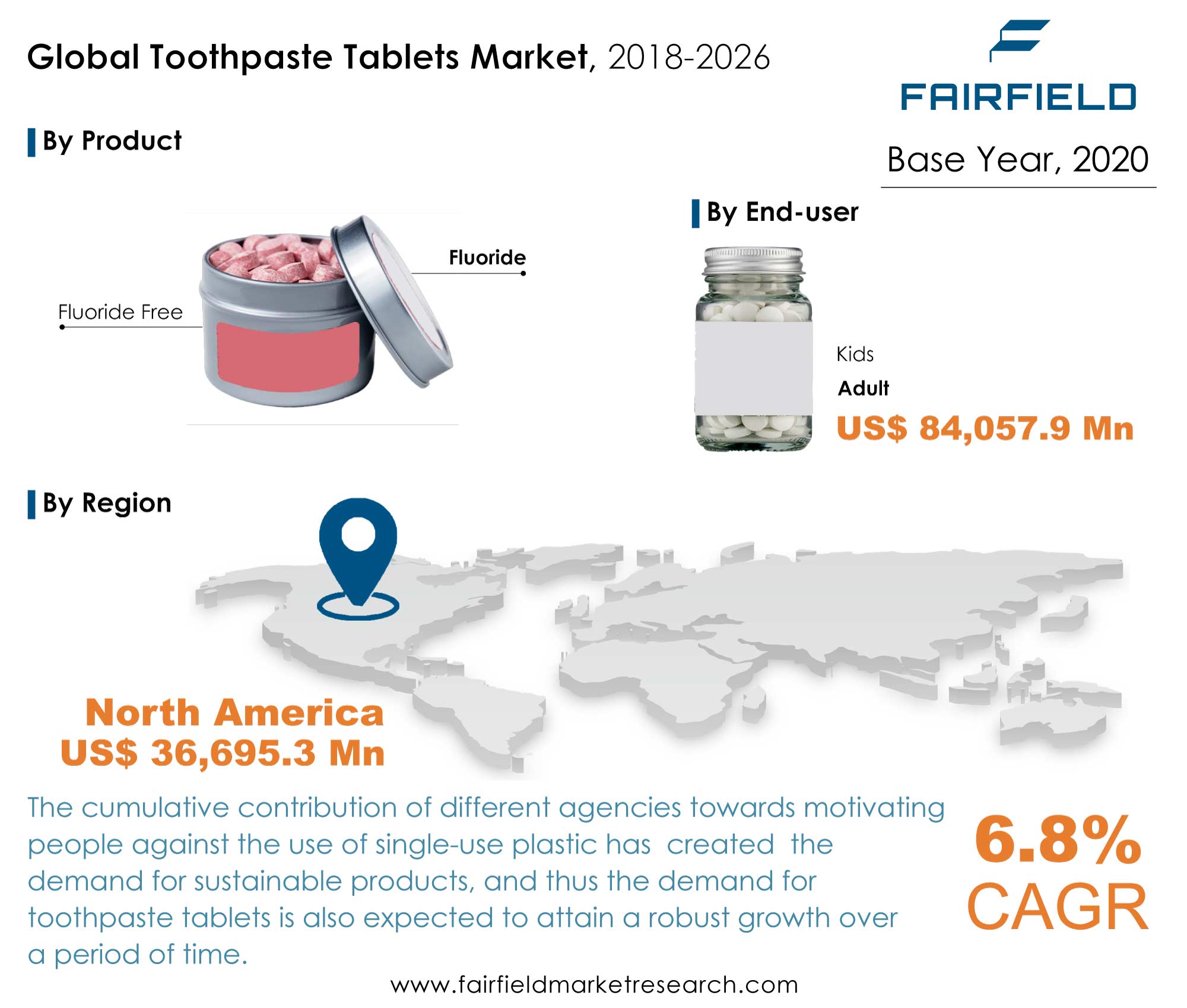 Pressing Need to Tap into Zero Waste Trends Gives Toothpaste Tablet Market an Edge
A larger zero-waste trend is subliminally driving the global toothpaste tablet market. In the past five years, the global zero waste market has witnessed an ambitious rise, questioning lifestyle choices in subtle ways but relentlessly. Instagram influencers, celebrities, and many other social media platforms have consistently pushed for plastic-free and recycled plastic consumption choices, strengthening the case for toothpaste tablets. The call to the ditch the tube and to chew a tablet instead has appealed to both set of end users vis-à-vis Millennials and Generation Z. Toothpaste tablet manufacturers and advertisers have made an incredible sales pitch for campers, travellers, and youngsters on a constant move who should be more conscious of their choices while maintaining their oral hygiene by popping a tablet instead of opening a new tube in new location each time.
Hospitality Industry to be Greatest Opportunity for Toothpaste Tablet Market
In the same vein, the hospitality industry could be a trendsetter in this matter. Impelled to change personal care products each time a room is vacated, the hospitality industry is expected to open opportunities for the global toothpaste tablet market. The sample-size toothpaste tubes can be easily replaced with toothpaste tablets that serve the same purpose with less waste creation. A pop of toothpaste tablet has the potential to deliver the same results as that of a toothpaste that is packaged in aluminium and plastic tube.
Toothpaste tablets do not contain water, which allows them to be pressed in a pill form. Exposure to saliva or a swig of water breaks the pill down into a paste-like material that can be brushed as usual. A conscious walk towards building and contributing to a circular economy by the hospitality industry is expected to promote the use of toothpaste tablets.
Reduction in Water Usage While Maintaining Oral Hygiene Creates Wider Appeal
In addition to being an efficient, eco-friendly alternative, toothpaste tablets are also appealing to a unique end-user experience. For instance, toothpaste tablet developed by Colgate-Palmolive Company, CO. to Go, presents itself as a tiny, waterless solution to mundane activity of brushing teeth. These power-packed pills are gluten-free, vegan, enamel-safe, and come in mint flavour for a refreshing experience. Moreover, they use lesser water than regular activity of brushing teeth. Its water conservation appeal has thus added to the user experience, which is expected to boost the global toothpaste tablet market between 2021 and 2025.
Fluoride-free Toothpaste Tablets to Gain Popularity
Fairfield Market Research's preliminary research indicates that the fluoride-free toothpaste tablets will exhibit a potential growth over the forecast period. Concerns about excessive use of fluoride and option of choosing more natural ingredients are driving the demand for this segment. Growing worries about developing dental fluorosis due to prolonged usage of toothpastes with fluoride are expected to push the demand for tablets that are fluoride free in the coming years.
Several players such as Dental Lace, Archtek, and Bite have been focussed on developing products that are fluoride-free, a chemical which can lead to erosion of enamel. To lure in wider demographic, the young and the old, companies such as Bite are launching varied flavours. Packed with delectable flavours such as berry, mint, and Cocomango, the company stands by its mission to keep the ocean clean from plastic pollution one tablet at a time. Bite states that about a billion toothpaste tubes end up in the landfill every year. Improving accessibility of sustainable products to consumers is expected to drive the market and bring about a faster change in waste disposal.
Online Sales Channels See a Watershed Moment Amidst COVID-19
In terms of sales channel, analysts predict that the online segment is expected to outdo supermarkets/hypermarkets and convenience stores. The segment is expected to register a value CAGR of 7.0% over the forecast period. The pandemic has been a watershed moment for online shopping, significantly eliminating the experience of shopping from brick-and-mortar shops. Shopping via social media platforms, quicker payment options, and verified shopping experiences are all expected to propel the online segment in the global toothpaste tablet market.
U.S. and UK Lead the Way with Conscious Clients
The U.S. is expected to lead the global toothpaste tablet market as the country has significant number of players. Several retailers are offering consumers subscriptions to monthly flavours or monthly deals that are enticing several end users to keep experimenting. The country is expected to lead the North America as the region also has a younger population that is more willing to experiment and try out different personal care products.
Meanwhile, the Europe toothpaste tablet market is expected to rise as the sentiment towards environment-conscious products gains prominence. The region is estimated to account for potential value share of 30.3% during the period of 2021 to 2026. Growing sensitivity about cruelty-free products and reducing plastic consumption with zero waste products are driving the market. Brands such as Brush Fresh are not just manufacturing toothpaste tablets but also packaging the product in recyclable cardboard, truly committing to the model of circular economy.
Asia Pacific is expected to show a noticeable interest in the toothpaste tablet market as well. A young demographic being shaped by social media influences, woke sensibilities, and a more conscious approach to living are all expected to make a contribution to the rising demand for toothpaste tablets. As the tourism and hospitality industry gears up make a comeback and live alongside the detrimental COVID-19 waves, they are both likely to make some drastic changes. Both these are expected change the perception of end users towards usage of everyday personal care products that add to the larger issue of biomagnification, thus boosting sales.
Companies to Invest in Advertising and Branding Strategies to Create Presence
Some of the key players being studied in the global toothpaste tablet market are Colgate Palmolive Company, The Humble Co., Weldental LLC, Bite, DENTTABS GmbH, Lush Cosmetics Company, Georganics, Kaylaan LLC, PÄRLA Toothpaste Tablets, and Nelson Naturals INC. Companies are looking at investing in branding and advertising strategies to stay ahead of the game. Addition of new flavours, exciting offers, and making a wider appeal to larger consumers at industry level will be seen as some of the competitive strategies of the players.
The Global Toothpaste Tablet Market is Segmented as Below:
Product Type Coverage
End-User Coverage
Sales Channel Coverage
Online
Multi Brand Stores
Others
Geographical Coverage
North America
Europe

Germany
France
UK
Spain
Italy
Rest of Europe

Asia Pacific

India
China
Japan
Australia & New Zealand
Rest of Asia Pacific

Latin America

Brazil
Mexico
Rest of Latin America

Middle East & Africa

GCC Countries
South Africa
Rest of Middle East & Africa
Leading Companies
The Humble CO
Bite
DENTTABS GmbH
Georganics
Hello Products LLC
PÄRLA Toothpaste Tablets
Weldental LLC
Lush Ltd
Nelson Naturals INC
Kaylaan LLC
Inside This Report You Will Find:

1. Executive Summary
2. Market Overview
3. Global Toothpaste Tablet Market Outlook, 2018 - 2026
4. North America Toothpaste Tablet Market Outlook, 2018 - 2026
5. Europe Toothpaste Tablet Market Outlook, 2018 - 2026
6. Asia Pacific Toothpaste Tablet Market Outlook, 2018 - 2026
7. Latin America Toothpaste Tablet Market Outlook, 2018 - 2026
8. Middle East & Africa Toothpaste Tablet Market Outlook, 2018 - 2026
9. Competitive Landscape
10. Appendix
Post Sale Support, Research Updates & Offerings:
We value the trust shown by our customers in Fairfield Market Research. We support our clients through our post sale support, research updates and offerings.
The report will be prepared in a PPT format and will be delivered in a PDF format.
Additionally, Market Estimation and Forecast numbers will be shared in Excel Workbook.
If a report being sold was published over a year ago, we will offer a complimentary copy of the updated research report along with Market Estimation and Forecast numbers within 2-3 weeks' time of the sale.
If we update this research study within the next 2 quarters, post purchase of the report, we will offer a Complimentary copy of the updated Market Estimation and Forecast numbers in Excel Workbook.
If there is a geopolitical conflict, pandemic, recession, and the like which can impact global economic scenario and business activity, which might entirely alter the market dynamics or future projections in the industry, we will create a Research Update upon your request at a nominal charge.
1. Executive Summary
1.1. Global Toothpaste Tablets Market Snapshot
1.2. Future Projections
1.3. Key Market Trends
1.4. Analyst Recommendations


2. Market Overview
2.1. Market Definitions
2.2. Market Taxonomy
2.3. Market Dynamics
2.3.1. Drivers
2.3.2. Restraints
2.4. Value Chain Analysis
2.5. Porter's Five Forces Analysis
2.6. Covid-19 Impact Analysis
2.7. Key Patents
3. Global Toothpaste Tablets Market Outlook, 2018 - 2026
3.1. Global Toothpaste Tablets Market Outlook, by Product Type, Volume (Mn Units) and Value (US$ '000), 2018 - 2026
3.1.1. Key Highlights
3.1.1.1. Fluoride
3.1.1.2. Fluoride Free
3.1.2. BPS Analysis/Market Attractiveness Analysis
3.2. Global Toothpaste Tablets Market Outlook, by End-User, Volume (Mn Units) and Value (US$ '000), 2018 - 2026
3.2.1. Key Highlights
3.2.1.1. Adult
3.2.1.2. Kids
3.2.2. BPS Analysis/Market Attractiveness Analysis
3.3. Global Toothpaste Tablets Market Outlook, by Sales Channel, Volume (Mn Units) and Value (US$ '000), 2018 - 2026
3.3.1. Key Highlights
3.3.1.1. Online
3.3.1.2. Multi Brand Stores
3.3.1.3. Others
3.3.2. BPS Analysis/Market Attractiveness Analysis
3.4. Global Toothpaste Tablets Market Outlook, by Region, Volume (Mn Units) and Value (US$ '000), 2018 - 2026
3.4.1. Key Highlights
3.4.1.1. North America
3.4.1.2. Europe
3.4.1.3. Asia Pacific
3.4.1.4. Latin America
3.4.1.5. Middle East & Africa
3.4.2. BPS Analysis/Market Attractiveness Analysis
4. North America Toothpaste Tablets Market Outlook, 2018 - 2026
4.1. North America Toothpaste Tablets Market Outlook, by Product Type, Volume (Mn Units) and Value (US$ '000), 2018 - 2026
4.1.1. Key Highlights
4.1.1.1. Product Type
4.1.1.2. Fluoride
4.1.1.3. Fluoride Free
4.1.2. BPS Analysis/Market Attractiveness Analysis
4.2. North America Toothpaste Tablets Market Outlook, by End-User, Volume (Mn Units) and Value (US$ '000), 2018 - 2026
4.2.1. Key Highlights
4.2.1.1. Adult
4.2.1.2. Kids
4.2.2. BPS Analysis/Market Attractiveness Analysis
4.3. North America Toothpaste Tablets Market Outlook, by Sales Channel, Volume (Mn Units) and Value (US$ '000), 2018 - 2026
4.3.1. Key Highlights
4.3.1.1. Online
4.3.1.2. Multi Brand Stores
4.3.1.3. Others
4.3.2. BPS Analysis/Market Attractiveness Analysis
4.4. North America Toothpaste Tablets Market Outlook, by Country, Volume (Mn Units) and Value (US$ '000), 2018 - 2026
4.4.1. Key Highlights
4.4.1.1. U.S. Toothpaste Tablets Market by Volume (Mn Units) and Value (US$ '000), 2018 - 2026
4.4.1.2. Canada Toothpaste Tablets Market by Volume (Mn Units) and Value (US$ '000), 2018 - 2026
4.4.2. BPS Analysis/Market Attractiveness Analysis
5. Europe Toothpaste Tablets Market Outlook, 2018 - 2026
5.1. Europe Toothpaste Tablets Market Outlook, by Product Type, Volume (Mn Units) and Value (US$ '000), 2018 - 2026
5.1.1. Key Highlights
5.1.1.1. Fluoride
5.1.1.2. Fluoride Free
5.1.2. BPS Analysis/Market Attractiveness Analysis
5.2. Europe Toothpaste Tablets Market Outlook, by End-User, Volume (Mn Units) and Value (US$ '000), 2018 - 2026
5.2.1. Key Highlights
5.2.1.1. Adult
5.2.1.2. Kids
5.2.2. BPS Analysis/Market Attractiveness Analysis
5.3. Europe Toothpaste Tablets Market Outlook, by Sales Channel, Volume (Mn Units) and Value (US$ '000), 2018 - 2026
5.3.1. Key Highlights
5.3.1.1. Online
5.3.1.2. Multi Brand Stores
5.3.1.3. Others
5.3.2. BPS Analysis/Market Attractiveness Analysis
5.4. Europe Toothpaste Tablets Market Outlook, by Country, Volume (Mn Units) and Value (US$ '000), 2018 - 2026
5.4.1. Key Highlights
5.4.1.1. Germany Toothpaste Tablets Market by Volume (Mn Units) and Value (US$ '000), 2018 - 2026
5.4.1.2. France Toothpaste Tablets Market by Product, Volume (Mn Units) and Value (US$ '000), 2018 - 2026
5.4.1.3. U.K. Toothpaste Tablets Market by Volume (Mn Units) and Value (US$ '000), 2018 - 2026
5.4.1.4. Italy Toothpaste Tablets Market by Volume (Mn Units) and Value (US$ '000), 2018 - 2026
5.4.1.5. Spain Toothpaste Tablets Market by Product, Volume (Mn Units) and Value (US$ '000), 2018 - 2026
5.4.1.6. Rest of Europe Toothpaste Tablets Market Volume (Mn Units) and Value (US$ '000), 2018 - 2026
5.4.2. BPS Analysis/Market Attractiveness Analysis
6. Asia Pacific Toothpaste Tablets Market Outlook, 2018 - 2026
6.1. Asia Pacific Toothpaste Tablets Market Outlook, by Product Type Volume (Mn Units) and Value (US$ '000), 2018 - 2026
6.1.1. Key Highlights
6.1.1.1. Fluoride
6.1.1.2. Fluoride Free
6.1.2. BPS Analysis/Market Attractiveness Analysis
6.2. Asia Pacific Toothpaste Tablets Market Outlook, by End-User, Volume (Mn Units) and Value (US$ '000), 2018 - 2026
6.2.1. Key Highlights
6.2.1.1. Adult
6.2.1.2. Kids
6.2.2. BPS Analysis/Market Attractiveness Analysis
6.3. Asia Pacific Toothpaste Tablets Market Outlook, by Sales Channel, Volume (Mn Units) and Value (US$ '000), 2018 - 2026
6.3.1. Key Highlights
6.3.1.1. Online
6.3.1.2. Multi Brand Stores
6.3.1.3. Others
6.3.2. BPS Analysis/Market Attractiveness Analysis
6.4. Asia Pacific Toothpaste Tablets Market Outlook, by Country, Volume (Mn Units) and Value (US$ '000), 2018 - 2026
6.4.1. Key Highlights
6.4.1.1. India Toothpaste Tablets Market by Volume (Mn Units) and Value (US$ '000), 2018 - 2026
6.4.1.2. China Toothpaste Tablets Market by Volume (Mn Units) and Value (US$ '000), 2018 - 2026
6.4.1.3. Japan Toothpaste Tablets Market by Volume (Mn Units) and Value (US$ '000), 2018 - 2026
6.4.1.4. Australia & New Zealand Toothpaste Tablets Market Volume (Mn Units) and Value (US$ '000), 2018 - 2026
6.4.1.5. Rest of Asia Pacific Market by Volume (Mn Units) and Value (US$ '000), 2018 - 2026
6.4.2. BPS Analysis/Market Attractiveness Analysis
7. Latin America Toothpaste Tablets Market Outlook, 2018 - 2026
7.1. Latin America Toothpaste Tablets Market Outlook, by Product Type, Volume (Mn Units) and Value (US$ '000), 2018 - 2026
7.1.1. Key Highlights
7.1.1.1. Fluoride
7.1.1.2. Fluoride Free
7.1.2. BPS Analysis/Market Attractiveness Analysis
7.2. Latin America Toothpaste Tablets Market Outlook, by End-User, Volume (Mn Units) and Value (US$ '000), 2018 - 2026
7.2.1. Key Highlights
7.2.1.1. Adult
7.2.1.2. Kids
7.2.2. BPS Analysis/Market Attractiveness Analysis
7.3. Latin America Toothpaste Tablets Market Outlook, by Sales Channel, Volume (Mn Units) and Value (US$ '000), 2018 - 2026
7.3.1. Key Highlights
7.3.1.1. Online
7.3.1.2. Multi Brand Stores
7.3.1.3. Others
7.3.2. BPS Analysis/Market Attractiveness Analysis
7.4. Latin America Toothpaste Tablets Market Outlook, by Country, Volume (Mn Units) and Value (US$ '000), 2018 - 2026
7.4.1. Key Highlights
7.4.1.1. Brazil Toothpaste Tablets Market by Volume (Mn Units) and Value (US$ '000), 2018 - 2026
7.4.1.2. Mexico Toothpaste Tablets Market by Volume (Mn Units) and Value (US$ '000), 2018 - 2026
7.4.1.3. Rest of Latin America Toothpaste Tablets Market by Volume (Mn Units) and Value (US$ '000), 2018 - 2026
7.4.2. BPS Analysis/Market Attractiveness Analysis
8. Middle East & Africa Toothpaste Tablets Market Outlook, 2018 - 2026
8.1. Middle East & Africa Toothpaste Tablets Market Outlook, by Product Type, Volume (Mn Units) and Value (US$ '000), 2018 - 2026
8.1.1. Key Highlights
8.1.1.1. Fluoride
8.1.1.2. Fluoride Free
8.1.2. BPS Analysis/Market Attractiveness Analysis
8.2. Middle East & Africa Toothpaste Tablets Market Outlook, by End-User, Volume (Mn Units) and Value (US$ '000), 2018 - 2026
8.2.1. Key Highlights
8.2.1.1. Adult
8.2.1.2. Kids
8.2.2. BPS Analysis/Market Attractiveness Analysis
8.3. Middle East & Africa Toothpaste Tablets Market Outlook, by Sales Channel, Volume (Mn Units) and Value (US$ '000), 2018 - 2026
8.3.1. Key Highlights
8.3.1.1. Online
8.3.1.2. Multi Brand Stores
8.3.1.3. Others
8.3.2. BPS Analysis/Market Attractiveness Analysis
8.4. Middle East & Africa Toothpaste Tablets Market Outlook, by Country, Volume (Mn Units) and Value (US$ '000), 2018 - 2026
8.4.1. Key Highlights
8.4.1.1. GCC Toothpaste Tablets Market by Volume (Mn Units) and Value (US$ '000), 2018 - 2026
8.4.1.2. South Africa Toothpaste Tablets Market by Volume (Mn Units) and Value (US$ '000), 2018 - 2026
8.4.1.3. Rest of Middle East & Africa Toothpaste Tablets Market by Volume (Mn Units) and Value (US$ '000), 2018 - 2026
8.4.2. BPS Analysis/Market Attractiveness Analysis
9. Competitive Landscape
9.1. Company Market Share Analysis, 2019
9.2. Company Profiles
9.2.1. The Humble CO
9.2.1.1. Company Overview
9.2.1.2. Key Retailing Partners
9.2.1.3. Business Segment Revenue
9.2.1.4. Ingredient Overview
9.2.1.5. Product Offering & its Presence
9.2.1.6. Certifications & Claims
9.2.2. Bite
9.2.2.1. Company Overview
9.2.2.2. Key Retailing Partners
9.2.2.3. Business Segment Revenue
9.2.2.4. Ingredient Overview
9.2.2.5. Product Offering & its Presence
9.2.2.6. Certifications & Claims
9.2.3. DENTTABS GmbH
9.2.3.1. Company Overview
9.2.3.2. Key Retailing Partners
9.2.3.3. Business Segment Revenue
9.2.3.4. Ingredient Overview
9.2.3.5. Product Offering & its Presence
9.2.3.6. Certifications & Claims
9.2.4. Georganics
9.2.4.1. Company Overview
9.2.4.2. Key Retailing Partners
9.2.4.3. Business Segment Revenue
9.2.4.4. Ingredient Overview
9.2.4.5. Product Offering & its Presence
9.2.4.6. Certifications & Claims
9.2.5. Hello Products LLC
9.2.5.1. Company Overview
9.2.5.2. Key Retailing Partners
9.2.5.3. Business Segment Revenue
9.2.5.4. Ingredient Overview
9.2.5.5. Product Offering & its Presence
9.2.5.6. Certifications & Claims
9.2.6. PÄRLA Toothpaste Tablets
9.2.6.1. Company Overview
9.2.6.2. Key Retailing Partners
9.2.6.3. Business Segment Revenue
9.2.6.4. Ingredient Overview
9.2.6.5. Product Offering & its Presence
9.2.6.6. Certifications & Claims
9.2.7. Weldental LLC
9.2.7.1. Company Overview
9.2.7.2. Key Retailing Partners
9.2.7.3. Business Segment Revenue
9.2.7.4. Ingredient Overview
9.2.7.5. Product Offering & its Presence
9.2.7.6. Certifications & Claims
9.2.8. Lush Ltd
9.2.8.1. Company Overview
9.2.8.2. Key Retailing Partners
9.2.8.3. Business Segment Revenue
9.2.8.4. Ingredient Overview
9.2.8.5. Product Offering & its Presence
9.2.8.6. Certifications & Claims
9.2.9. Nelson Naturals INC
9.2.9.1. Company Overview
9.2.9.2. Key Retailing Partners
9.2.9.3. Business Segment Revenue
9.2.9.4. Ingredient Overview
9.2.9.5. Product Offering & its Presence
9.2.9.6. Certifications & Claims
9.2.10. Kaylaan LLC
9.2.10.1. Company Overview
9.2.10.2. Key Retailing Partners
9.2.10.3. Business Segment Revenue
9.2.10.4. Ingredient Overview
9.2.10.5. Product Offering & its Presence
9.2.10.6. Certifications & Claims
10. Appendix
10.1. Research Methodology
10.2. Report Assumptions
10.3. Acronyms and Abbreviations
BASE YEAR

HISTORICAL DATA

FORECAST PERIOD

UNITS

2020

2018 - 2020

2021 - 2026

Value: US$ '000

Volume: Million Units
REPORT FEATURES

DETAILS

Product Type Coverage

End-User Coverage

Sales Channel Coverage

Online

Multi Brand Stores

Others

Geographical Coverage

North America

Europe

Germany

France

U.K.

Spain

Italy

Rest of Europe

Asia Pacific

India

China

Japan

Australia & New Zealand

Rest of Asia Pacific

Latin America

Brazil

Mexico

Rest of Latin America

Middle East & Africa

Leading Companies

The Humble CO

Bite

DENTTABS GmbH

Georganics

Hello Products LLC

PÄRLA Toothpaste Tablets

Weldental LLC

Lush Ltd

Nelson Naturals INC

Kaylaan LLC

Report Highlights

Value Chain Analysis, Key Regulations, Key Patents, Market Estimates and Forecast, Market Dynamics, Porter's Five Forces Analysis, Industry Trends, Competition Landscape, COVID-19 Impact Analysis